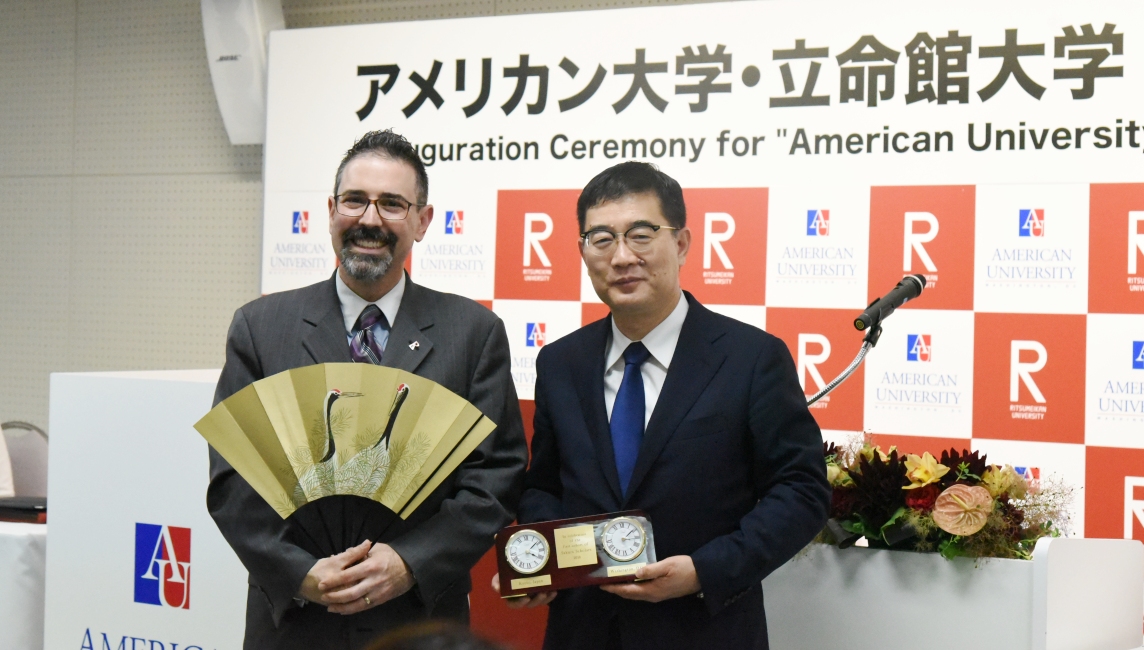 Inauguration Ceremony for American University-Ritsumeikan University Joint Degree Program (JDP)
Ritsumeikan University's groundbreaking Joint Degree Program (JDP) with American University has begun.

To mark the occasion, on Thursday May 17, a special inauguration ceremony took place at Kinugasa Campus. Honored guests included Professor Patrick Jackson, Associate Dean for Curriculum and Learning, School of International Service, American University; Rosemary Shinko, Assistant Dean for Undergraduate Education, School of International Service, American University; and Mr Kazuhiko Hayashi, Director for International Analysis, Higher Education Policy Planning Division, Higher Education Bureau, Ministry of Education, Culture, Sports, Science and Technology (MEXT). The guests were welcomed by Tomomi Morishima, Chairman of the Board of Trustees, the Ritsumeikan Trust (under the umbrella of which Ritsumeikan University operates), and Professor Akihiko Kimijima, Dean of the College of International Relations, Ritsumeikan University.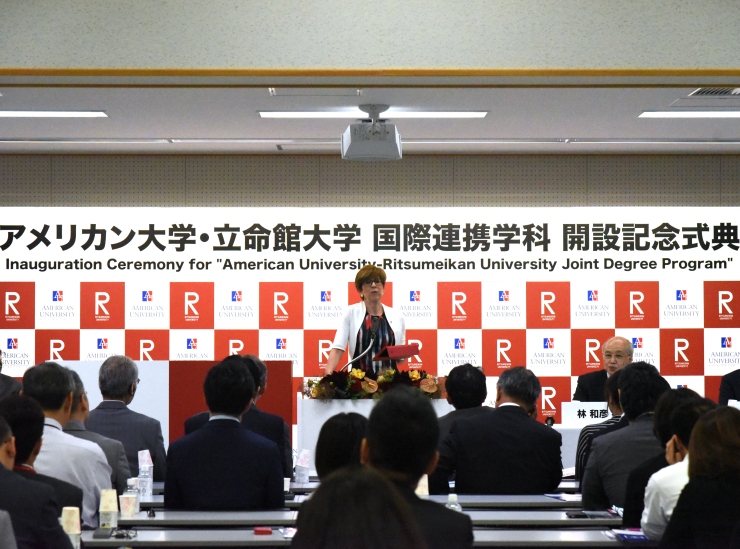 Chairman Morishima opened proceedings with a succinct, yet poignant speech, referring to a long history of good relations, shared commitment and collaboration between the universities - in particular between the two host colleges for the new program: Ritsumeikan's College of International Relations and American University's School of International Service.

After expressing his confidence in the role future students and graduates will have to play as contributors to international peace and development on an international stage, he concluded his speech with a rousing promise of shared commitment to the quality and advancement of the degree program:

"Rest assured that everyone at Ritsumeikan will give their absolute all to ensure the smooth introduction and success of the program."

Such sentiment was also evident in Professor Kimijima's speech, which flowed seamlessly from reference to Kyoto and Washington D.C.'s shared love and appreciation of cherry blossoms, to thanking major contributors for donations towards the establishment of a generous stipend for course participants. The professor also pointed out that the course is a major step in fulfilling Ritsumeikan University's responsibilities as a Top Global University, leading the innovative internationalization of Japanese society.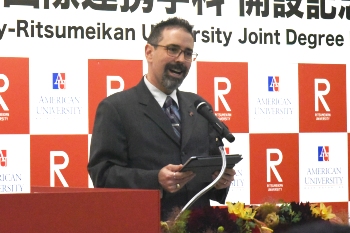 Following on from Professor Kimijima, American University's Professor Jackson then took to the podium to deliver a speech laying emphasis on both the global, as well as the long-standing, intimate relations between both universities - ties which he noted enabled the program to come to realization in a particularly groundbreaking way:

"Rather than each institution simply agreeing to count some of the other's courses toward its own requirements, we were able to build something from the ground up rooted in our shared commitment to thinking about international relations in expansive ways that transcend academic disciplines. (This new course)…will inspire a new generation of global leaders, researchers and activists…and highlights the deep commitment of both of our institutions to developing the next generation of leaders. JDP students will not only learn about engaging the world from multiple perspectives, they will live the experience in an educational space that crosses two cultures, two countries, two regions."

Proceedings then moved on to a congratulatory address from MEXT's Mr Kazuhiko Hayashi in which he stressed the potential for the program to further strengthen American-Japanese relations. Before RU-Home Student representative Ryoma Endo held the audience captive with a brave and moving speech in English stressing the importance of taking opportunities through his own interpretation of a quote from his childhood idol, the famous Italian soccer player Francesco Totti:

'Life is a journey to take you to the top, if you don't miss the opportunity to succeed. However, if you have a group to support you to reach your potential, it's much easier to keep going.' – relating the quote eloquently to his relationship to his new fellow course participants and ambition to enter the world of international diplomacy and peace keeping.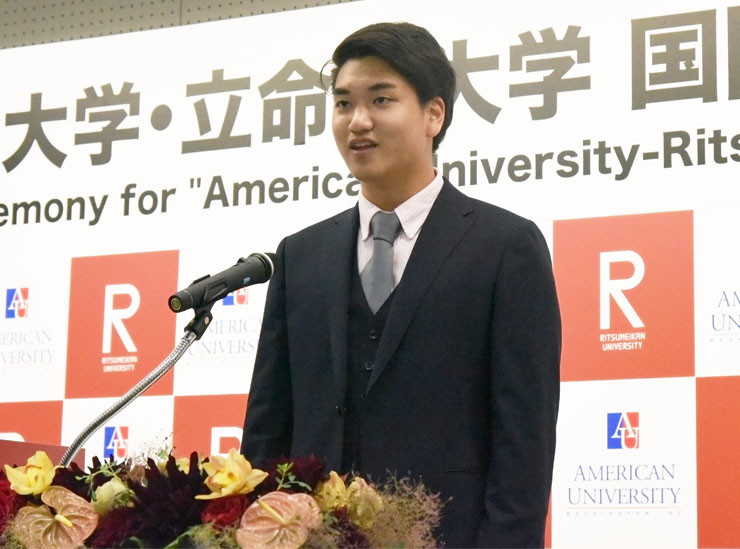 The round of speeches was concluded by: Kathy Herland and Emily Dominguez - two third year student representatives from the School of International Service; and Assistant Dean Shinko, who, significantly, shared her initial impressions of the JDP student body as 'bright and engaging' and sharing a 'commitment to serve the global community'.