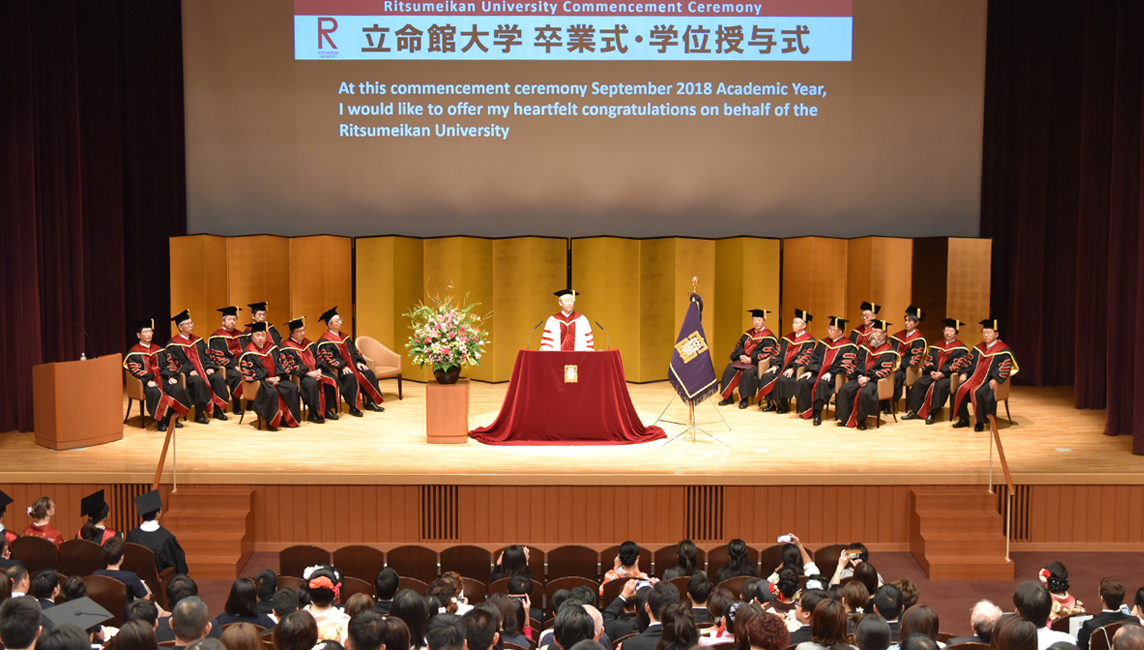 Ritsumeikan University Commencement Ceremony, September 2018 Academic Year
The September 2018 Academic Year Commencement Ceremony for the colleges and graduate schools of Ritsumeikan University took place this week on Suzaku Campus, September 23.

A grand total of 669 students graduated this year of whom 517 were undergraduates and 152 post-graduates. Two ceremonies were held - one in the morning and one in the afternoon.
Mikio Yoshida, president of Ritsumeikan University delivered a commencement address at both ceremonies in which he spoke of the challenges ahead for the new graduates:

The world to which you set out is facing increasingly complex challenges—a worsening political climate, poverty, the refugee crisis, as well as environmental and energy issues.

I would like you all not to ignore these issues, but to face them, working to solve any issues that come up locally, nationally, and globally—as a member not only of Japanese society, but of the world as a whole.

Before concluding with:

This July, Ritsumeikan University established a message to express its 2030 vision: "Challenge your mind, Change our future". We hope that you keep this message close to your heart as you go on to live the brilliant lives that are ahead of you.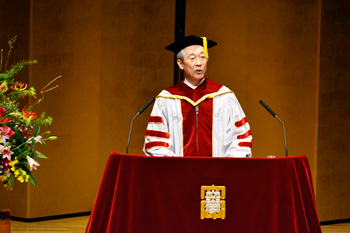 With students at the heart of Ritsumeikan University, no ceremony would be complete without hearing from members of the student body – undergraduate and graduate alike. The morning ceremony saw graduating students Biyori Aluthgamage, from Japan (College of Law), and Toussade Manal Souag, from Morocco (Graduate School of Life Sciences), address the audience; with Maria Platt, from the US (College of International Relations), and Vu Van Trung, from Vietnam (Graduate School of Economics), taking to the podium in the afternoon.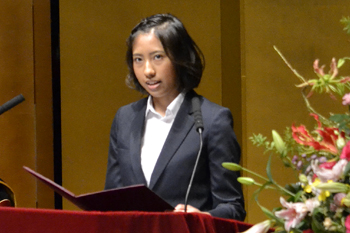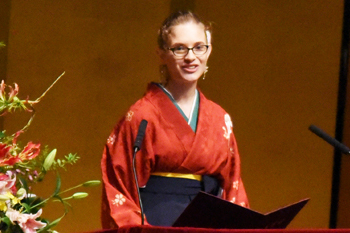 Proud and much honored to speak on behalf of the graduate students of September 2018 and on behalf of African students as well, Toussade Manal Souag gave a heartfelt speech:

As the great Nelson Mandela said, "Education is the most powerful weapon which you can use to change the world".

Two years ago, we all came to Japan with different dreams, hopes and goals. We had all heard about how rich Japanese culture is, how developed the infrastructure is, and how hard working and polite the people are. We visited shrines and temples, wore kimonos, drank matcha (green tea made from powder), and rode on the Shinkansen. We also shared laboratories with Japanese students. We intensely experienced this culture and realized it is much more interesting than what we had heard or read about it.

I am proud to say that we have grown and we will not cease to grow; we have become better than who we were when we first got here. Today I consider myself not only as a Moroccan, but much more, for Japan has instilled in me a touch of Kenya, India, Nigeria, Thailand, Indonesia and Afghanistan, and that is only naming a few of the places I could connect with during my time here. Indeed Ritsumeikan University goes beyond borders.