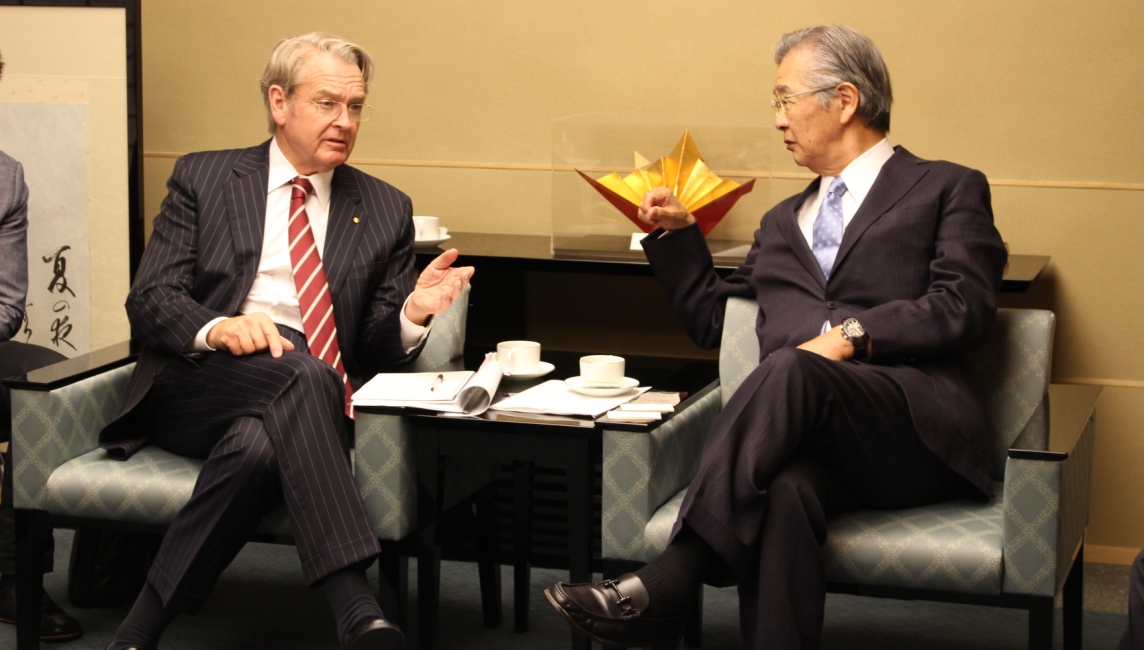 Ritsumeikan Welcomes Hon. Richard Court AC, Ambassador to Japan
On May 10, Australian ambassador H.E. Mr. Richard Court AC and Mrs. Jo Court OAM paid a courtesy visit to executives of the Ritsumeikan Trust, including Professor ToyoOmi Nagata, the chairperson of the board of trustees; Professor Mikio Yoshida, the chancellor; Professor Masato Ishikawa, the vice chancellor; and Professor Tsutomu Kanayama, executive director of the Division of General Planning and Development. There were some representatives from the Australian Consulate-General in Osaka and the Australian Embassy in Tokyo in attendance, including David Lawson, the consul-general and senior trade commissioner in Osaka; and Julia Ward, second secretary at the Australian Embassy in Tokyo.
Partnership between Ritsumeikan and Australian Universities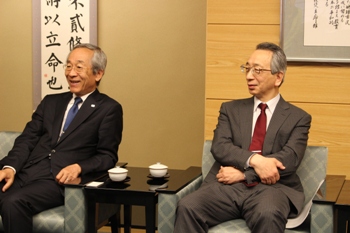 Ambassador Court began his comments by noting that many Japanese universities are very international and are encouraging their students to obtain more exposure to other countries. He expressed his appreciation for Ritsumeikan's partnership with the Australian National University (ANU) and some other Australian universities. Under the New Colombo Plan launched in 2013, Australia is also encouraging its students to study overseas. Professor Nagata and Ambassador Court shared a recognition that the role of universities is to foster creative human resources who think independently and can meet the needs of today's global and interconnected world.

Ambassador Court listened diligently to the explanation by Professor Nagata, taking notes, and posed some questions as to other partnerships with universities overseas and English-based degree programs offered at Ritsumeikan University.
Long and Close Connection between Ambassador Court's Family and Japan
Ambassador Court described the long and close connection with Japan that his father, the late Western Australian premier Sir Charles Court, had continued from the postwar years on, and made reference to the 60th anniversary of the Australia-Japan Commerce Agreement, which was signed just 12 years after the end of the war. He stated that "The story between Australia and Japan is a wonderful one with forgiveness on both sides and reconciliation. My role here, along with the members of the embassy, is to deepen this relationship and that is why we are visiting you today."

Ambassador Court has been a Western Australian politician since 1982. In 2008 the Order of the Rising Sun, Gold and Silver Star was conferred upon Ambassador Court for his exceptional contributions to the expansion of Australia-Japan relations and for strengthening economic ties between the two countries.