Ritsumeikan University Matriculation Ceremony, September 2018 Academic Year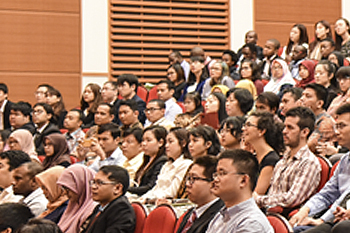 The September 2018 Academic Year Matriculation Ceremony for the colleges and graduate schools of Ritsumeikan University took place this week on Suzaku Campus, September 25.

A grand total of 283 students matriculated this year of whom 91 were undergraduates and 192 post-graduates. Reflecting an increasingly international and diverse student body, this September's intake herald from a total of 44 different countries and regions.

Mikio Yoshida, president of Ritsumeikan University, made reference to this in his opening speech:

Ritsumeikan University is a place where students from all over Japan come to study. We are also accepting international students from more and more countries. Please use the opportunity to study on such a diverse campus to broaden your understanding of various other cultures.

In recent years, Ritsumeikan University has been using the slogan "Beyond Borders".

These words suggest the desire to overcome the various borders that exist between nations, races, religions, gender, values and languages. Then, this past July, Ritsumeikan adopted the phrase "Challenge Your Mind, Change Our Future" to help express what we as a university aim to become by the year 2030. Now, all of you have decided to come study here at a university with such aspirations for some reason. I hope you cherish and nurture that original purpose and also challenge yourselves by pursuing the various possibilities that lie ahead.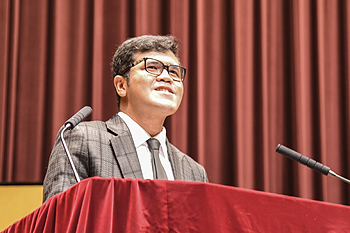 Continuing a short, but inspiring ceremony, two newly matriculated students took to the podium. First up, Bondan Gamas Syamsu, from Indonesia (College of International Relations), set out ambitious plans for his time on Ritsumeikan University's new Global Studies Major program:

The program will provide us with firm skills ranging from international affairs and historical knowledge to economics, and will allow us to not only be multi-skilled in the workforce but also solve a plethora of different problems and issues. My personal goal is to directly contribute towards the economic and social development of my home country, Indonesia.

Before Miran Lee, from Korea (Graduate School of Information Science and Engineering, Doctoral Program), concluded the speeches with a moving appeal to her fellow classmates:

We all came here from different countries and places with different dreams. However, we are all here at the same place now. Let's be a source of help for one another to explore our full potential and create an environment for mutual growth.