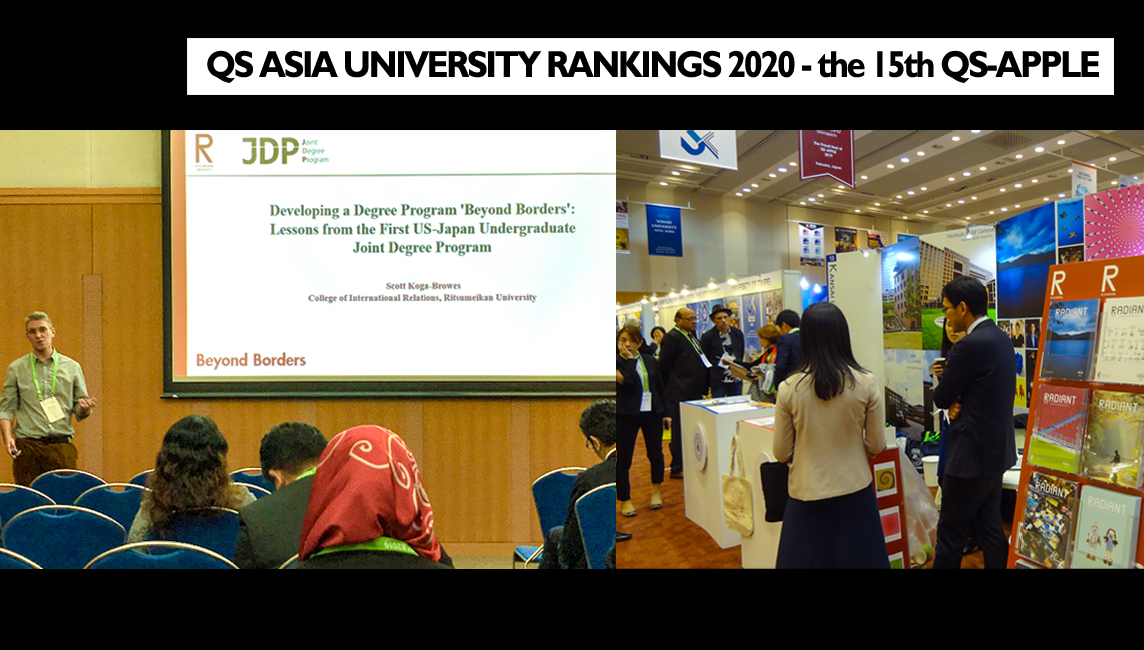 Ritsumeikan University climbs University Ranking in Asia at 15th QS-APPLE Conference & Exhibition
Ritsumeikan University has climbed a significant 22 places in the QS Asia University Rankings 2020 it was announced at the 15th QS-APPLE (Asia-Pacific Professional Leaders in Education Conference and Exhibition), taking its place amongst the top 150 universities in Asia.

The climb reflects the university's continued commitment to a globally-minded educational approach, having been selected in 2014 as a 'Top Global University' to lead the globalization of Japanese society by the Japanese Ministry of Education, Culture, Sports, Science and Technology (MEXT).

The university has since established a number of new English-based programs, including in April 2019 a brand-new Dual Degree Program in the College of Global Liberal Arts – the first of its kind in Japan, and a collaboration with The Australian National University; and in April 2018 the Joint Degree Program (JDP) in the College of International Relations - a collaboration with American University.


Ritsumeikan University at the 15th QS-APPLE Conference & Exhibition

QS Quacquarelli Symonds, one of the world's leading educational assessment bodies, organizes three major higher education conference-exhibitions across the globe each year - QS-APPLE, QS-MAPLE and QS-WORLDWIDE, covering the regions of Asia-Pacific, the Middle-East and Africa, and the rest of the world respectively.

This year, QS-APPLE took place for the first time ever in Japan - organized in partnership with Kyushu University, November 26 to 28, 2019.

Seven hundred representatives from two hundred and thirty higher education organizations - spanning thirty-four countries from across the Asia-Pacific region and beyond – attended this year's event, themed around the title: 'Industrial Revolution 4.0 and Ageing Societies: The Changing Role of Universities in the Asia Pacific'.
Ritsumeikan University was represented at the faculty level by Associate Professor Scott Koga-Browes of the College of International Relations and Associate Dean for the Joint Degree Program, and Professor Shizuyo Asai of the College of Science and Engineering, both of whom gave strong and well-attended presentations on the university's groundbreaking English-based Joint Degree Program, and the challenges of the 100-year life, respectfully.

The university's presence was further enhanced by active participation in the 'Study-in-Japan' exhibition area – with representatives managing a hugely popular Ritsumeikan University booth over the course of the three days.


The official 15th QS-APPLE website:
https://qsapple.org/fukuoka-2019/

World University Rankings @ Ritsumeikan University:
http://en.ritsumei.ac.jp/rankings/