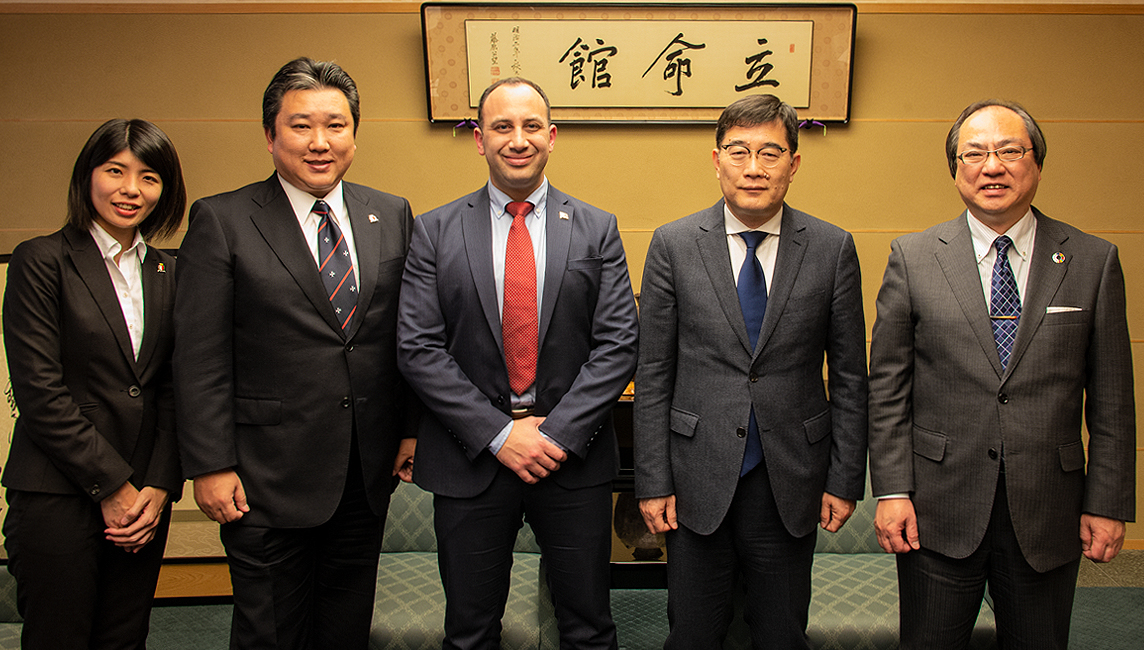 Non-resident Ambassador of Malta to Japan visits Ritsumeikan University
H.E. André Spiteri, the non-resident Ambassador of Malta to Japan, visited Suzaku Campus, Monday, December 16 - meeting with Chairman of the Board of Trustees, The Ritsumeikan Trust, Tomomi Morishima; and Chancellor of The Ristumeikan Trust and President of Ritsumeikan University, Yoshio Nakatani.

Ambassador Spiteri first came to Japan after graduating from the University of Malta. After spending time at several universities, he joined Ritsumeikan University's Graduate School of International Relations in 2008 - graduating with a master's degree in 2010. He has served as the non-resident Ambassador to Japan since 2013 and has devoted himself to strengthening exchange between the two countries in a wide range of fields.

During his visit, Ambassador Spiteri exchanged opinions with the Chairman and Chancellor on trends in university internationalization and the similarities between Malta and Kyoto, expressing at the same time his hope for expanding exchange activities between The Ritsumeikan Trust and Malta. Providing anecdotes from his time at Ritsumeikan University, the Ambassador went on to express his gratitude to the university and the city of Kyoto for the wonderful opportunity he was afforded.
Chairman Tomomi Morishima thanked him for visiting the campus – reciprocating also the ambassador's hope for deeper exchange relations between The Trust, under the umbrella of which Ritsumeikan University operates, and Malta.

Malta opened an Honorary Consulate in Kyoto this July, and in 2020 is scheduled to open a full-service embassy in Japan. Before the meeting ended, Shigeru Abo, Honorary Consul of the Republic of Malta in Kyoto, talked about his desire to use the Consulate as a hub of communication between Japan and Malta. Mika Fukuda, Assistant to the Honorary Consul, was also in attendance.