Ritsumeikan's International Contributions (2) - Training for Egyptian Administrators
The Ritsumeikan Trust offered a training for Administrative staff from Egypt-Japan University for Science and Technology "E-JUST" from May 16 to 27, 2016.

E-JUST was built as a bilateral agreement project between the Egyptian and Japanese governments with the aim of becoming a world-leading university. Graduate school was established in February 2010 and undergraduate schools are scheduled to be established in the fall of 2017.

Ritsumeikan has been supporting E-JUST as one of the supporting universities mainly in terms of administrative management. The 3rd training program was held with the purpose of strengthening the administrative system in preparation for establishing an undergraduate school.

We had three early-career administrative staff who will be playing key roles at E-JUST in the future as trainees of this training which consisted of lectures, tours and On-the-job Training for 10 days. They have learned a variety of things including cultural differences between Egypt and Japan as well as how undergraduate school operation differs from graduate school operation, Ritsumeikan's characteristics unique to each campus and so forth in a short period of time.

The trainees gave their final presentations on their new actions for projects they are in charge of at E-JUST on the last day of the training. Professor Monte Cassim (Professor, College of Policy Science) offered them a word of encouragement in the closing ceremony and said "I hope E-JUST will serve as a bridge of friendship between Egypt and Japan in the future."

We recognize international cooperation that contributes to the progress of international society as one of the most important pillars of our academy vision and will keep promoting our projects .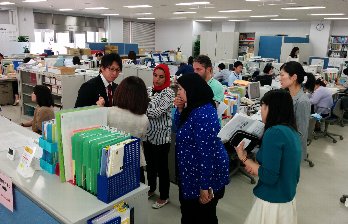 Related information