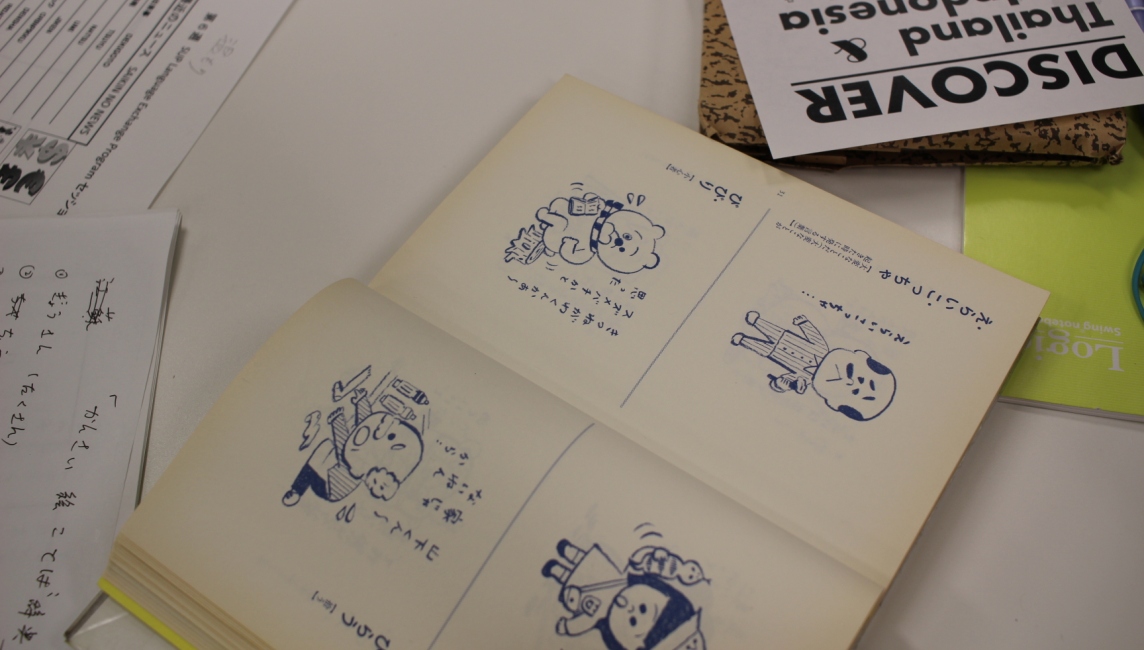 Nurturing Friendship Beyond National Borders
Close Relationships with Language Exchange Partners (vol. 2)
All sessions of the SUP! Language Exchange Program, planned and organized by a student group named SUP! for this semester, have finished.
Following the previous article, we interviewed two language exchange pairs in the AY2016 spring semester.


Pair C from Tuesday 5th Period (Languages: Chinese and Japanese)
Meng Ting Lyu (first-year student, Graduate School of Business Administration) and Kotaro Hattori (first-year student, College of Comprehensive Psychology)


Meng Ting: I participated in this program because my friend invited me and found it interesting because I wanted to talk and chat with Japanese students outside the class. At the first session, I asked my language exchange partner, Kotaro, to check my weakness in Japanese. I am, of course, taking Japanese lessons at the graduate school, but in this program, I am able to learn real Japanese expressions that young Japanese people use in daily life. In addition to the session paper distributed by SUP! coordinators, I learn some formal expressions to use in e-mail exchanges with my professor. Someday I would like to speak Japanese with Kansai accent.
Kotaro: I have been interested in learning foreign languages and joined this program because I find it interesting to learn the foreign language from an international student as well as teach my native language to the student in turn. I found an interesting Japanese pictorial dictionary explaining Kansai dialects and am using the dictionary to teach Meng Ting some example sentences using the words in it.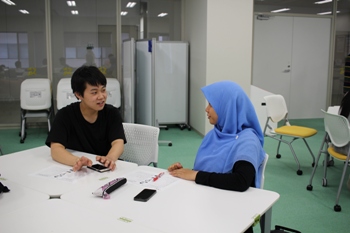 Pair D from Monday 5th Period (Languages: English and Japanese)
Maryam Zakkiyyah (short-term student) and Tomoya Shiozaki (third-year student, College of Business Administration)
Maryam: I am studying at Ritsumeikan this semester as a short-term student and on this occasion, I was looking for Japanese classes or opportunities to interact with Japanese students within the University. In this program, I learn Japanese from a specific partner in every session, so I feel relaxed to talk with him. Besides the session paper, we are trying several activities such as depicting a scene of a room only by listening to the partner's explanation. This program consists of eight sessions (90 minutes/session)*, these sessions are regularly held and I am able to know the Japanese language spoken by the younger generation. I think these are attractive points of the program.

Tomoya: When I was a second-year student, I was staying at Vancouver to participate in a one-week intercultural understanding seminar held by the University. After joining the program, I took a leave of absence from the University and continued learning English in Vancouver. The reason why I joined this program was to regularly use English after coming back to Japan.

Through meeting many people in Canada as well as joining this program, I discovered new perspectives of other people and realized that everyday things I took for granted were just a part of life for me, but not for other people.

Registration for the program in the AY2016 fall semester will start late September.
SUP! coordinators are waiting for your registration!

*The number of sessions varies between semesters.
Related information