【Webinar Report】Cultural Interdependence in the New Global Order- an African Perspective -
[BOOK LAUNCH WEBINAR: Postcolonial Constructivism: Mazrui's Theory of Intercultural Relations (By Seifudein Adem. London: Palgrave Macmillan, 2021, 337pp) ]
Date: October 21, 2021 (Thu.) 16:00-17:30 [Japan ST, UTC+9]
Venue: Online (via Zoom)
Speaker: Prof. Seifudein Adem (Doshisha University, Kyoto, Japan)
Moderator: Takuo Iwata (Ritsumeikan University, Kyoto, Japan)
Hosted by the Institute of International Relations and Area Studies (Ritsumeikan University)
[Abstract]
The book introduces Ali Mazrui's theory about intercultural relations (as interpreted by his long-time intellectual companion, Seifudein Adem). The theory takes cultural forces as primary causal factors in global transformation. They are also outcomes of changing power configurations. The theory starts from the premise that recorded human history has been merely a story of the triumphs and tragedies as well as achievements and failures of cultural groups. Similarly, "modern" history of the world mainly consists of waves of cultural encounters. The webinar is organized around the following key questions: What are the different phases of contacts between cultures? What are the engines, the driving forces, behind them? What can we make of the current phase of intercultural relations—and its future. And why is it desirable, likely, and even inevitable, that the new, the emerging global order will be based on the principle of cultural interdependence?
The speaker will also be pleased to answer questions regarding his experience with Professor Mazrui.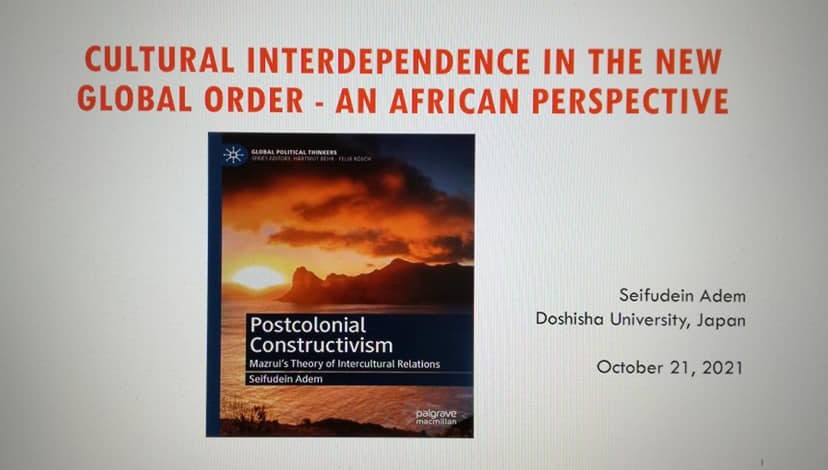 Today, we enjoyed the great book launch webinar "Cultural Interdependence in the New Global Order" by Prof. Adem, a worldwide-experienced scholar. Prof. Adem decoded "Culture" from the conceptual reflection and analyzed how it functions in the modern world, referring to Prof. Mazrui's sociological thought. Participants addressed comments and questions to speakers. Then, we had many fruitful exchanges and discussions between the speakers and other participants. The organizer sincerely thanks for the elaborate presentations and proactive comments from participants.