Ibaraki x Ritsumeikan Day is an event held at Ritsumeikan University's Osaka Ibaraki Campus (OIC) to develop partnerships with the local community and the world. For the first time in three years, the event was opened to the public, and a group of students planned a special program subtitled OIC EXPO given that Ritsumeikan University is a sponsor of the upcoming Expo 2025 Osaka, Kansai, Japan. In this article, we report on the initiative students are undertaking to build momentum for the World Expo as well as the talk with Expo 2025 Osaka, Kansai, Japan Thematic Project Producer Sachiko Nakajima.
Students work toward the Co-Creation Challenge
Ibaraki x Ritsumeikan Day was held on Sunday, May 21. The event featured more than 80 programs, including a robot exhibit, a sneak-peak tour of the construction site of the new school building, field hockey and soccer classes for children, and an immersive metaverse experience, and it was a smashing success, attracting some 20,000 visitors, most of whom were local residents. In the Future Plaza (Building B), students from the Ritsumeikan University World Expo Student Committee held a variety of activities to build momentum for Expo 2025 Osaka, Kansai, Japan.

The Co-Creation Challenges refer to the activities that Expo partners are undertaking in order to realize the World Expo's main theme of "Designing Future Society for Our Lives." Ritsumeikan University World Expo Student Committee is a student organization that was born from the Student Engagement Program, a series of sessions that lasted for about two months starting in February where students studied together with the aim of developing a plan to apply for a Co-Creation Challenge. At present, the Committee has about 140 members, and nine teams were formed to shape and formulate a plan that incorporates the students' various perspectives and ideas.
Nine projects that address global and social issues head-on
A team called SusTable, whose activities focus on the keywords of "sustainable" and "table," gave a presentation on edible insects. When visitors came to their booth, the members of SusTable told them how edible insects are one possible solution to the food problem caused by the ever-increasing global population. They introduced edible insects from Africa, Mexico, Thailand, Australia, and other countries, and let visitors taste sweets made with cricket powder. One of the team members, Hiroaki Yokoo (3rd year, College of International Relations), commented on the team's aspirations for the future: "We planned this event with the aim of making edible insects more accessible, but we were surprised to see a full house. Going forward, we would like to not only introduce edible insects, but also propose meals that promote health and wellness."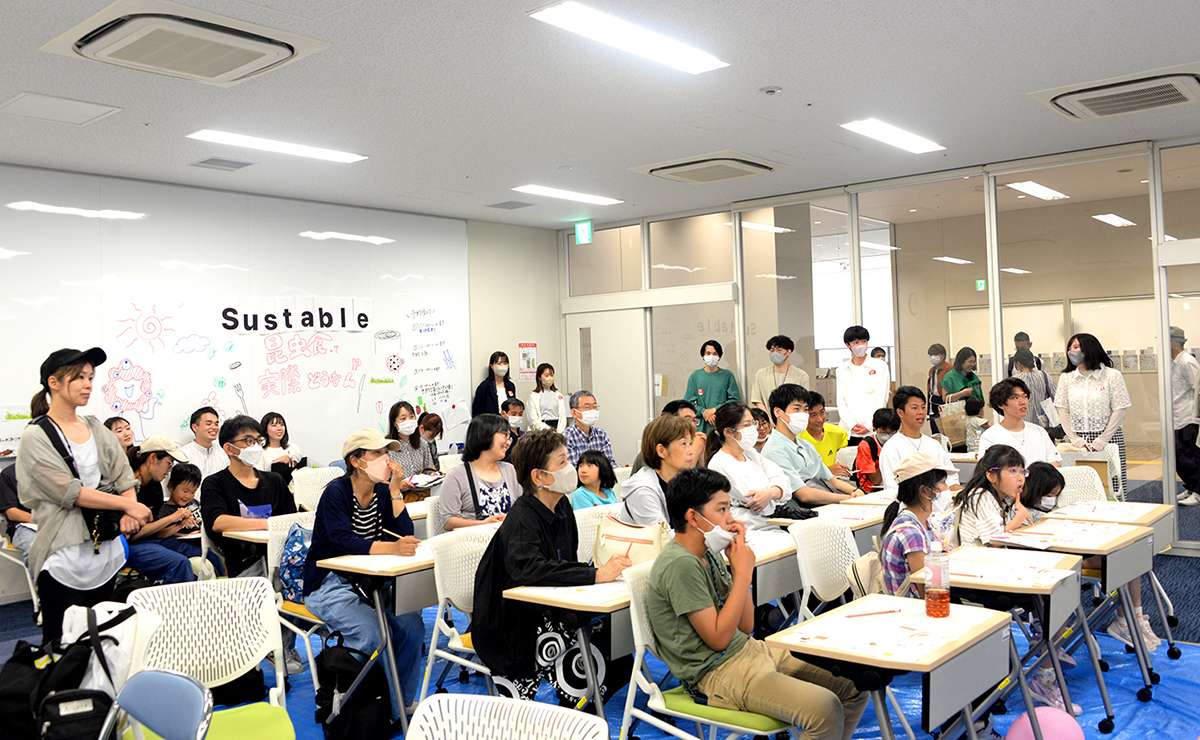 The Environment Team held a poster session with a quiz featuring a sea turtle and a panda, with the aim of generating interest in the current state of the environment both in the ocean and on land. The team told the children who visited their booth about how plastic trash dumped in the ocean and deforestation threaten the livelihood of animals.

The Diversity and Cultural Understanding Team ran a workshop featuring a karuta card game, and they are considering applying for the Co-Creation Challenge based on the idea of "learning about the world through play." Since this year's event attracted many families, the team created three types of original karuta cards that allowed visitors to learn greetings in several foreign languages, etiquette from around the world, and dialects. The team leader, Ayami Kokubu (2nd year, College of Information Science and Engineering), discussed the team's motivation by saying, "Going forward, we would like to create more games and expand our activities so that people of all ages and nationalities can enjoy them."

A team called Jellyfish Terakoya provided a place where visitors could think about what constitutes common sense in Japan and try their hand at traditional games. The small children who visited their booth seemed to be very interested in the unfamiliar hagoita and kendama, and they had a lot of fun with their families. They also held an event to discuss questions that cannot be answered immediately, such as the definitions of gender and beauty/ugliness, because they feel it is important for people to learn how to think independently without relying on AI.
A team called Invisible Prejudice: Thinking about Gender and Education prepared many school bags in cooperation with a school bag manufacturer. When children visited their booth, the team members asked them to choose their favorite color from a colorful selection of school bags and origami works, and then they asked the parents how they felt about their children's choices. This afforded visitors with an opportunity to question whether they held an unconscious bias based on gender.

The Education Team collected old textbooks from Ritsumeikan's junior high and high schools and the university as well as from high schools in Ibaraki City, and held a free textbook giveaway. They also asked Professor Tomoko Kashiwagi of the College of Social Sciences at Ritsumeikan University to give a lecture that afforded visitors with an opportunity to learn about educational disparities. The team's deputy leader and vice chair of the World Expo Student Committee Yuna Muramori (2nd year, College of Law) remarked on the team's ambitions by saying, "In order to create opportunities for society as a whole to think about educational disparities, we would like to plan a panel discussion in partnership with companies."

A team called CWA (Communicate with Anyone), which focuses on expanding the circle of community, implemented two projects with the hope of creating a society where there are many places and gatherings where everyone can easily communicate with each other. One was a coloring workshop for children, and the other was a consensus game that used numbers to help people reconcile their ideas and values with others' ideas and values. Both of these projects were well received by the visitors.
A team called Localization of Japan and the World researched how Japanese food has changed as it has taken root overseas, with the aim of communicating the surprisingly little-known connections between Japan and the rest of the world. They used a stamp quiz and posters to get their message across. The visitors seemed puzzled by the unexpected changes, such as the fact that ramen, a familiar dish in Japan, is now sold as a colorful yakisoba-like dish in the United States, but they enjoyed the booth immensely.

The Intercultural Exchange Team organized a cross-cultural experience using ethnic costumes. Their program featured ethnic costumes from five countries, including an Egyptian costume reminiscent of Cleopatra, a Mexican hat and poncho, and a Saudi Arabian taupe. The booth was crowded with visitors of all ages who enjoyed trying on the costumes and taking photos. Yuma Fujita, a member of the team and the head of the World Expo Student Committee (3rd year, College of Business Administration) spoke about the team's vision by saying, "In the future, I hope we can expand our activities to include language and cultural exchanges with students from overseas."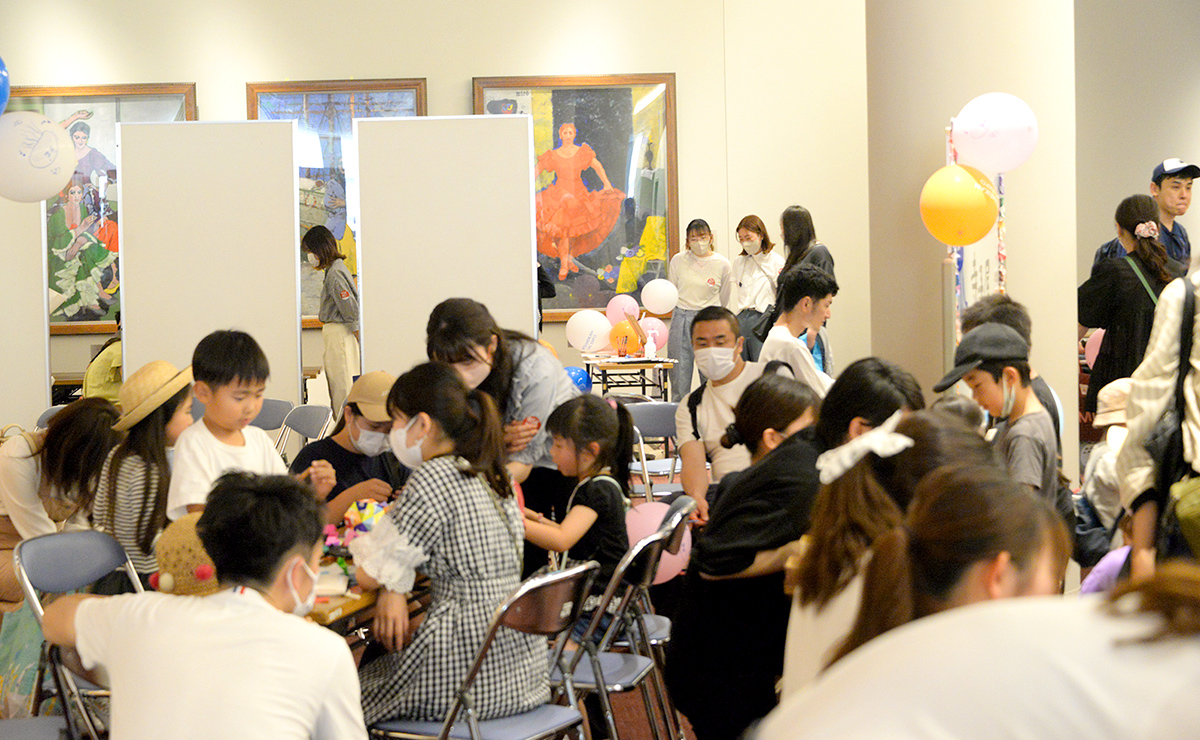 Talks with Sachiko Nakajima, company representatives, and students
At Future Plaza, where various student projects were held, the Committee welcomed Sachiko Nakajima, a World Expo Thematic Project Producer, for a talk event entitled "Hello! TEAM EXPO 2025 Meeting x EXPO PLL Talks: 'Invigorating Lives' Series Vol. 6."

In the first half of the event, Sachiko Nakajima and three students from Ritsumeikan University World Expo Student Committee were joined by Miho Kikuchi, a representative from Dai Nippon Printing in charge of the Expo pavilion support project, and Kazu Komori, who works for JR West Japan on the Umeda North Development Project, to discuss the ideas for the Co-Creation Challenge that the students have been working on.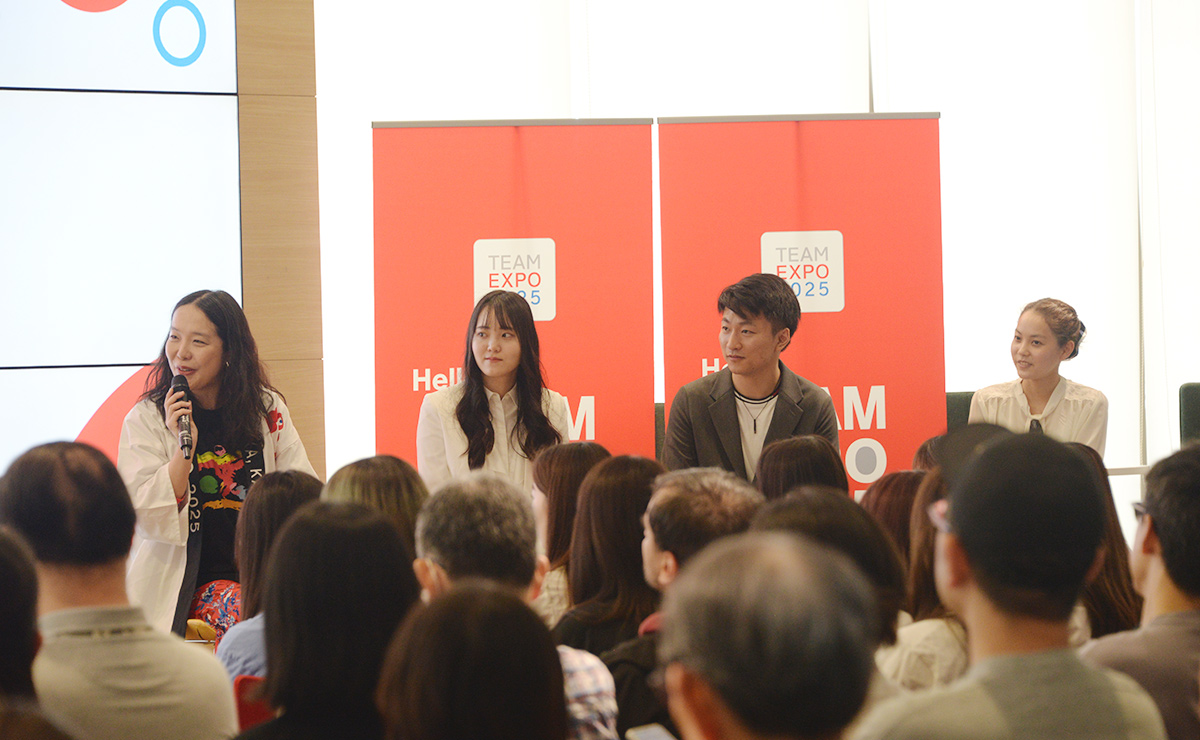 First, the three students gave presentations on their respective team's missions, plan topics, specific approaches, and plans for future activities. In response, Mr. Komori from JR West commented on how encouraging and surprising it was that the students were tackling social issues head-on in their activities. "Why don't you consider bringing your ideas to life in the Umeda North area that we are currently redeveloping?" added Komori, suggesting the possibility of collaboration between students and local companies. All students nodded vigorously in response to Mr. Komori's suggestion.

Next, Mr. Kikuchi from Dai Nippon Printing commented, "We live in an era in which we must be proactive in solving global and social issues. We would like to build momentum ahead of the Expo 2025 Osaka, Kansai, Japan to show that it is not just a spectacle, but a place where each and every one of us can participate in solving problems." He ended with a message for the visitors in attendance, urging them to also tackle the Co-Creation Challenges like the students at Ritsumeikan University.

Meanwhile, Ms. Nakajima touched on her expectations for the students by saying, "I participated in the Student Engagement Program at Ritsumeikan this March, and it seems to me that the students have overcome various hurdles to come up with the ideas they presented today. I hope they will continue taking action as they work on brushing up on the content of their plans ahead of the World Expo in 2025."

Ritsumeikan University will continue sharing information on the many efforts that these students will undertake going forward to build momentum for Expo 2025 Osaka, Kansai, Japan. Please stay tuned to see what the Ritsumeikan University World Expo Student Committee will do next.