Japanese class at ATHS
Background
In 2005, HH Lieutenant General Sheikh Mohammed bin Zayed Al Nahyan, the Crown Prince of Abu Dhabi and Deputy Supreme Commander of the UAE Armed Forces, requested Mr. Keiichiro Okabe, then chairman of the Cosmo Oil Co. Ltd, to carry out Japanese language education for local schools in Abu Dhabi in order to further build friendship and partnership with Japan. Acting on the request of the Crown Prince, the COSMO Group sent off two Japanese language teachers to a local primary school in Abu Dhabi and conducted Japanese language education program over the period of three years from 2007 to 2009. The COSMO Group then asked the Ritsumeikan Academy, which had been collaborating since the establishment of the Asia Pacific University (APU), to act as an Educational Advisor in implementing Japanese Language Program at a higher education level in April 2010. To expand the educational cooperation with UAE to a higher education level, the Ritsumeikan Trust signed the cooperation agreement with Cosmo Oil Company Limited and "Agreement for Japanese Language Cooperation Program" on March 11, 2011.
Subsequently, the memorandum of "COSMO-ADOC-Ritsumeikan Japanese Language Program" was signed among Cosmo Oil Company, Abu Dhabi Oil Company(ADOC), Applied Technology High School(ATHS) and the Ritsumeikan Trust on May 22, 2011 and the program has started as an extracurricular subject since September 2011.
As of October 1, 2015, Japanese Language Teaching Program, was succeeded to by, Cosmo Energy Exploration & Production Co., Ltd.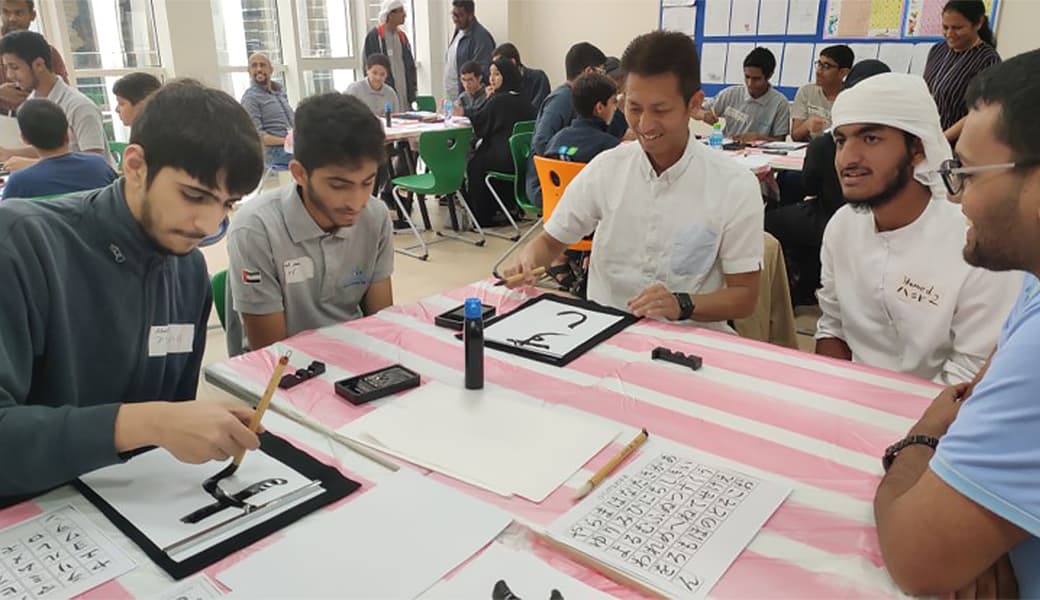 Trying Japanese calligraphy in Abu Dhabi
Program Overview
With the aim to "create an academic institution open to international society" addressed under the Ritsumeikan Charter, Ritsumeikan has been conducting a variety of projects for human resource development to strengthen the relationship with Middle Eastern countries in cooperation with industry.
The details of our projects are as follows (the programs have been carried out with the support from COSMO and ADOC).
The Japanese Language Education Program conducted in ATHS is coordinated on the initiative of Ritsumeikan University Center for Japanese Language Education.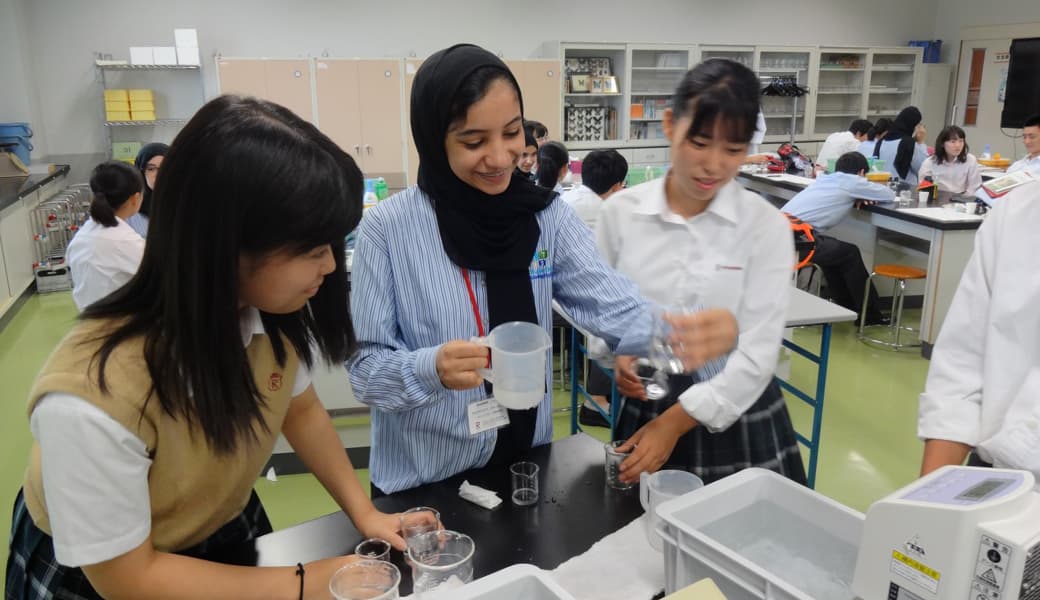 Studying together with Ritsumeikan Moriyama High School students
We provide:
Advice to the Japanese language instructors
Curriculum development support and its supervision
Support for designing and preparation of teaching materials
Advice on class management
Advice on recruitment of Japanese language instructors, etc...
Development of human resources as a bridge between Abu Dhabi and Japan
What we support:
Japanese Language Program
Provide approximately 230 hours of Japanese Language Program in 2.5 years as extracurricular classes.
About 30 students on average in one grade attend the program.
Study Abroad Program
About 20 students with outstanding academic results come to study in Ritsumeikan after they finish the 1st year of the Japanese Language Program.


Click here for the details of
Ritsumeikan University Center for Japanese Language Education
Past Record
Number of students completed the Japanese language program
 
 
 
Total
First
(Class of 2014)
Male
15
20
Female
5
Second
(Class of 2015)
Male
10
15
Female
5
Third
(Class of 2016)
Male
8
13
Female
5
Fourth
(Class of 2017)
Male
12
22
Female
10
Fifth
(Class of 2018)
Male
12
23
Female
11
Sixth
(Class of 2019)
Male
7
12
Female
5
Seventh
(Class of 2020)
Male
7
16
Female
9
Eighth
(Class of 2021)
Male
10
18
Female
8
Ninth
(Class of 2022)
Male
7
22
Female
15
※ Maximum number of students for enrolment:Total 40 (male 20, female 20 at the beginning of G9)
※ Students complete the Japanese class curriculum at the end of G11.

Other collaborations with Abu Dhabi
In June 2014, two UAE students from the Japanese School of Abu Dhabi (Primary School) and their parents came to Japan and visited Ritsumeikan Primary School, Ritsumeikan Uji Junior and Senior High School, and Ritsumeikan University BKC campus.
In October 2015, two UAE students from the Japanese School of Abu Dhabi (Primary School) and their parents came to Japan and visited Ritsumeikan Primary School, and Ritsumeikan Uji Junior and Senior High School.
In April 2018, one ATHS graduate entered College of Information Science and Engineering, Ritsumeikan University.
In 2020, online exchange events were held with students from ATHS and Ritsumeikan Moriyama Junior and Senior High School.
 July 6, 2020  December 14, 2020
In 2021, online exchange events were held with students from ATHS and Ritsumeikan Moriyama Junior and Senior High School.
 July 6, 2021  December 13, 2021