International Students Experience "Home Visit" in Ibaraki Fall 2016
At Osaka Ibaraki Campus, through the cooperation with International Friendship Association of Ibaraki, international students have the opportunity to experience the everyday lives of Japanese families twice a year by visiting Ibaraki residences through the "Home Visit" program.

This fall, during Asia Week at OIC, students who participated in Home Visit, and also host families, gave presentations about their experiences during Home Visit. One international student spoke about how she went to the food market and was shocked to see how fish were displayed, as that is not done in her home country. She also described experiencing a takoyaki party at her host family's house, and about the connection that they still have, occasionally going out together, and more.
Once the number of host families and participating international students has been decided, host families and students have a first-meeting at OIC before the actual Home Visit date to introduce each other and confirm their plans. During the first-meeting, in order to describe the meeting place people draw maps, share contact information or business cards, and plans vary depending on the host family.

In November and December, 6 Japanese host families accepted 18 international students from 7 different countries into their homes where students could experience festivals, kimono, tea ceremony and origami, and also enjoyed Japanese homemade food! Through this, international students can see what everyday life is like in Japan. The warm welcome and experiences provided by the host families grants international students once in a lifetime experiences that they will never forget.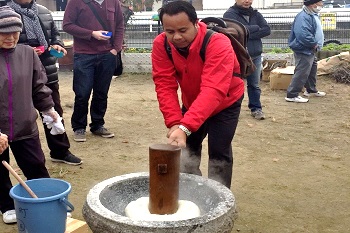 We hope to increase the number of host families and international students every semester to give everyone a chance to learn more about the world around them!