The Coming of Age Ceremony at the University of British Columbia, Canada
On January 7, 2017, Ritsumeikan students, who are studying abroad at the University of British Columbia (UBC) in Vancouver, Canada and participating in the "Ritsumeikan-UBC Joint Program", held the Coming of Age Ceremony known as Seijin-shiki, for students turning 20 years old. This ceremony has been held for over a decade by Ritsumeikan students, but this year was the first time that we invited about 20 Japanese students from other universities who are also studying at UBC, in addition to our 40 or so Ritsumeikan students.

Following the singing of the Japanese national anthem, Ms. Asako Okai, Consul General of Japan in Vancouver, made a congratulatory speech: " I would like you to make further effort towards the improvement of your English abilities because you will need such skills in this global society, and it's just a natural thing to work with foreigners in English." In addition, Dr. Reginald D'Silva, Academic Director of the UBC-Ritsumeikan Academic Exchange Programme, and Ms. Sheri Wenman Program Manager, also gave encouraging remarks to the students.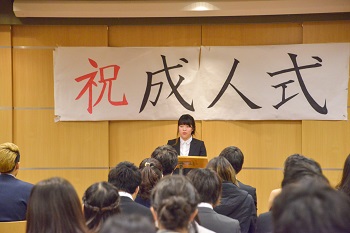 On behalf of the coming-of-age students, Ms. Yuka Makari (College of Letters) and Mr. Isshin Sawada (College of Business of Administration) spoke and resoloved to make the rest of study abroad life fruitful while extending their gratitude towards all the people who have supported them in becoming adults.

Ritsumeikan University and UBC began their partnership in 1991, and since then more than 2,000 students have studied in Vancouver to take part in a full year of academic study.
Related information