Ritsumeikan Seminar Series – Tackling global issues with "Sustainability Science × Inclusion"
The Ritsumeikan UK office has been hosting a seminar series on various topics since 2015. On November 24, 2016, Professor Monte Cassim, Professor of the College of Policy Science and Director of Ritsumeikan's Kyoto Museum for World Peace, was invited to give a lecture at the second Seminar Series at SOAS, University of London.
The lecture was entitled "Inclusive Innovation - Designing propulsive projects for knowledge circulation between technology 'Drivers' and 'Test Beds'". Professor Cassim, who is also a Senior Advisor to the Prime Minister of Sri Lanka, presented the concept of "Inclusive Innovation" at G7 Science and Technology Ministers' Meeting in Tsukuba, Ibaraki, on May 17, 2016. This presentation was updated by adding a Sustainability Science aspect to this lecture.

Human activities that have a significant global impact on the Earth's ecosystem and climate have caused the transition to the new geological age of the Anthropocene, creating fear that affects society and the political environment. Under such circumstances, the lecture focused on two topics; the importance of connecting Sustainability Science and Inclusion, and a paradigm to create new growth and wealth by facilitating knowledge circulation between technology drivers and testbeds. Professor Cassim introduced three projects that are based on these concepts; 1. Agricultural Adaptation to Climate Change "Precision Agro-Informatics Platform", 2. Addressing Chronic Lifestyle-related Debilitating Diseases "MedSyn-Stroke", 3. 'Citizen Science' to Create a Global Plant Census "Terra-Green Network (TGN)". The significance and outcomes of the three projects were very interesting and there were questions and comments from the participants such as "How should the U.K. make an effort?" and "Why not involve creative industries?". The seminar was followed by the networking reception and active discussion continued among the people who attended the seminar.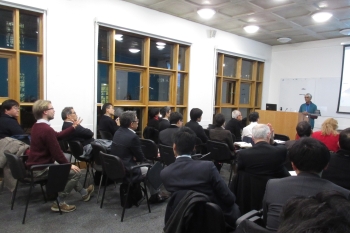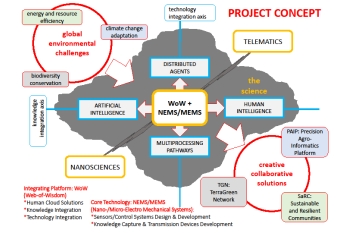 Ritsumeikan UK Office will continue to host seminars regularly. The next seminar will be held on Friday February 24 and will invite Professor Atsuki Higashiyama from the College of Letters who was awarded an Ig Nobel Prize for proving the change of visual perception when viewed from between the legs.
Related information