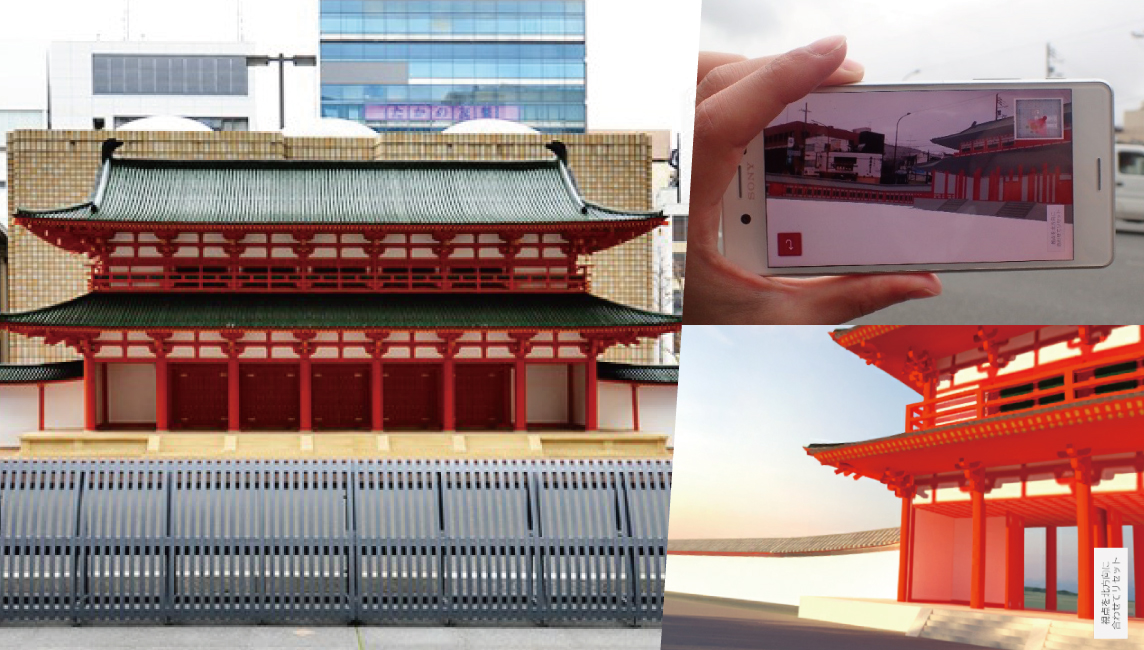 Augmented reality brings 8th Century Kyoto to life
Ancient Kyoto superimposed onto the contemporary landscape (from Suzaku-mon Gate to Rasho-mon Gate) via a new app: 'Virtual Heiankyo AR'
Professor Keiji Yano, Deputy-Director of the Art Research Center, Ritsumeikan University College of Letters, has collaborated with CAD Center Corporation to develop the Virtual Heiankyo AR smartphone app (for Android). The app, which recreates ancient Kyoto superimposed over the contemporary city landscape using augmented reality (AR) technology, was released on June 4, 2018, in Google Play.

Professor Yano previously collaborated with CAD Center to provide an online service called Virtual Kyoto - integrating 3D models of Kyoto from the old Heian* and Edo** periods with present day representations to provide a layered, 3D map of the city.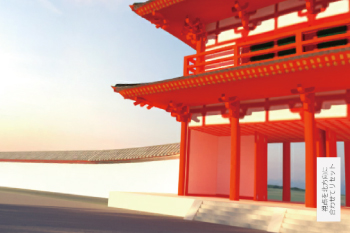 The new Virtual Heiankyo AR app was developed by augmenting the 3D technology used in Virtual Kyoto with GPS information. When, for example, the app is opened on a smartphone and held up within the grounds of the original location of the Emperor's Heian Palace (an area that runs 1.4 km north-south and 1.2 km east-west – situated approximately 2.5 km north of Kyoto Station), the structures that once existed inside the palace are displayed and can be experienced in AR.

The app also offers 360-degree virtual reality (VR) panoramas of ancient Kyoto at eight set points along a 4km north-south walk along what was traditionally 'Suzaku Avenue', or the main, wide boulevard of the old city, which connected the south entrance gate of the city to the main gate of the Emperor's Heian Palace (gates known as 'Rasho-mon' and 'Suzaku-mon' respectively, where 'mon' means 'gate'). Although neither gate survives in its original form, there is a 1/10 scale model of the Rasho-mon Gate in front of JR Kyoto Station.

* Heian Period: 794~1185
** Edo Period: 1603~1868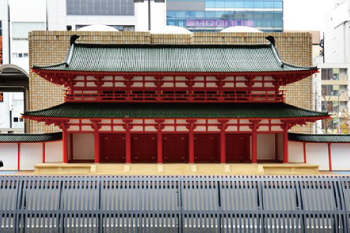 Comment from Professor Yano:

This new AR-VR Heian Kyoto app was developed using information from the work done to create 'Virtual Kyoto', which was itself originally based upon a 1/1000 scale model of ancient Kyoto owned by the City of Kyoto, on display at Kyoto Center for Lifelong Learning (Kyoto Asny). With this new app, you can experience in situ an AR modelling of the Heian Palace and a 360-degree ancient VR view of the Rasho-mon Gate based around the model in front of JR Kyoto Station.

If you walk north along Senbon-dori street from what used to be Suzaku-mon Gate (which was the south gate of the palace complex and is now the area near the intersection between Senbon-dori street and Oshikoji-dori street), you can use the app to recreate and see the structures that existed inside the Heian Palace complex. The app also uses the Rasho-mon Gate model in front of Kyoto Station as a trigger to display a stripped back, ancient view of the area, showing the three mountains of Kyoto and the towers of Saiji Temple and Toji temple (west and east temples respectively).

Outline

Name of app: Virtual Heiankyo AR
Compatible OS: Android 6.0 or higher
Language: Japanese
Service area: Japan
Start of service: June 2018
Price: Free