Beyond Borders Plazas:Cross-Cultural Week - Students lead International Exchange
Encouraging cross-cultural exchange and understanding is a priority for Ritsumeikan University.
With this in mind, April 2018 saw the establishment of Beyond Borders Plazas (BBP: campus spaces dedicated to the purpose of international exchange and language learning) on each campus.

Less than two months after the official opening, the end of May / beginning of June saw a student-led Cross-Cultural Week draw a diverse range of students from across Kinugasa Campus to take part in a number of lively and stimulating events based in and around the new BBP.

In making a type of traditional Japanese sweet together (ohagi) and designing and sharing recipe selections for Muslim-friendly food; in taking an active, dancing part in an introductory presentation about Indonesian culture; and in rising to the challenge of understanding and teaching the intricacies of terms and phrases from the local Kansai-Japanese dialect, perspectives were shared, connections were made, and lasting friendships formed.

Before moving on to a photographic tour of the events, however, below is a brief introduction to some of the ideas underpinning 'Beyond Borders Plazas':
JAPANESE LESSONS
Learning Japanese beyond the Textbook
Non-native speakers of Japanese were challenged by native speakers to guess the meaning of the phrases (often used by under 30s in Japan) laid out on the table before them. Some phrases were taken from the local 'Kansai' Japanese dialect.

Japanese language activities were led by TISA (Tutors for International Students Assembly: a domestic-student-led organization that actively seeks to promote international exchange between students by organizing informal and fun international exchange events between domestic students and international students) and SUP! (a language exchange program run by Ritsumeikan University Language Education Center that seeks to find suitable language exchange partners for students eager to learn from native speakers - language options include Japanese, German, Chinese, English, and many, many more).
COOKING WORKSHOP
'Hello! Muslim Friendly' - creating a Muslim-friendly menu and making a traditional Japanese sweet Ohagi*
Organized and led by members of the Student Co-op Association, this event took place in one of Kinugasa's on-campus cafeterias.

*Ohagi: a Japanese sweet made from glutinous rice and sweet azuki (red bean) paste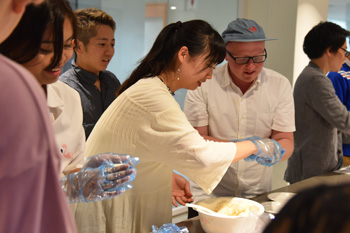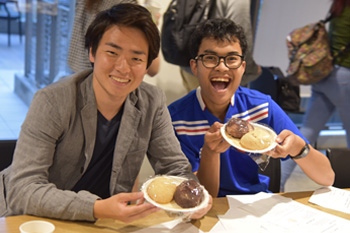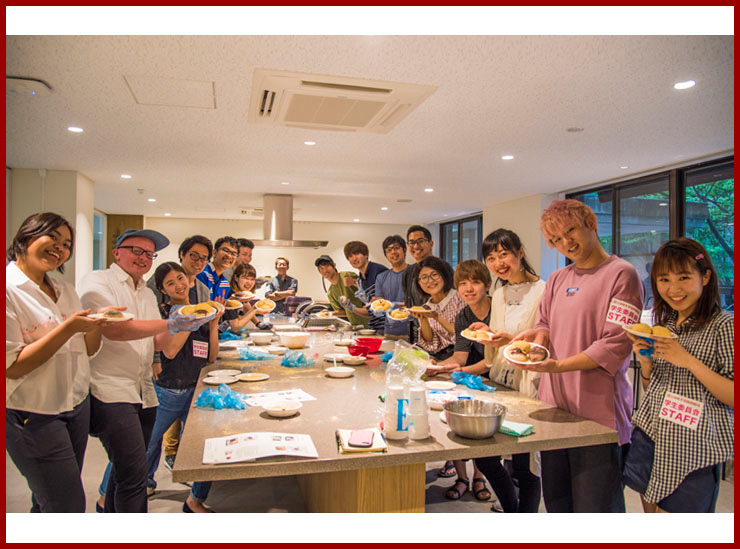 INDONESIAN CULTURE PRESENTATION
English language presentation on the features of Indonesian Culture
The presentation on Indonesian culture was given by a member of the Indonesian Student Association at Ritsumeikan University, otherwise known as 'I-Start'. Participants were encouraged to ask questions throughout and were even invited to take part in an impromptu traditional dance lesson at the end.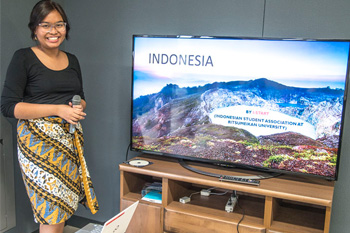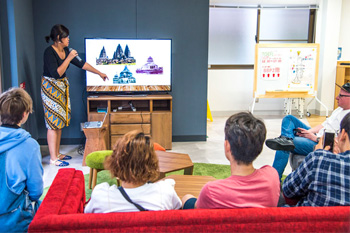 The three events introduced above form just small selection from a week which also included, amongst many, many more events: a round-table discussion on Italy, given by students of Italian Studies; a Hawaiian dance show; and a 'Study Abroad Consultation' event held by Mairu – Ritsumeikan University's own study abroad support organization.