'Effectuation' workshop given by theory originator Professor Saras Sarasvathy
Innovative researcher and originator of the groundbreaking framework for understanding entrepreneurship, 'Effectuation', Professor Saras Sarasvathy of the Darden School of Business, University of Virginia, gave a lively, interactive three hour workshop on Osaka Ibaraki Campus, Friday, October 26.

The theory of Effectuation, first expounded by the professor in 2001, was developed from a cognitive science based study of entrepreneurial expertise to provide answers to questions previously regarded as largely enigmatic: 'How do successful entrepreneurs achieve their success?', and 'What makes it possible for them to put their new ideas into action effectively in the world at large?'

In the years since, effectuation has also gone on to become an abstract guide to successful entrepreneurship, gathering momentum in both academic and business circles; and a search of the internet reveals translations of the professor's work into multiple languages.

Meanwhile Professor Sarasvathy has continued to add to and build upon her early work leading to new concerns and insights, all of which were woven skillfully into a dynamic and inspiring workshop.
The session, attended by a broad range of participants made up of students, researchers from business and other fields, company executives and employees, as well as public officers and self-employed persons, began with a simple, open question:

'Why are you interested in entrepreneurship?'

Bravely answered by Ritsumeikan University College of Business Administration student Kentaro Morita: 'I want to change the world!' the professor took this response as a prompt for a more in depth discussion of her work.

Comparing successful approaches to entrepreneurship with successful approaches to traditional business, the professor first described the key finding of her research: that in 'changing the world' the logic underpinning successful entrepreneurial activity, 'Effectual Logic', is in direct contrast to that underpinning traditional business, 'Causal Logic'.

Thus, where a traditional business would conduct market research to create a predictable future and set goals in order to 'change the world' in a controlled way (Causal Logic), a successful entrepreneur would set out to 'change the world' by first ensuring the future is already in control (Effectual Logic).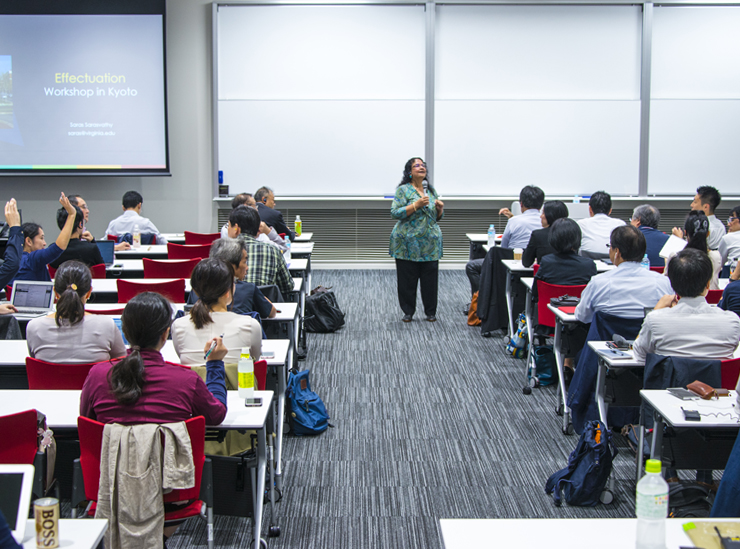 It is the professor's unique analysis of how successful entrepreneurs are able to do this, represented by her 'Five Principles of Effectuation', together with an explication of their cyclical implementation in a 'virtuous loop', that formed the focus of the remainder of the interactive presentation.


Refreshingly, the introduction of real-life examples towards the end of the session painted an easy to grasp and inspiring picture of the theory applied in practice, whilst also appropriately setting the tone for three final, short presentations on the implementation of effectuation in Japan.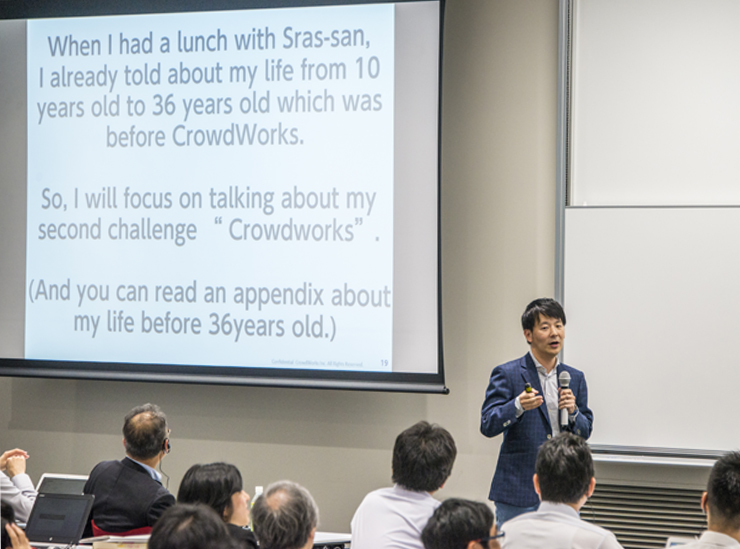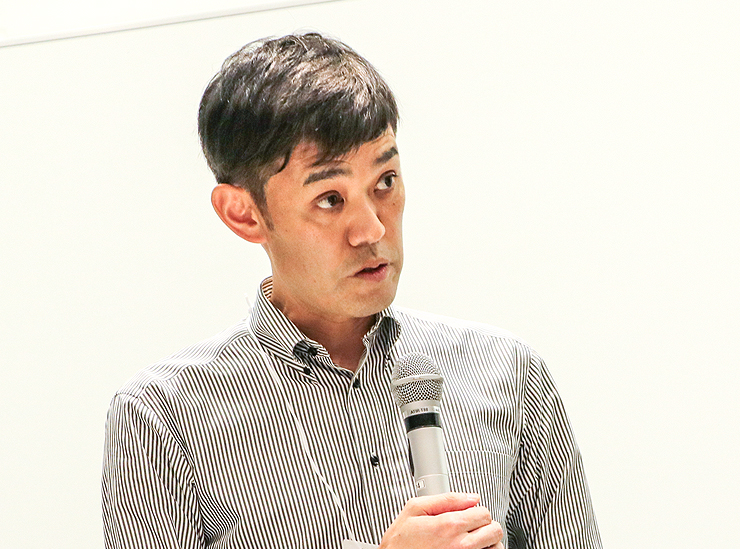 The honorary guest speakers were Kobe University's Dr. Kei Kuriki, Dream Architecting Manufactory Representative Dr. Ryu Katayama, and Crowdworks Inc. CEO Mr. Koichiro Yoshida.

The fact that Mr. Yoshida's achievement of creating an expanding business from scratch can be explained as a phenomenon so eloquently by Professor Sarasvathy's principles of effectuation, is perhaps testament also to the theory's potential for future influence.
THE PRINCIPLES OF EFFECTUATION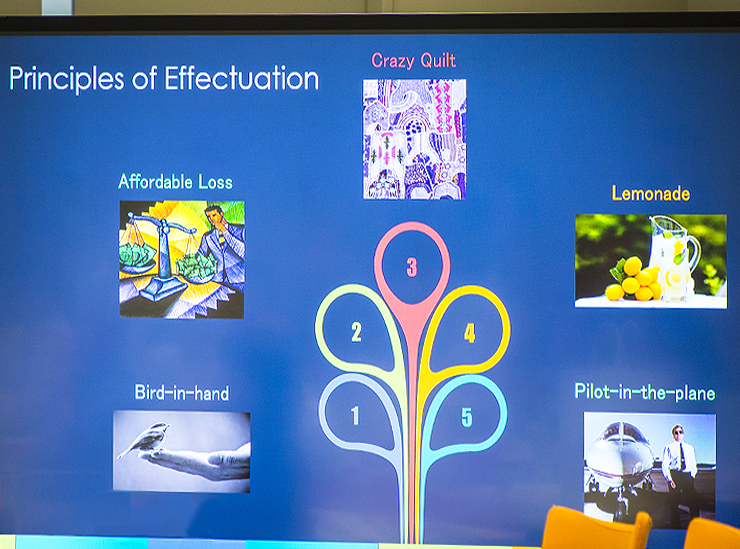 Bird-in-hand (Asking oneself: 'Who am I?', 'What do I know?' and 'Who do I know?' – effectively thinking of the resources you already have easily available to you)

Affordable Loss (What can you afford to lose?)

Crazy Quilt (Incorporating the ideas of trust-worthy contributors)

Lemonade (The notion of making what may appear to be negative circumstances, positive – i.e. if you are thrown unwanted lemons, make lemonade to thus turn this circumstance to your advantage)

Pilot-in-the-plane (The conviction that an entrepreneur can create markets – and, thus, demand - through action, rather than assessing market forces to predict demand)


RELATED LINKS
Saras D. Sarasvathy
https://www.darden.virginia.edu/faculty-research/directory/saras-d-sarasvathy/

Society for Effectual Action:
https://www.effectuation.org/

University of Virginia:
http://www.virginia.edu/