Engraving reliably readable 2D Barcodes into Hard Materials - Ritsumeikan University Team develops new Technique
A research group led by Professor Takakuni Douseki (College of Science and Engineering) has successfully demonstrated a new 2D bar code technique, that allows codes to be engraved as reliably readable data into hard materials by employing the use of 1mm micro holes. The new technique, which the team has called 'Porous Code', offers the potential for information to be provided unobtrusively and semi-permanently at tourist destinations, cultural assets, and public facilities.

The results were announced by Professor Douseki at the 18th International Conference on Electronics, Information, and Communication (ICEIC 2019), Auckland, New Zealand - Jan 22 to Jan 25.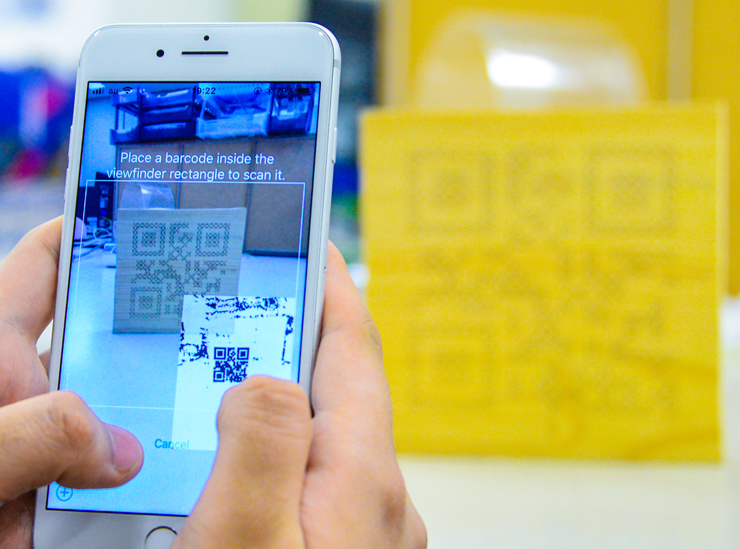 In recent years, two-dimensional codes, of which QR Codes are an example, have been increasingly used to communicate information in the distribution management and retail sales sectors. Typically printed on paper, however, they have a tendency to degrade and become unreliable as scannable material when used outdoors.

The new Porous Code resolves this issue by enabling codes to be etched directly onto sturdy materials such as concrete, wood, and metal; thus providing a non-degradable, semi-permanent and reliably scannable solution, as long as the base material lasts.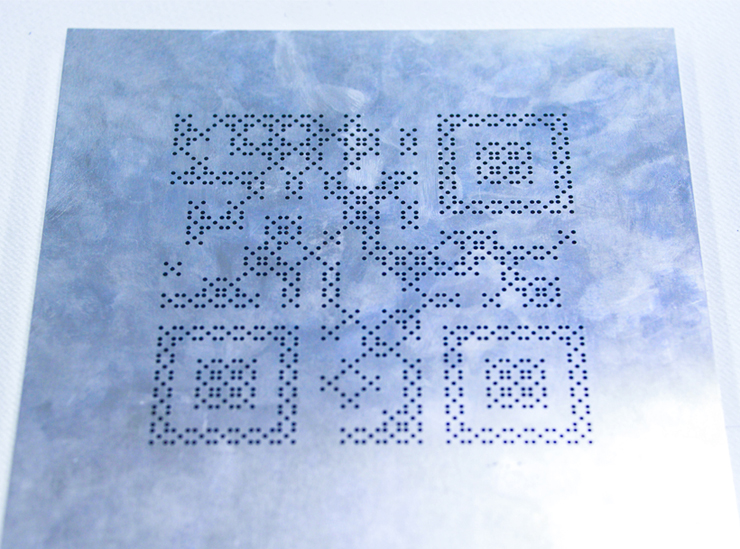 To create the Porous Code, the team used high frequency cells, made up of 5 micro holes, to form the binary '1'; and low frequency cells, without holes, to form the binary '0'.

The team found that the application of this technique resulted in cameras recognizing each set of 5 micro holes as individual black dots (i.e. high frequency binary '1's), a consequence of the shadows cast; thus enabling an accurate scan.

Because the shadows required for scanning are less susceptible to ambient light, the code can be consistently scanned under a variety of different lighting conditions; and tests confirmed readability across a wide range of brightness from 10 to 6,000 lux (early twilight to daylight).

It is anticipated the team's success will lead to the application of Porous Code in: tourism and cultural property management - enabling the provision of information without adversely affecting scenery; augmented reality (AR), where the digital and real worlds meet; and in the effective provision of information regarding barrier free access at public facilities.
Development Team
Leader: Takakuni Douseki (Professor, Department of Electronic and Computer Engineering, College of Science and Engineering)

Software supervisors: Yohei Fukumizu (Associate Professor, Department of Electronic and Computer Engineering, College of Science and Engineering); Asuka Ohashi (Assistant Professor, Department of Electronic and Computer Engineering, College of Science and Engineering)

Concrete supervisor: Tomoko Fukuyama (Associate Professor, Department of Architecture & Urban Design, College of Science and Engineering)

Programming and code development: Kentaro Kimura (First-year graduate student, Advanced Electrical, Electronic and Computer Systems Program, Graduate School of Science and Engineering)

Porous Code prototype: Hiroyuki Sugimoto (Technician, College of Science and Engineering Fabrication Center)