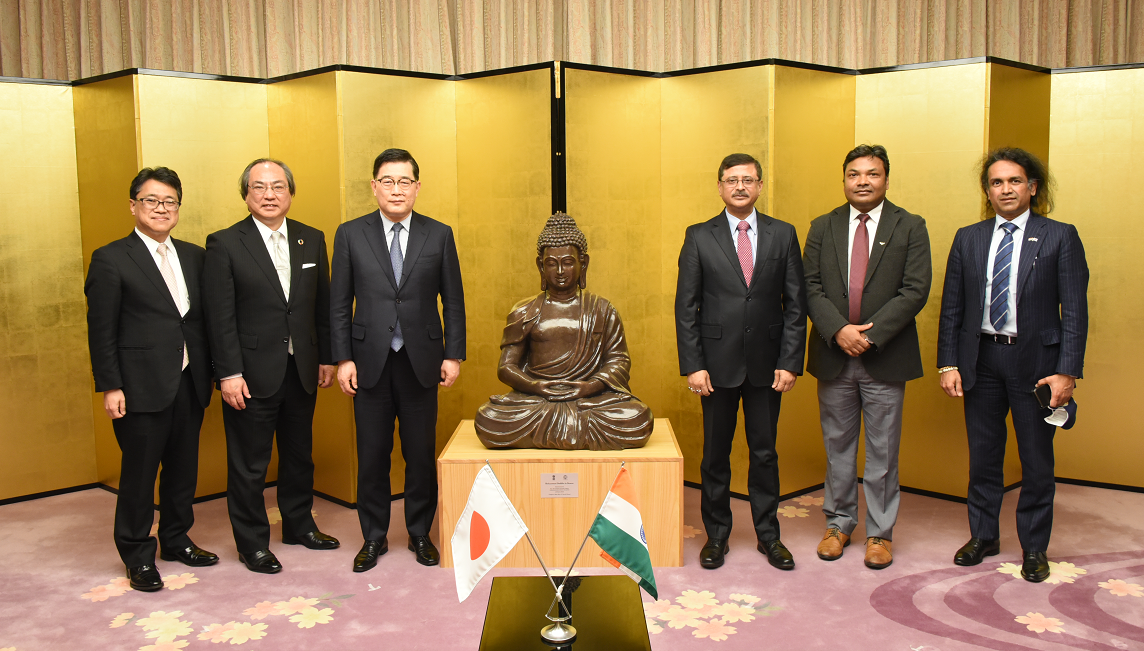 Ambassador of India to Japan Visits Ritsumeikan
On Monday, March 28, an unveiling ceremony was held at Ritsumeikan Suzaku Campus for the statue of Buddha gifted to Ritsumeikan University by the Government of India.

H.E. Mr. Sanjay Kumar Verma, Ambassador of India to Japan, Mr. Nikhilesh Giri, Consul General of India, Osaka-Kobe and Mr. Sanjeev Jain, Head of Chancery and Consul, Consulate General of India, Osaka-Kobe attended the ceremony. Mr. Tomomi Morishima, Chairperson of the Board of Trustees, President Yoshio Nakatani and Professor Ryuzo Ueno, Special Aide to the President, represented Ritsumeikan University at the ceremony.

The numerous books also kindly donated by the Indian Ambassador were displayed along with the statue of Buddha, and after the ceremony, a discussion took place regarding exchange and collaboration in research and education between India and Japan.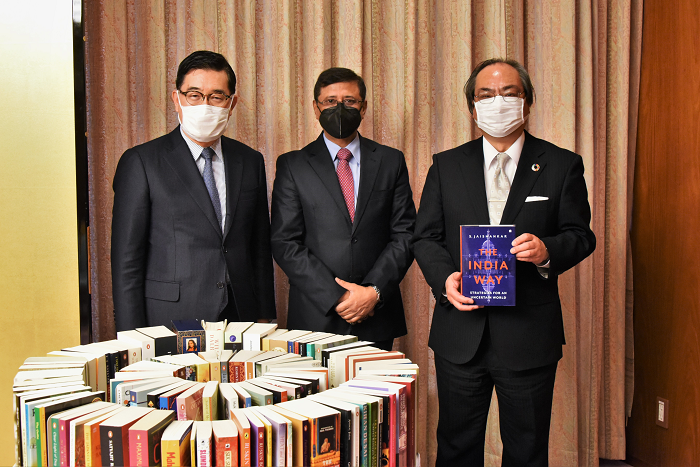 During his speech, Ambassador Verma noted that "the statue of Buddha and books have been given to commemorate the growth of the cultural and economic friendship between India and Japan as well as a token of our gratitude to Ritsumeikan Academy for contributing to bilateral exchange between our two nations." In addition, as this year marks the 70th anniversary of the establishment of diplomatic relations between Japan and India, the ambassador explained that he strongly hopes that industry-academia exchange and collaboration between the two nations will continue to develop even further.

Mr. Morishima introduced the "Ritsumeikan India Office" established in Delhi, India in 2010 to promote globalization in research and education and how as a base of academic exchange, it aims to be a part of the cultivation of human resources both in India and Japan. He also noted that for Ritsumeikan University, which aspires to be a "leading-edge research university," collaboration between various researchers including those from India and Japan is indispensable.

During his address, President Nakatani introduced Project Based Learning (PBL) and internships carried out by three colleges and graduate schools at Ritsumeikan University; the Colleges of Science and Engineering, Information Science and Engineering and Life Sciences in conjunction with the Indian Institute of Technology Hyderabad, Nitte University and Symbiosis International University. He expressed his aspirations to continue to promote academic exchange and utilize the strengths of each nation to work towards solving global issues together.

*Masks were only removed during the commemorative photo.