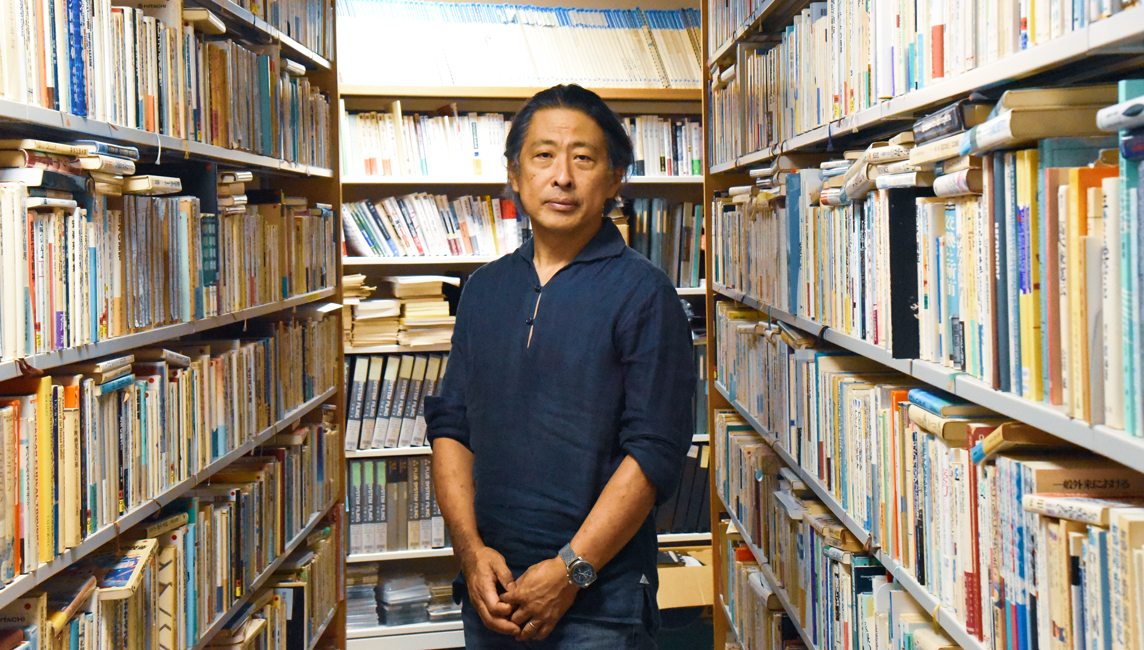 [Visiting Centers of Knowledge] Institute of Ars Vivendi:Exploring the Relationship between Society and Bodies Living with Disabilities, Aging, Illness, and Differences
We all live our lives in different bodies. Living means dealing with bodies that change over time due to factors like aging and illness as well as being involved with society by way of our bodies.

The Institute of Ars Vivendi at Ritsumeikan University is a research center that deals with the "art of living," or the study of the experiences of people living in different bodies and their relationship to society. We interviewed the director of the institute, Professor Shinya Tateiwa of the Graduate School of Core Ethics and Frontier Sciences, about the institute's research activities, which explore various questions concerning the body that have been overlooked until now.
Documenting diverse ways of living and examining issues that arise between the body and society
The Institute of Ars Vivendi at Ritsumeikan University was established in 2007 as the Research Center for Ars Vivendi when the Ministry of Education, Culture, Sports, Science and Technology (MEXT) awarded Ritsumeikan funding for its Global COE Program for Ars Vivendi. In AY2019, it was reorganized as a permanent research center of Ritsumeikan University. Professor Tateiwa, who spearheaded the establishment of the Institute and continues to serve as its director, recalls the course of events that led to the Institute's opening.

"In the Graduate School of Core Ethics and Frontier Sciences, where I teach, there are many faculty members who deal with topics like life and the body as well as researchers and students who have disabilities themselves or who conduct research together with people with disabilities. When there was talk of applying for the Global COE within the graduate school, we decided that we wanted to create a center that would bring together a wide variety of research and activities related to the body.

This is why we used the term "ars vivendi" in our application. As long as we are alive, human beings must deal with their bodies for the rest of our lives, and as long as we have bodies, we must recognize that there is no such thing as 'normal' and that every one of us will experience aging, illness, and various changes. We used the term 'ars vivendi' to describe this activity of recording how people have lived and are living within the environment, or the phenomena, that is their bodies and considering the issues that arise between the body and society.

Of course, there are existing disciplines that address issues of the body, but it seems to me that many of these issues remain overlooked. To respond to the demands of society, the times, and people, the Institute of Ars Vivendi pursues research in the spirit of doing whatever is possible, so we have chosen not to define a scope for our activities."


The Institute for Ars Vivendi's philosophy is centered on four axes: disability, aging, illness, and differences. Based on the Buddhist concept of the four sufferings—birth, aging, illness, and death—the Institute focuses on the four elements of aging, illness, disability, and living in different bodies. According to Professor Tateiwa, it is important to take a step back from the viewpoints of medicine and welfare, which are often the first things that come to mind when we think about disability, aging, illness, and differences.

"For example, from the medical point of view, an illness is something that must be cured, but if we take a step back, we can ask whether it really must be cured in the first place and why people have a desire to cure diseases. It is important for us to reconsider what is taken for granted when we contemplate such issues. Looking back over history, there are many examples of people dying or getting injured because they received the wrong 'treatment.' The same applies even today, and this will never change if we keep refusing to change our way of thinking."

As Professor Tateiwa explains, although it is important to take a bird's eye view, it is also equally important to get a close-up perspective on what is happening now. In this way, the Institute for Ars Vivendi engages in research while working closely with the people who live in society as well as those who are working on the front lines to change it. Next, we asked Professor Tateiwa to provide some specific examples of the research the Institute is conducting.
Unique archives and other research activities
Although the Institute for Ars Vivendi deals with a wide range of research topics, it currently focuses on three pillars: ars vivendi archiving, establishing a center for the study of ars vivendi in East Asia, and assistive technology development. Of these, Professor Tateiwa is in charge of the ars vivendi archiving project.

"We collect and store materials that showcase the voices of people living in diverse bodies and materials related to their respective movements, and we make them publicly available so that people can access them whenever they need to. In principle, books that are in general circulation are housed at the National Diet Library, but we collect a wide range of items, including books that are not in general circulation, newsletters published by activist groups, and manuscripts and leaflets that have not been compiled into books. For example, in Japan, pollution and medication-related health disasters became major problems in the 1970s, and those affected by these problems started movements to make appeals to the government and society and shed light on the actual situation. Fifty years have passed since then, so some of the members of these groups have passed away, and we often receive donations from the families of deceased activists."
With the archiving project, Professor Tateiwa hopes the Institute can play the role of a repository, a kind of rear guard to provide support to those who are working on the front lines. He also hopes the Institute can respond to people's needs by collaborating with the archivists at other research institutions. The Institute's archive collects more than just paper materials. Professor Tateiwa explains:

"We also visit people with disabilities and activists who have been involved in movements to interview them and document their lives and the issues they have worked to make society aware of. Everyone has many things they want to tell others, but not many are in the habit of writing them down in a coherent form; however, when we ask them questions, they answer us. For myself, these interviews comprise the biggest part of my activities, and I always have a sense of urgency that if I don't listen to these people now, I may never get the chance to do so while they are alive.

What's more, collecting the comments left on websites and social media site is becoming increasingly important in documenting the ongoing discourse. We are currently discussing how to best collect information from online sources. This initiative is also meaningful from a global perspective. If it happens that other countries tighten their restrictions on speech and delete a massive number of online postings, storing this data in Japan will prevent this speech from disappearing."

A vast catalog of materials and interviews are also available on the web in an archive entitled Tracing Lives and Finding Ways: Building an Archive of the Body in Society. The archive receives as many as 30 million views every years, which gives an idea of the sheer number of people who need the archive. In addition to the website, information is also frequently exchanged on a mailing list that includes several hundred faculty members, students, alumni, visiting researchers, and other stakeholders.

Furthermore, in terms of establishing a center for the study of ars vivendi in East Asia, the Institute has been organizing the East Asia Disability Studies Forum every year for more than 10 years in cooperation with research institutions in China, South Korea, and Taiwan. It serves as a forum for exchanging information and deepening cooperation on issues related to the body that are common to all the areas in the region. The event has been held online since 2020 due to the COVID-19 pandemic, but next year it is scheduled to be held in-person in South Korea.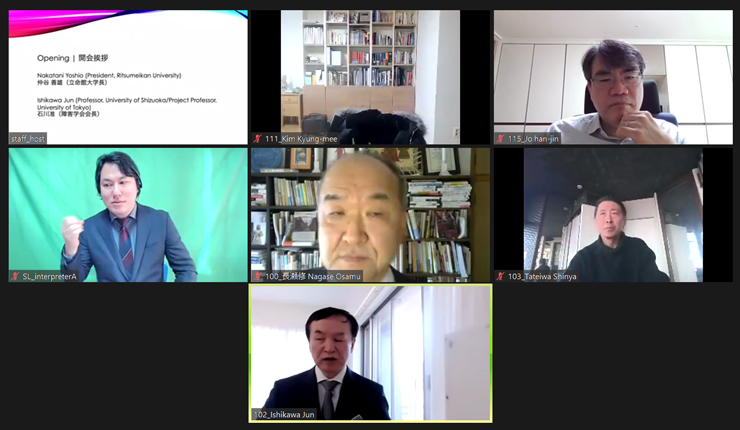 As for assistive technology development, social research that incorporates the perspectives of the individuals concerned and the nature of support are extensively conducted both "hard" and "soft" angles, with the aim of practically applying technology that will realize a diverse society. Since AY2020, the Institute has been developing an accessibility project under the leadership of Professor Izumi Otani, who herself is a regular wheelchair user, to address the issues of mobility and information access for persons with disabilities and the elderly.
Working on a book that compiles topics related to the body that have emerged from 15 years of research
So far, we have heard about the ongoing activities of the Institute of Ars Vivendi, but one of its latest initiatives is to compile the 15 years of research outcomes since its establishment into a book. Professor Tateiwa explains:

"We would like to organize the issues surrounding the body that we have been thinking about through our activities over the past 15 years into several topics and publish them as a book. We have already begun to think about and take action on several of these topics, including the archive I mentioned today, drugs and vaccines, and the issue of working with a disease or disability. We plan to have our researchers and graduate students join the editorial team and publish several books per year in a series over a period of about seven years.

Since we have accumulated a massive amount of knowledge mainly through our website, I think it is time to start the process of putting it all together. For example, while the word 'diversity' is one we often hear, I feel that the discourse often does not pay attention to the actual situation. We've been thinking about diversity for 15 years, so maybe by compiling a book, we can provide a clear outline of the whole picture."

While compiling a book may serve to clarify the overall picture for some topics, there are others topics that for which conclusions cannot be easily reached. Professor Tateiwa explains:

"Out of the four axes of disability, aging, illness, and differences, when we look at 'differences,' there are people who suffer from prejudice because how they look or how they behave differs from those of other people. Of course, this is not a problem with the individual, nor is it a problem that can be solved by compensating for it with something else, like how a person with weak eyesight wears glasses.

To look at it another way, there is also suffering because the conditions are not easy to see from an outsider's perspective. That is pain. Since these individuals cannot share their physical pain with others, when they make a case for the pain they are suffering, they may be suspected of lying, or their condition may not be recognized as a disability or illness. This can lead to systemic issues, such as a person not being able to receive a pension or failing to receive accommodation at school or work."

These issues stemming from things like 'appearances' or 'pain' are rarely addressed in society, and the people who suffer from them are left to fend for themselves. According to Professor Tateiwa, this is why it is meaningful to give shape to them by writing a book.

"There are some problems in the world for which we know the solution in theory, such as providing barrier-free access, but the actual solution has not been implemented. Meanwhile, there are other problems, like the aforementioned issues of 'appearances' and 'pain,' that we have no idea how to solve yet. We do not yet know what conclusions may be reached by writing a book, but we are certain that these are exactly the kinds of issues that we should be writing about. I believe that our job is not to give up because we don't have the answers, but to press forward to the point where it is possible to solve even just a small part of the problems that exist today."

While he pursues this big plan to publish a series of books, Professor Tateiwa's main focus remains the archive. To this end, continuing to consistently collect materials and conduct interviews is a never-ending challenge.

"We would also like to focus on multilingual communication in English, Chinese, and Korean, but our budget and manpower are limited, so our top priority right now is on collecting and organizing materials and holding interviews. If we don't leave a record of what we can now, we won't be able to translate it later. As an important mission of the university, we want to maintain and further expand the archive so that students, researchers, and all citizens can refer to it whenever they need to."
Related information