Impact Makers Day Held at Osaka Ibaraki Campus for Entrepreneurs and Students Aiming to Create Value for Society
Impact Makers Day was held at Osaka Ibaraki Campus on December 17. This event is an attempt to promote new value creation by bringing together people who aim to generate innovation and value for coexistence with society by operationalizing business ideas. (At Ritsumeikan, we refer to these individuals as Impact Makers.) Entrepreneurs associated with Ritsumeikan and impact-making Ritsumeikan high school and university students were present on the stage, and the following is a report on the event, where people interacted with each other regardless of age and position.
Ritsumeikan's efforts to support entrepreneurs
In AY2109, Ritsumeikan launched the Ritsumeikan Impact-Makers Inter X (RIMIX) Platform with the aim of fostering Impact Makers who can harness the power of business to solve social issues. In addition, in July 2022, in collaboration with Venture Café, which operates in 11 cities in six countries around the world, Ritsumeikan established OIC CONNÉCT, a project aimed at creating an innovation community in the Kansai region. This year's Impact Makers Day was held as a special edition of OIC Connéct, with the aim of creating a gathering place for people with businesses and visions to solve social issues.

The event took place at the Yasuhiro Wakebayashi International Exchange Center on Osaka Ibaraki Campus. The venue was divided into four zones, and visitors enjoyed listening to each Impact Maker's pitches and interacting with them.

Zone 1 featured workshops on topics like emerging research that aims to translate into commercial ventures and the metaverse. These workshops showcased a range of ideas, including a project to preserve the marine environment by processing inedible fish that eat seaweed into dog food, an inspection robot that can remotely search inside long, narrow, winding pipes, and a program to use the metaverse (a virtual reality space) to create a place where truant students can congregate), which is currently being tested in Hiroshima City and elsewhere. Ritsumeikan Chancellor Yoshio Nakatani and Chairperson Tomomi Morishima also attended the metaverse workshop and expressed their strong interest in the coming metaverse society.
Zone 3 was the OIC Connéct exchange zone, and coffee and pastries were served to the visitors. Here, Ryusuke Komura, Venture Café Tokyo Program Director, gave a light-hearted talk about how to enjoy networking. Encouraged by Mr. Komura's talk, visitors to the zone started talking to each other while enjoying the refreshments. The space was abuzz with the feeling that innovation and new value creation could occur in this kind of free and open atmosphere.


Student Impact Makers from primary school up through graduate school give their pitches
In Zone 2, students from Ritsumeikan Primary School and the affiliated high schools gave pitches alongside university and graduate school students who won prizes at a business contest organized by Ritsumeikan.

In the first session, 10 students from Ritsumeikan Primary School presented on the research topics they identified from participating in a primary school student entrepreneurial internship sponsored by RIMIX. Based on tips from researchers and experts they interviewed, they explained the background of and envisioned goals for a range of ideas such as creating organisms that can operate in space, developing new elements that can lead to the creation of products that can solve social problems, and creating a hands-on board game that visually impaired people can play. The audience applauded the youngsters who spoke confidently while showing the slides they made by themselves.


Of the four affiliated high school students, two already serve as the COO and CEO of their own startups, and they pitched goodhub, a social media site they developed expressly for IT engineers, and NeiPia, a business that aims to provide individually optimized, self-distributed educational services. The other two students introduced the startups they are preparing to launch, namely, a meat substitute and a VR card game app, and after all four of the students gave their presentations, they joined a session in which they talked about the kind of person they want to be and the kind of society they want to create in 10 years.

One of the students said they plan to take full advantage of their status as a high school student entrepreneur, while another said they plan to run their startup as a side business while working for another company. In this way, the audience was inspired by the students' ideas, which were not bound by conventional modes of work. The students spoke as if they were adults, and many of the actual adults in attendance could not hide their surprise that they were still high school students. It was also impressive to see how the students in the audience stared intently at the presenters on the stage.

After this, four undergraduate and graduate students who won prizes at a Ritsumeikan-sponsored business contest took the stage. After introducing the businesses and services that were still in the conception stage at the time of the contest, the students offered their advice to their younger peers who want to start their own businesses. Please look forward to a more detailed report on this topic that we plan to publish at a later date.


Thinking about the bright future of society and business
Zone 4 featured presentations that integrated innovation with Japanese culture, which were delivered from a traditional Noh stage that was set up inside the Yasuhiro Wakebayashi International Exchange Center. After an opening performance by members of the Ritsumeikan University Noh Club, the first half of the event featured two groups of three individuals whose received investments from the Ritsumeikan Social Impact Fund, which was established to support Ritsumeikan students, alumni, and faculty start their own businesses. After each member pitched their businesses, Masato Noike (President, Plus Social Investment) moderated a session in which the panelists talked about the course of events leading to their startup, the difficulties they have faced in their respective businesses, and collaboration with Ritsumeikan.
The first part of the event featured three speakers who are working to solve global issues.
The second part of the event featured three speakers who are working on local community issues.
In the second part of the event, Vice Chancellor Akio Tokuda moderated a session with Tetsuro Ii (President and COO, Commons Asset Management Inc.) and Katsutoshi Fujita (Strategy and Partnership Director, Venture Café Tokyo & CEO, Project Initiative Co., Ltd.), both of whom cooperate with Ritsumeikan's RIMIX and OIC Connéct projects. The topic for the session was "What will happiness in society and business look like in the future and what can universities do?"

Mr. Fujita quoted the phrase "management is a liberal art," which he learned at the Peter Drucker School of Management in the United States, and pointed out that the times call for a perspective that focuses not only on business administration but also takes a panoramic view of psychology, philosophy, and various other academic fields. Meanwhile, Mr. Ii provided some words of encouragement for Ritsumeikan's efforts to nurture social entrepreneurs: "Until now, the business world has talked about risk and return, a dualism that concentrates on the short term. From now on, however, the long-term perspective of social impact (that is, to extent to which social issues can be solved) will be also be a necessary axis for business. That is why there are high expectations for academia, which has been tackling social issues from a long-term, bird's-eye view."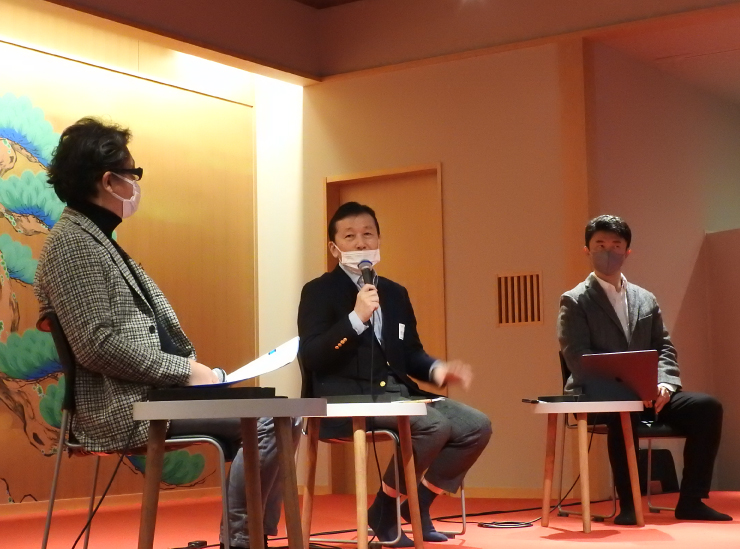 Chairperson Morishima closed out the event with his own words of encouragement for the participants by saying, "In Japan, it has been 150 years since the school education system was established, and 100 years since the university system was established. The frontlines of education are now ripe for change. The door of my office is always open to Impact Makers who have ideas on how to transform education, so I hope you will come visit me with your proposals." Impact Makers Day was held with the aim of encouraging participants from all walks of life to discuss issues as equals and take action turning their ideas into business ventures. Ritsumeikan will continue to promote initiatives like these to support people who are willing to take action to change society.