Press Conference Held on the New Developments at Osaka Ibaraki Campus
On July 20, Ritsumeikan University held a press conference at Osaka Ibaraki Campus (OIC) to showcase the progress it has made on the new developments at OIC that are slated to commence in April 2024, including the opening of a new building, as well as the future shape of education and the campus that Ritsumeikan is striving to achieve. President Yoshio Nakatani and Executive Trustee of Planning Norihisa Yamashita attended the press conference and introduced the "Try Field" concept, which aims to create opportunities where students can tackle new challenges in both the real and virtual worlds, thereby expanding their creativity. They also discussed how the new developments at OIC will help Ritsumeikan achieve the R2030 Academy Vision of "Challenge Your Mind. Change Our Future."

President Nakatani opened the press conference by explaining Ritsumeikan's approach to the new developments: "What can universities do in a world that is growing increasingly complex? One answer to this lies in the new developments we are undertaking at Osaka Ibaraki Campus. I believe that providing opportunities where anyone can tackle new challenges is precisely what universities should be doing."

Next, Executive Trustee Yamashita provided details of the "Try Field" concept, touching on the educational developments and campus improvements that Ritsumeikan University has been pursuing to date and commenting on the efforts to realize an unprecedented campus environment and style of university education: "The Osaka Ibaraki Campus, which opened in 2015, is a symbol of how university education has been transforming. With these new developments, as we look beyond these recent transformations, we intend to create a model for the role that a university can play as a part of the local community."

At the press conference, the two executives explained the overall picture of the new developments at OIC, including the significance of the relocation of the College of Image Arts and Sciences and the College of Information Science and Engineering to the campus, the development of talent for startups, the attempt to create new forms of social co-creation, and the unique facilities in the new building.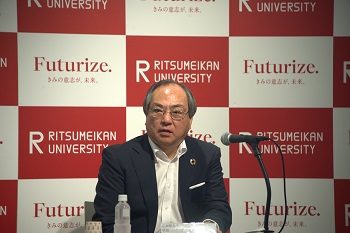 New Building on the Ritsumeikan University Osaka Ibaraki Campus
Visual representation