Campus-Specific Courses
Campus-Specific Courses
These Courses Are
Perfect For
Those who want to deepen their understanding of Japanese traditional arts, culture, and history through hands-on learning (Kinugasa Campus courses)
Those who want to learn about marketing, business, manufacturing, city planning, etc., of Japanese companies through hands-on learning (Osaka Ibaraki Campus courses)
Those who want to learn about Japanese food culture, natural environments, technology, etc., through hands-on learning (Biwako-Kusatsu Campus courses)
These Courses Are Offered At
Kinugasa Campus (Kyoto)
Osaka Ibaraki Campus (Osaka)
Biwako-Kusatsu Campus (Shiga)
About Campus-Specific Courses
Students will learn about Japanese traditional culture, history, society, urban innovation, food culture, corporate activities, etc., through hands-on learning in accordance with the distinctive characteristics of each RU campus.
Important Points

You may be required to pay an activity fee for the course.
Classes may be held on Saturdays.

Class Language
Japanese/ English
Requirements
None
Comment From Participant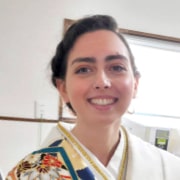 In (these) special courses, we have the chance to really appreciate and understand more of the Japanese traditional culture.
Ilaria Canali / Italy