Intensive Japanese Language
Intensive Japanese Language
This Track is Perfect
For
Those who want to study the Japanese language intensively at a level appropriate to their skills
Those who want to deepen their understanding of Japanese culture and society through studying the language
Those who want to use the Japanese language in their present or future career
This Track is Offered At
Kinugasa Campus (Kyoto)
Osaka Ibaraki Campus (Osaka)
Biwako-Kusatsu Campus (Shiga)
Colleges/ Graduate Schools Offering Courses
The courses available from the colleges/ graduate schools above are generally offered in English. Students in Japanese level VII or higher are eligible to take courses offered in Japanese.
Research guidance is not provided to SKP students.
Track Outline
With small class sizes of about 15 students, the IJL track allows students to study the Japanese language intensively at a level appropriate to their skills. The IJL track's Japanese language courses provide a well-balanced approach to improving reading, writing, listening, and writing skills from the beginner level all the way to the advanced level of practical academic Japanese skills required for taking university courses. While focusing on their Japanese studies, students can also take courses offered through the RCE track.
Offered At
Kinugasa Campus (Kyoto)
Study Period
Half-year (1 semester) or Full-year (2 semesters)
Class Language
Japanese (primarily)
Colleges/ Graduate Schools Offering Courses

International Relations
Letters
Social Sciences

Admission Requirements
Applicants must fulfill either a) or b):

a) Enrolled in a university or graduate school for at least one year at the start of the program
b) Graduated from university/ graduate school and obtained a bachelor's degree or higher, or have an equivalent academic degree

Language Requirements

Students who have never studied Japanese before must be able to conduct basic communication in English
Non-native English speakers that wish to take courses in English must have a minimum English proficiency test score of TOEFL® iBT 68/ PBT 520, CEFR B2, or IELTS 6.0 (or equivalent)

Other Available Courses

RCE courses (availability may vary as courses may limit the number of students that may register)

Notes
All students who wish to take IJL track courses are required to take Ritsumeikan University's online placement test prior to the start of orientation.
IJL Track Japanese Courses
Level
Course
Total Number of Credits
Per Course
Per Semester
Introductory (Level I) - Upper
Intermediate (Level V)
Comprehensive
5
8
Listening & Speaking
2
Writing
1
Advanced (Level VI)
Comprehensive
3
7 or 9
Listening & Speaking
2
Writing
1
Career Japanese
1
Seminar in Intercultural
Collaborative Project

*1

2
Upper Advanced (Level VII)

*2


(Compulsory)
Composition
1
3
Reading Comprehension
1
Listening &
Oral Comprehension
1
Upper Advanced (Level VIII)
(Selective)
Academic Japanese
1
2
Career Japanese
1
1

"Seminar in Intercultural Collaborative Project" is an optional course. Students that take this course will be registered for 9 total credits for one semester.

2

Students who demonstrate a high level of Japanese language proficiency on the initial placement test will be placed in "Level VII," the same level as regular degree-seeking international students in Japanese-based programs. These students will be registered in required Level VII Japanese language courses. After completing Level VII, students will be able to take Level VIII Japanese language courses during the next semester. Levels VII and VIII were created for the above-mentioned regular degree-seeking international students in Japanese based programs. In addition to the Japanese language courses listed above, Level VII and VIII students can take select regular undergraduate or graduate courses taught in Japanese. (Undergraduate students may only take undergraduate courses, but graduate students may generally take both undergraduate and graduate courses. Depending on the course, approval from the offering college or graduate school may be required. In some cases, students may not receive approval to take such courses.)
Course Lists From Previous Semesters
Below are the IJL course lists from previous semesters. Please note that even if a course was offered in the past, it may not be offered during a future academic year.
SKP students can select courses only from the course lists for each track/campus distributed to them at the start of the course registration period. Students will not be able to choose from among all the courses for regular students offered in English.
IJL Track students that are Level VII and above may select courses offered in Japanese for regular students that are also offered to SKP students. For some courses, it may be required that students have completed the basic courses for that subject.
Detailed information on these courses can be found using Ritsumeikan's Online Syllabus tool.
01.

To search for a course syllabus using the Online Syllabus, click "For Public" to open the search page, then click "English" at the top-right of the page to change the language.

02.

Copy and paste the course code/ course title from the course list directly into the search field.
Kinugasa Campus (Kyoto)
Comment From Participant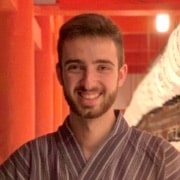 I had both the opportunity to strengthen my language skills through a complete and thorough Japanese program and to take part in interesting discussions and lectures on modern international relations issues.
Giacomo Becchi / Italy