Regular Courses in Japanese

Regular Courses in Japanese
This Track is Perfect
For
Those with a high level of Japanese language proficiency
Those who want to further their studies in their specialization at a Japanese university
Those who want to study alongside regular Ritsumeikan University students
This Track is Offered At
Kinugasa Campus (Kyoto)
Osaka Ibaraki Campus (Osaka)
Biwako-Kusatsu Campus (Shiga)
Colleges/ Graduate Schools Offering Courses
Research guidance is not provided to SKP students.

1

Course lists are not available for the College/ Graduate School of Science and Engineering. Students that wish to take courses offered by the College/ Graduate School of Science and Engineering will need to go through a screening process that involves
Track Outline
Students in the RCJ track can take both liberal arts and specialized courses in Japanese offered by 16 Ritsumeikan University colleges. Students can take courses in the humanities and social sciences as well as courses in the natural sciences. In addition, depending on the college, students may be able to participate in seminars, laboratory courses, etc., allowing them to deepen their experience studying alongside regular RU students.
Offered At
Kinugasa Campus (Kyoto)
Osaka Ibaraki Campus (Osaka)
Biwako-Kusatsu Campus (Shiga)
Study Period
Half -year (1 semester) or Full -year (2 semesters)
Class Language
Japanese
Colleges/ Graduate Schools Offering Courses

Letters
Social Sciences
Image Arts and Sciences
Law

Business Administration
Policy Science
Comprehensive Psychology

Economics
Information Science and Engineering
Life Sciences
Sport and Health Science
Gastronomy Management
(Science and Engineering)

Admission Requirements
Applicants must fulfill either a) or b):

a) Enrolled in a university or graduate school for at least one year at the start of the program
b) Graduated from university/ graduate school and obtained a bachelor's degree or higher, or have an equivalent academic degree

Language Requirements

JLPT (Japanese Language Proficiency Test) N1 or equivalent EJU (Examination for Japanese University Admission for International Students) score

Other Available Courses
Campus-Specific Courses (CSC)
Notes

Students can select courses to take from the list of courses open to SKP students in each college. (However, they cannot select from all courses offered to regular degree-seeking students.)
Some courses may require students to have already completed foundation courses prior to registration.

Course lists are not available for the College/ Graduate School of Science and Engineering. Students that wish to take courses offered by the College/ Graduate School of Science and Engineering will need to go through a screening process that involves confirming the content of courses they have already taken at their home university in order to determine if they can take such courses.
RCJ Track Japanese Courses
Level
Course
Total Number of Credits
Per Course
Per Semester
Upper Advanced (Level VII)*
(Selective)
Composition
1
3
Reading Comprehension
1
Listening & Oral Comprehension
1
Upper Advanced (Level VIII)*
(Selective)
Academic Japanese
1
2
Career Japanese
1
Levels VII and VIII were created for the above-mentioned regular degree-seeking international students in Japanese based programs. In addition to the Japanese language courses listed above, Level VII and VIII students can take select regular undergraduate or graduate courses taught in Japanese. (Undergraduate students may only take undergraduate courses, but graduate students may generally take both undergraduate and graduate courses. Depending on the course, approval from the offering college or graduate school may be required. In some cases, students may not receive approval to take such courses.)
Course Lists From Previous Semesters
Below are the RCJ course lists from previous semesters for each campus. Please note that even if a course was offered in the past, it may not be offered during a future academic year.
SKP students can select courses only from the course lists for each track/campus distributed to them at the start of the course registration period.
RCJ Track students may select courses offered in Japanese for regular students that are also offered to SKP students. For some courses, it may be required that students have completed the basic courses for that subject.
Detailed information on these courses can be found using Ritsumeikan's Online Syllabus tool.
01.

To search for a course syllabus using the Online Syllabus, click "For Public" to open the search page, then click "English" at the top-right of the page to change the language.

02.

Copy and paste the course code/ course title from the course list directly into the search field.
Kinugasa Campus (Kyoto)
Osaka Ibaraki Campus (Osaka)
Biwako-Kusatsu Campus (Shiga)
Comment From Participant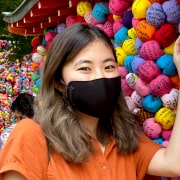 The (track) offers…the chance to study other subjects in a regular Japanese course alongside Japanese students (for those in a higher level).
Miyumi Aoki / United States