About Ritsumeikan University
About Ritsumeikan University
The Ritsumeikan Academy
"Freedom and Innovation"
Our Founding Spirit
The Ritsumeikan Academy has a distinctively rich history and tradition, even among Japan's private comprehensive educational institutions. In 2020, the academy celebrated the 150th anniversary of the founding of Ritsumeikan and the 120th anniversary of the establishment of the Ritsumeikan Academy. The academy currently consists of two universities, Ritsumeikan University and Ritsumeikan Asia Pacific University, and five affiliated schools: Ritsumeikan Primary School, Ritsumeikan Moriyama Junior and Senior High School, Ritsumeikan Junior and Senior High School, Ritsumeikan Uji Junior and Senior High School, and Ritsumeikan Keisho Junior and Senior High School. Today, the Ritsumeikan Academy is highly regarded by society as one of the most proactive schools in Japan for university reform and academy development. The academy's innovative and creative spirit is rooted in its founding spirit of "freedom and innovation."
Founder
KINMOCHI SAIONJI
Features of the University
In the current era of globalization, Ritsumeikan University is promoting advanced international education and conducting highly specialized education and research in a wide range of fields. Ritsumeikan University provides an environment that fosters the ability to collaborate with people from around the world, transcending cultural and language differences, and the ability to create innovation in the world. An example of this is RU's establishment of the College of Global Liberal Arts in April 2019.
Colleges & Graduate Schools
Kinugasa Campus (Kyoto)
Colleges

College of Law
College of Social Sciences
College of International Relations
College of Letters
College of Image Arts and Sciences

Graduate Schools

Graduate School of Law
Graduate School of Sociology
Graduate School of International Relations
Graduate School of Letters
Graduate School of Image Arts
Graduate School of Language Education and Information Science
Graduate School of Core Ethics and Frontier Sciences
Biwako-Kusatsu Campus
Colleges

College of Economics
College of Sport and Health Science
College of Gastronomy Management
College of Science and Engineering
College of Information Science and Engineering
College of Life Sciences
College of Pharmaceutical Sciences

Graduate Schools

Graduate School of Economics
Graduate School of Sport and Health Science
Graduate School of Science and Engineering
Graduate School of Information Science and Engineering
Graduate School of Life Sciences
Graduate School of Pharmacy
Osaka Ibaraki Campus
Colleges

College of Business Administration
College of Policy Science
College of Comprehensive Psychology
College of Global Liberal Arts

Graduate Schools

Graduate School of Business Administration
Graduate School of Policy Science
Graduate School of Human Science
Graduate School of Technology Management
Graduate School of Management
From All Over Japan, to Kansai
The Kansai region, where Ritsumeikan University's three primary campuses are located, is the administrative, economic, and transportation hub of western Japan. It is a region full of charm where bountiful nature coexists with the urban environment, and where the traditions, history, and culture of ancient Japan live on in modern daily life. At our university is no different. Students from all over Japan with a high sense of purpose and diverse backgrounds gather here, respecting and motivating each other as they further their studies every day.
Multicultural Campus
Ritsumeikan University has around 2,000 international students from 70 countries and regions enrolled in any given year. The BBP (Beyond Borders Plaza) has been established on campus as a place for international exchange, foreign language study, and other events. It is a place where international students can learn from each other.
A Wide Variety of Learning and Experience Opportunities
Ritsumeikan University has 18 undergraduate colleges and 20 graduate schools that span the social sciences, humanities, and natural sciences. Students come from all walks of life with a variety of interests and goals. In addition to the studies in each college, students from various colleges and year levels study together in liberal arts courses. There is also a wide variety of activities outside the regular curriculum, including research, study abroad, internships, qualification acquisition, and more than 430 clubs and circles. Through these abundant opportunities, members of the university respect each other and accept diverse values and sensibilities, allowing each student to expand their learning and achieve individual growth.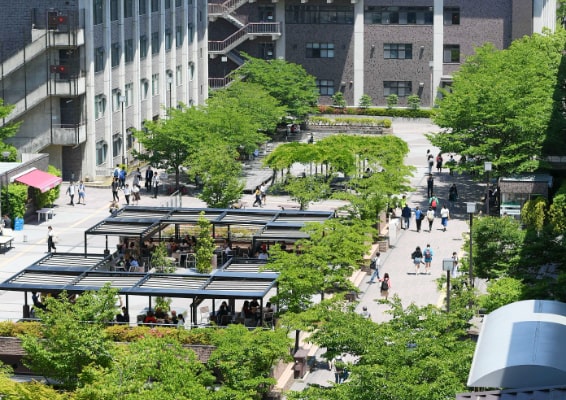 Study Abroad System
RU provides opportunities for students to experience research and education at other world-class universities while working together with peers to take on new challenges. RU has agreements with 459 universities and institutions in 68 countries and regions around the world, and the number of Japanese students sent to study abroad based on university agreements is the highest in Japan (according to the Japan Student Services Organization's "Survey on Japanese students studying abroad based on student exchange agreements, etc., in FY2017"). In addition, RU promotes education and research collaboration with world-class universities and institutions, both in the humanities and sciences, to support students in their academic endeavors.
Excellent Research Capabilities
RU provides an environment where you can develop your "desire to learn" into a "desire to pursue." As a research university that contributes to the development of humankind, the natural world, and local communities, Ritsumeikan University takes on the challenge of leading-edge initiatives. In order to promote research at a higher level, RU has enhanced its research support system based on a medium-term plan, and has worked to bring about results that will lead to acquisition of external funding and the formation of research bases. As a result, the university has achieved a high level of research performance at the national level.