Junior High Men's Tennis Club Wins Kinki Regional Tennis Championships for the Second Year in a Row!
On August 5 and 6, the 71st Kinki Junior High School Athletic Tournament 2022 was held at the Asuka Tennis Pavilion of the Nara Prefectural Kashihara Public Garden.
On the 5th, individual matches were held, and the Takishita/Inoue pair, the Arai/Sakamoto pair, and the Mano/Seto pair participated from our school. The Takishita/Inoue pair won two matches and placed in the top 8. The Arai/Sakamoto and Mano/Seto pair won their first match but lost their second match.
On the 6th, the team competition was held. The pair overcame the pressure of having won the same tournament last year and won their third match to win the championship for the second year in a row. All three matches were close, but the team worked as one to persevere and fight through.
The team consisted of 10 members: Takishita, Inoue, Arai, Sakamoto, Yoshikura, Nakamura, Hizume, Nai, Dogan, and Seto.They will participate in the National Junior High School Tennis Championships to be held in Gunma Prefecture from August 18 to 20. We hope that they will show the results of their daily practice to the fullest.
Thank you for your continued support.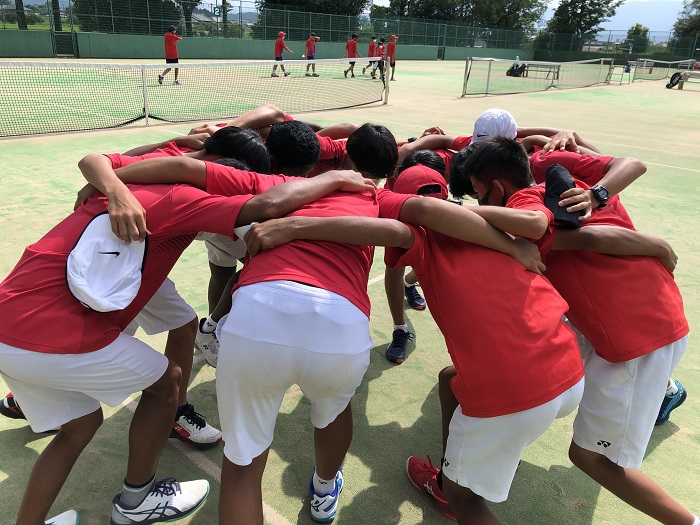 The results of the matches are as follows
2R vs Hibarigaoka Gakuen Junior High School (Hyogo) 3-2
Semifinal vs Ritsumeikan Moriyama (Shiga) 3-2
Final vs Naniwa Junior High School (Osaka) 3-1 (1 match was terminated)
Back