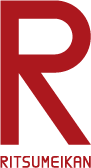 The history of the Ritsumeikan Academy dates back to 1869, when Prince Kinmochi Saionji, an eminent international statesman of modern Japan, founded "Ritsumeikan" as a private academy on the site of the Kyoto Imperial Palace. In 1900, Kojuro Nakagawa, former secretary of Prince Saionji, established Kyoto Hosei School, an evening law school. This school formally adopted the name Ritsumeikan in 1913 and was finally given the status of a university in 1922.
Ritsumeikan University (RU) enjoys a rich and prominent history and is considered one of the most distinguished institutions of higher learning and research in Japan. On its three campuses - Kinugasa and Suzaku Campuses in Kyoto and Biwako-Kusatsu Campus (BKC) in Shiga, some 30 kilometers east of Kyoto - Ritsumeikan offers a wide range of undergraduate and graduate programs to approximately 34,000 students in such fields as Humanities, International Relations, Law, Policy Science, Social Sciences, Economics, Business Administration, and Science & Engineering.
2010 marks the 140th anniversary of the founding of the Ritsumeikan private school and the 110th year of the establishment of Ritsumeikan University. During this time, the Ritsumeikan Academy has evolved into one of the leading integrated academic institutions in Japan, including two universities (Ritsumeikan University and Ritsumeikan Asia Pacific University), four senior high schools, four junior high schools, and a primary school. Ritsumeikan University's international involvement has also flourished to the point where it currently has educational and research partnerships with over 370 universities and research institutions in 60 countries around the world.
Please see the Ritsumeikan Profile for more information.