Comments from Participants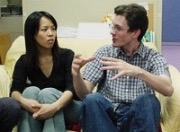 "The Study in Kyoto Program is really complete and really clear. It is very useful because we learn everyday Japanese. The Japanese culture courses (calligraphy, ceramics, and tea ceremony) are a good idea. Thanks to these courses, students can discover the traditional arts of Japan."
Esparre Vinciane
Universite de Toulouse le Mirail
France
---
"The language courses seem very organized and flexible. I've learned a lot, both on my own and in class."
Zachary Francks
University of Oklahoma
USA
---
"I like the SKP language program. I like the fact that the classes are small so you can have a close student-teacher relationship. I love my life in Japan. Being able to learn Japanese in so many different ways (at school, in daily life, by spending time with friends and so on) has inspired me to learn more about Japan. In the future, I want to have a job in which I can use my knowledge of Japan that I've aquired here, as well as my language skills."
Christine Englund
Sodertorns Hogskola
Sweden
---
"I wanted to go to Kyoto because I'm interested in the history and culture of Japan and Kyoto is a very important, historical city. I think there is everything one could need on the campus, and it is a beautiful place to spend time."
Manuela Waschke
Universitat zu Koln
Germany
---
"As an exchange student at Ritsumeikan, I learnt and experienced a lot this year. Not only did I make a lot of progress in Japanese, but I learnt to understand a different culture's way of thinking. I will treasure the time I spent here and also make use of what I learnt in my career and further studies.
And also, by living with people from different corners of world, I could make many friends. Communicating with other students, opened my mind and helped me decide the goals of my life. Looking back, this year was full of happiness and challenges."
Chun-ying Gao
Shenzhen University
China
---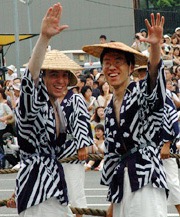 "My stay in Japan has changed my outlook on Japanese people and Japan as a whole. What the world perceives Japan to be is very different from what it is actually like. It has been very interesting to pick up on these differences and learn more about Japan from them. I've had fun meeting heaps of people from different countries, backgrounds and cultures. I have made many friends and feel a wider connection to the world. Thank you!"
Samet Sieu
University of Melbourne
Australia
---
"I had a very good time staying in Kyoto and I really had a great time studying in Ritsumeikan University. I learned a lot from this experience, it taught me how to be more responsible and to be independent. This experience gave me everything I needed to learn. I was exposed to different cultures and customs of other people apart from mine. I know that I saw most parts of Japan when I explored around Kyoto. I was able to observe everything in a year, like changes in season, the rise and fall of the temperature and other natural beauties of Kyoto. I was really lucky to have studied in Ritsumeikan University. I learned a lot from my teachers; they taught me well and even shared their own culture for my own sake. I will forever treasure this experience and I will never forget that once in my lifetime I came to Kyoto and set foot in Ritsumeikan University."
Remedios de Jesus Martin
University of the Philippines
Philippines
---
"The SKP program gives students the best opportunity not only to improve their Japanese language skills but also their understanding of Japanese culture. If you are open minded you can find friends for a lifetime and you can have the time of your life."
Alexandra Reininger
Johann Wolfgang Goethe-Universitat
Germany
---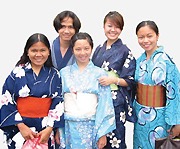 "The program is perfect to improve Japanese language. Teachers are very competent. We are very well supported by all the Office of International Affairs staff. Ritsumeikan is a very great university."
Oliver Vallet
Ecole Superieure de Commerce et de Management
France
---