Comments from Participants

Comments From Participants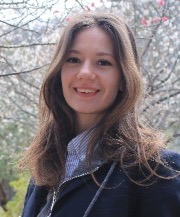 "When time came to choose where I would do my exchange year in Japan, I had no doubt in my mind that I would apply for Ritsumeikan University. I knew I wanted to go to the Kansai region because I thought it would provide me a rich cultural experience with cities such as Kyoto or Nara and the beautiful landscapes. It didn't fail me; studying in Ritsumeikan University gave me the chance to study Japanese at a very good rate with teachers providing the best spots to admire sakura or momiji, for example. Also, the SKP Buddies often organized temple or shrine visits in the area which is very thoughtful for new arriving students. Being an SKP student also gave me the chance to experience kimono culture through kimono classes in the main area for kimono production. Ritsumeikan University also provides very interesting classes about the kimono economy and has a kimono circle. This chance led me to choose the kimono culture as my graduation thesis subject. So, in many ways, the Study in Kyoto Program gave me wonderful opportunities which made my year in Ritsumeikan University an experience I will always remember."

Mathilde Moreau
Bordeaux Montaigne University
France

"My school had several options for programs in Japan, but Ritsumeikan was by far the most recognizable university on the list. The location is amazing, and the Intensive Japanese Language Track available at Ritsumeikan had a great reputation. During my time as an exchange student at Ritsumeikan University, I not only had the opportunity to explore Kyoto, the most historically significant city in Japan, but I also had the opportunity to explore Japan outside of Ritsumeikan. For spring break, I travelled from Sapporo to Kyoto by train, stopping in over ten cities along the way. On the trip, I encountered many different places and people, and experienced so much of Japan that I never thought I would be able to. It was a life changing trip, as I got to see for myself that even though Japan seems small, it is so much bigger and more diverse than I had previously thought. Through traveling and through the immersive language courses I was enrolled in at Ritsumeikan, I felt comfortable and at home living in Japan. Although my most memorable experience was outside of Kyoto, I never would have had all of the amazing experiences I had without SKP."
Madison Reyes
The University of Oklahoma
United States

---
"For the last semester of my bachelor's, Ritsumeikan University revealed to be the best choice ever. What convinced me to enter SKP was that it offers not only an Intensive Japanese Language Track for those who want to improve their Japanese skills, like myself, but it also allows you to take classes from other faculties. Another interesting feature Ritsumeikan offers to SKP students are the Japanese Traditional Arts courses like ikebana or tea ceremony. In those special courses, we have the chance to really appreciate and understand more of the Japanese traditional culture. Being an SKP student here also allows you to experience campus life by joining many clubs or circles, which are the best way to get to know Japanese students and practice what you learned in class. They offer a variety of activities and you can surely find the one that suits you most. Overall, I can say that my semester spent at Ritsumeikan was one of the happiest moments of my life. I made friends for life here, I enjoyed the city of Kyoto, its nature, its history, and its culture. I couldn't choose a better place than this in Japan."
Ilaria Canali
Ca'Foscari University of Venice
Italy
---
"Ritsumeikan University offers a plethora of academic courses taught in English for students to choose from, and thus there is something for every student out there. I could easily find courses which I was interested in from the OSE Track which aided the transfer of credits back to my home university. In addition, its location (Kinugasa Campus) in Japan's cultural capital, Kyoto, also appeals to students who would like to explore and experience the culturally rich city. Classes in general are attended by both foreign and Japanese students and there are plenty of chances to interact with people from different backgrounds. There are many opportunities to discuss and work together on various projects and these experiences are one of the key takeaways of the program. While this may require some of us to leave our comfort zones, it is an important step forward and the people you meet and work with might just become your lifelong friends. Going beyond just academics, Ritsumeikan University also gives students a chance to experience traditional Japanese culture such as wagashi making, and this enriches the overall university experience. Looking back, I enjoyed my time at Ritsumeikan University, made many new friends, and would encourage others to consider the Study in Kyoto Program."

Cheng Da Kok
National University of Singapore
Singapore
"When I was finishing my bachelor's degree, I decided to plan an international experience focused on improving my Japanese skills. When it was time to decide where to go, I decided to opt for the Study in Kyoto Program at Ritsumeikan University for two main reasons: the first one was its Intensive Japanese Language track (IJL) and the second one was the possibility to join, along with the Japanese courses, a high number of international relations courses. Thanks to that, I had both the opportunity to strengthen my language skills through a complete and thorough Japanese program and to take part in interesting discussions and lectures on modern international relations issues. Furthermore, the campus allowed me to meet people from all over the world and to meet new friends. Living the "Campus Life" led me to join one of the university clubs, and it was such an amazing experience to understand the real life of a Japanese university student. In addition to all the university experiences, living in Kyoto for six months gave me a wide and true taste of Japan. The whole city is rooted in tradition and culture. Its lively city life offers everything a student could ask for."
Giacomo Becchi
University of Bologna
Italy
"I decided to participate in total of five different circles (student groups), all of them being an irreplaceable part of my SKP journey. Whether it was related to music, drawing, manga, Chinese, sports or dance, everyone could find something that sparked their interest. Some of the best moments happened exactly during the circle activities. I was hesitant to apply first as I was not sure whether I would manage with my poor Japanese skills. However, it turned out that when it comes to things you enjoy doing you do not really need a language to communicate. This proved to be true in my music circle where I mostly communicated with other students through music. We could not say much to one another, but we could definitely play some great music together. The same held true in my volleyball circle where there was no need for words as we just enjoyed playing together. The sport brought us much closer with fewer words. Of course, being surrounded by Japanese native speakers during these activities had a positive impact on my Japanese skills. As the time went on, I found myself being able to communicate with my circle friends much better."
Eliska Sikulova
University of Southern Denmark
Denmark
"The Study in Kyoto Program is really complete and really clear. It
is very useful because we learn everyday Japanese. The
Japanese culture courses (calligraphy, ceramics, and tea
ceremony) are a good idea. Thanks to these courses, students
can discover the traditional arts of Japan."
Esparre Vinciane
Université de Toulouse-Le Mirail
France
---
"The language courses seem very organized and flexible. I've learned a lot, both on my own and in class."
Zachary Francks
The University of Oklahoma
United States
"I like the SKP language program. I like the fact that the classes are small so you can have a close student-teacher relationship. I love my life in Japan. Being able to learn Japanese in so many different ways (at school, in daily life, by spending time with friends and so on) has inspired me to learn more about Japan. In the future, I want to have a job in which I can use my knowledge of Japan that I've aquired here, as well as my language skills."
Christine Englund
Södertörn University
Sweden
"I wanted to go to Kyoto because I'm interested in the history and culture of Japan and Kyoto is a very important, historical city. I think there is everything one could need on the campus, and it is a beautiful place to spend time."
Manuela Waschke
University of Cologne
Germany
---
"As an exchange student at Ritsumeikan, I learnt and experienced a lot this year. Not only did I make a lot of progress in Japanese, but I learnt to understand a different culture's way of thinking. I will treasure the time I spent here and also make use of what I learnt in my career and further studies. And also, by living with people from different corners of world, I could make many friends. Communicating with other students, opened my mind and helped me decide the goals of my life. Looking back, this year was full of happiness and challenges."
Chun-ying Gao
Shenzhen University
China
"My stay in Japan has changed my outlook on Japanese people

and Japan as a whole. What the world perceives Japan to be is

very different from what it is actually like. It has been very

interesting to pick up on these differences and learn more

about Japan from them. I've had fun meeting heaps of people

from different countries, backgrounds and cultures. I have

made many friends and feel a wider connection to the world.

Thank you!"

Samet Sieu
University of Melbourne
Australia

"I had a very good time staying in Kyoto and I really had a great time studying in Ritsumeikan University. I learned a lot from this experience, it taught me how to be more responsible and to be independent. This experience gave me everything I needed to learn. I was exposed to different cultures and customs of other people apart from mine. I know that I saw most parts of Japan when I explored around Kyoto. I was able to observe everything in a year, like changes in season, the rise and fall of the temperature and other natural beauties of Kyoto. I was really lucky to have studied in Ritsumeikan University. I learned a lot from my teachers; they taught me well and even shared their own culture for my own sake. I will forever treasure this experience and I will never forget that once in my lifetime I came to Kyoto and set foot in Ritsumeikan University."

Remedios de Jesus Martin
University of the Philippines
Philippines

"The Study in Kyoto Program gives students the best opportunity not only to improve their Japanese language skills but also their understanding of Japanese culture. If you are open minded you can find friends for a lifetime and you can have the time of your life."

Alexandra Reininger
Goethe University Frankfurt
Germany
"The program is perfect to improve Japanese language. Teachers are very competent. We are very well supported by all the Office of International Affairs staff. Ritsumeikan is a very great university."
Oliver Vallet
ESCEM School of Business and Management
France