SKP Buddies
Settling into life in a new country and a new university can be tough, but SKP Buddies are there to ease the transition as you get used to your new home in Kyoto. These Japanese student volunteers, often one of the most memorable parts of the program for students, are your first point of contact with student life at RU. During the hectic first few weeks in Japan, buddies are there to help with residency registration, opening bank accounts, and getting acquainted with Kyoto and RU. As the year progresses, the buddies continue building friendships through Halloween parties, booths at the yearly student festival, and year-end parties. Best of all, buddies are only a phone call or email away.
Extra-Curricular Activities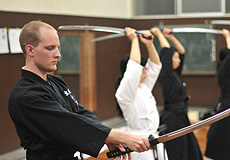 SKP students are encouraged to take part in extra-curricular activities. With over 700 student-run clubs to choose from at RU, it is likely that every SKP student will be able to find his or her niche. Clubs range from traditional arts, such as Japanese drumming, martial arts, pottery, and Noh theater, to academics and sports.
See what clubs other SKP students have joined!
Student Facilities
While on the program, students are able to make use of all university facilities provided at both Kinugasa and Biwako-Kusatsu Campuses.
Beyond Borders Plaza (BBP)
Throughout the year, the Beyond Borders Plaza (BBP) holds a variety of events events focused on international exchange and language learning. SKP students are encouraged to participate in the regular events held at each campus's BBP as well as make use of the learning space and study resources available there.
Libraries
Over 2.3 million books in Japanese, Chinese, English, and other languages are housed in the RU libraries. SKP students are able to borrow books using their student identification card.
Medical Service Center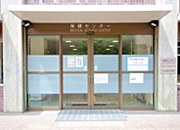 The Medical Service Center offers medical assistance to all students. Consultations are available in English during certain times of the day.
Co-op
The University Cooperative (Co-op) offers everything from food, books, and CDs to a travel service. With a Co-op membership, students are able to receive a 10% discount on book and CD purchases. The membership fee of 5,000 yen is fully refundable at the end of the program.
Computers & Information Equipment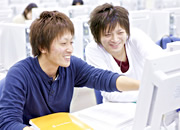 Students are provided with a university e-mail address and have access to the internet. The university also provides a campus-wide wireless network.
Gymnasium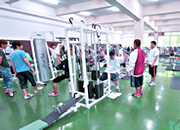 The university gymnasium houses a training room with a variety of exercise equipment and can be used free of charge by all SKP students.
Cafeteria
Both campuses have reasonably priced cafeterias with a wide variety of foods to choose from.