Japanese Students help International Students settle:Resident Mentors in Dorms - Mentors
More than 600 international students study at Ritsumeikan University Biwako-Kusatsu Campus (BKC). About 150 of them live in an international dormitory named BKC International House (I-House), together with several resident mentors who provide day-to-day support.


What is a Resident Mentor?
Resident mentors (RMs) are Japanese students who reside in I-House to help international students with everyday tasks such as completing administrative procedures at the local municipal office or opening bank accounts. They also host events to bring I-House residents and the local community together. RMs deal with a range of matters, from minor everyday issues to major problems such as taking very ill or injured dormitory students to the hospital.

As of August 2017, 13 RMs lived in the five-story dormitory building to help 150 international students. The students are a very diverse group with various nationalities and cultural backgrounds, so to make the dormitory comfortable RMs on each floor take leadership in sharing information on basic dorm rules for using and cleaning the shared kitchen and shower rooms or sorting garbage.


We spoke to some of the RMs and dormitory students to hear about their lives. Taking part in the discussion were:

RMs
Kota Ohashi (1st-year student, Graduate School of Life Sciences)
Noriaki Matsumura (2nd-year student, College of Economics)
Kokoto Tanihara (3rd-year student, College of Pharmaceutical Sciences)
Kohei Oda (2nd-year student, Graduate School of Science and Engineering)
Yuri Nishina (4th-year student, College of Economics)
Keiki Fujii (4th-year student, College of Life Sciences)
Kazuhiro Yamamoto (3rd-year student, College of Sport and Health Science)

Students
Yun Tae Soo (2nd-year student, College of Science and Engineering, Korean) Nangsay Seldon (1st-year student, College of Information Science and Engineering, Bhutanese)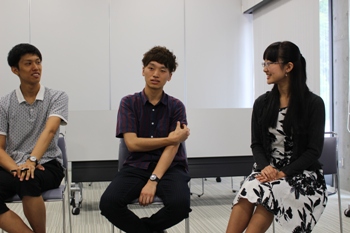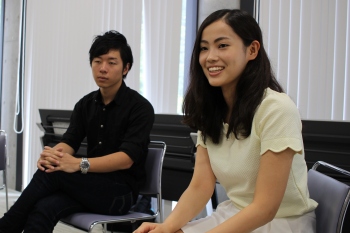 Interviewer: What prompted you to serve as an RM at I-House?

Yuri: I studied abroad during summer break two years ago, and wanted to continue putting myself into an environment where I could interact with people from different countries. I learned about RMs from a professor at our seminar. I was also seeking more in-depth exchange with graduate students from different countries. These two reasons motivated me to apply for the RM role.

Kohei: I had a friend who had been an RM, and told me what it's like. After I progressed to graduate school, I was seeking ways to learn English on a daily basis and remembered about RMs.

Kokoro: I studied at Ritsumeikan Uji High School, which is affiliated to the university. At high school I had several opportunities to undertake short-term study overseas, and became interested in learning English as well as interacting with a variety of people. As I have a heavy workload at the College of Pharmaceutical Sciences, it is difficult for me to participate in a study abroad program. I was seeking any chance I could get to speak English and discovered that a senior student in my college is an RM at I-House. That's why I applied for the RM role.

Kota: I participated in the "RISE I≡J" project in India. While living in a university dormitory, I made many friends who helped me a lot, and it made me think about how I could return the favor. That was the catalyst for me becoming an RM at I-House.

Noriaki: I heard about RMs from one of my professors last year. I know that problem-solving is not one of my strengths, and to overcome that issue, I thought it would be a good idea to learn about different perspectives by talking or interacting with people from different cultural backgrounds. I-House has several rules that residents should follow to make the place comfortable for everybody, but we face some challenges. To help others understand such rules, I think I need to know their culture as well as my own, so that we can understand each other. In the first semester I learned from my seniors how they act as RMs, and in the next semester I tried to find my own way.

Takahiro: I belong to the College of Sport and Health Science. One day when I was exercising in the field on campus, I found some stairs behind the parking lot. I wondered where they went, and found I-House using Google Maps. For students at the College of Sport and Health Science, the flight of 200 steps was really attractive for doing exercises as part of our daily routine. I learned about RMs from the I-House website. I belong to the GAT program, which encourages students to qualify as certified athletic trainers (ACT). My future goal after qualifying as an ACT is to work in Cirque du Soleil. To that end, coming into contact with many people from different countries will help to broaden my mind and perspectives. That's why I became an RM.

Keiki: I have been living here for two years. After coming back from short-term study in the US, I felt like something was missing, and one of my professors told me about I-House.


Interviewer: What kind of support do you usually provide to the international students?

Noriaki: The first thing we do is go to the municipal office with new residents to help them complete administrative procedures, and go shopping to buy kitchen utensils and daily commodities in the vicinity of I-House. Then we give them a tour and explain how to use the shared facilities and commodities, talk about fire safety drills and evacuation plans in case of emergency, and give them information on nearby grocery stores and shopping malls. We also provide other support requested by residents to alleviate their anxiety, such as interpreting when they buy cell phones or open bank accounts.

Interviewer: What do you bear in mind when providing support for residents?

Noriaki: Since everyone's situation is different and it is important for RMs to encourage residents' initiatives, RMs often discuss and evaluate what kind of assistance we should offer the dormitory students without taking too much care of them.

Interviewer: In addition to your daily tasks, do you have regular internal meetings?

Keiki: We have an internal meeting once every two weeks for about 30 minutes or an hour, where RMs on each floor give a status report to other RMs. We also have meetings with International Center staff as appropriate.

Interviewer: Tell me about the events you host at I-House.

Noriaki: We host three events a year: welcome parties for new students in April and September, and a networking event with local residents. RMs are divided into three teams: the PR team, the networking team, and the concept team. The networking team is currently collaborating with Otsu city on inbound marketing. Last year, some of the residents participated in a sightseeing tour organized by Otsu city to give feedback from foreign travelers' perspectives. I believe their feedback will be useful. The concept team is now talking about organizing a TEDx event at I-House.

(Continued in next article)