Japanese Students help International Students settle:Resident Mentors in Dorms - International Students
Continuing from last time, we spoke to some of the RMs and dormitory students.
Interviewer: Now we'd like to hear from the residents. Would you please introduce yourself?

Yun: My name is Yun Tae Soo, and I am from South Korea. I am a 2nd-year student of the College of Science and Engineering.

Interviewer: What is your schedule on weekdays?

Tae Soo: I leave I-House around 8:30 to walk to school, and class starts at 9:00. After finishing classes in the afternoon, I do club activities; I belong to the robotics club.

Interviewer: I understand I-House is equipped with a shared kitchen. Do you cook supper in the kitchen by yourself, or do you eat at the university cafeteria?

Tae Soo: It depends, I sometimes eat at the university cafeteria, but other times cook by myself in the kitchen.

Interviewer: Do you interact with other residents or RMs in the dormitory? How do you regard the RMs?

Tae Soo: Yes, while I am cooking or eating in the kitchen, I meet other residents and have a chat. At first, I considered RMs as kind of managers of the dorm, but now they are my friends or companions. I ask some simple questions about things that I encounter in daily life, for example, words or expressions young people use, dialect terms, or Japanese ways of acting.

Noriaki: I live on the same floor as Yun Tae Soo, so I meet him several times a week. When I am asked such questions, trying to explain the matter to someone from a different background allows me to rediscover my own culture. Such experiences also made me recognize that 'common sense' varies from one person to the next, and highlighted the importance of understanding other cultures.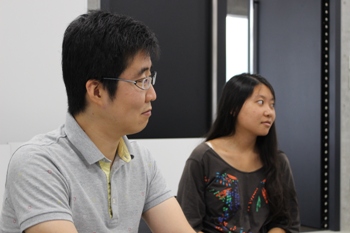 Interviewer: Thank you for sharing your ideas. How about you, Nangsay?

Nangsay: My name is Nangsay, and I am from Bhutan. I am a 1st-year student of the College of Information Science and Engineering.

Interviewer: I understand you came to Japan this April and live in I-House. How's everything going so far?

Nangsay: I'm now used to living here, and I feel much better than when I first arrived in April. The professors in our course are really nice to us. The biggest problem for most international students is the language barrier, so I am concentrating on learning Kanji.

Interviewer: Tell me about your schedule on weekdays.

Nangsay: It really depends on whether I have morning classes or not. When I have classes in the morning, I wake up around 7:30 a.m., have breakfast, and leave here at 8:30. After finishing classes, I walk back up to the dormitory around 6:00 p.m., then eat supper and do my homework or some other chores in my room.

Interviewer: What is your impression of I-House and the RMs?

Nangsay: The RMs are helpful and everything here is organized. I am satisfied with my life here.

Interviewer: Thank you, Nangsay. Now let's move on to the next topic. Do you think you have matured through your life here as an RM? What skills have you acquired?

Keiki: When I started living here, I thought "I must do everything possible to support international students." But as I got more experienced, I changed my idea of the RM role and started helping them so that they become independent after leaving the dormitory. By interacting with many people from different backgrounds, I transcended the barrier of nationality. There is just a connection between people, no matter where they are from. Now I think like this.

Kota: During my high school days, I was not good at speaking in public, and wanted to change myself. Being an RM has made me more proactive, and now I am a leader among the RMs. I also learned how to manage my time efficiently for working in the laboratory, in the dormitory, and doing a part-time job.

Kazuhiro: I was a bit self-conscious about bridging the differences with international students before, but now I know I am essentially no different from them. I feel confident about having a closer, smoother relationship with the residents.

Kokoro: I am not so good at developing connections with people in a short span of time, so living closely together in the dormitory allowed me to establish deep connections with other residents, and this experience was encouraging.

Yuri: I was shy with new people before, but I managed to obtain skills to adapt. Now I interact confidently with other people.

Noriaki: RMs have a monthly meeting with the Ritsumeikan University International Center, which allows us to learn how to fulfill the duties that the Center entrusts to us as RMs. Through these experiences, I am gradually acquiring skills and knowledge I need in order to work as a member of society.

Interviewer: Thank you for your time today.