On-campus Infection Prevention Protocols:Libraries and Commons
To ensure our students can lead their lives on campus safely and with peace of mind, Ritsumeikan University has formulated Manual for Prevention of the spread of the Novel Coronavirus, which outlines protocols including the basic measures to prevent infection (1. ensuring social distance, 2. wearing a mask, and 3. washing your hands) recommended by the Ministry of Health, Labour and Welfare. Based on this, we are taking measures to prevent infection on each of our campuses.
This page describes some of the infection prevention measures we are using in campus libraries and commons.
Measures in Libraries
We installed automated non-contact temperature cameras at the entrances of the libraries, and we placed disinfectant and alcohol wipes at various locations throughout the libraries. Of those services that were previously offered in person, reference services have shifted online, so you can now request reference searches and usage consultations from home by making a reservation in advance. As for the Peer Learning Rooms and reading desks, only certain seats can be used and several acrylic boards have been installed so that students can use the libraries for taking online classes. Also, to ensure that students who cannot come to campus can continue their studies, we started sending books by post (with postage covered by the university) in April when the state of emergency was declared, and since then we have lent 21,377 books to a total of 9,276 library users (as of November 1, 2020).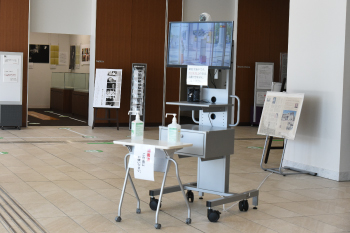 For more information on infection prevention protocols in the library, please watch the video entitled "Welcome to the Library: How to Use University libraries during the Pandemic."
Measures in the Commons
We are employing measures to prevent infection, including arranging chairs to ensure social distance, in the learning commons and lounges on each campus, as we strive to keep the campus open for student learning at all times.


Kinugasa Campus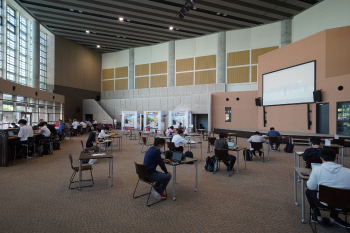 Biwako-Kusatsu Campus (BKC)
Osaka Ibaraki Campus (OIC)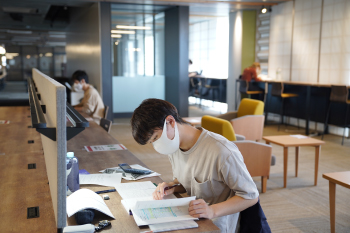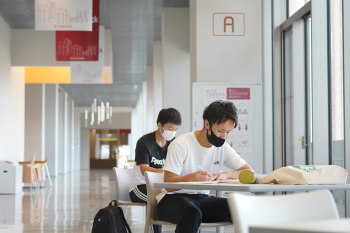 Kinugasa Campus, Biwako-Kusatsu Campus, and Osaka Ibaraki Campus all have study rooms that students can use when they are not taking online or in-person classes. For more information, please check the FAQ Site for 2020 Fall Semester Classes.
Related information