On-campus Infection Prevention Protocols:Classroom Edition
At Ritsumeikan University, we are taking measures to prevent the spread of COVID-19 infections on campus, and we have formulated Manual for Prevention of the spread of the Novel Coronavirus, which outline a range of preventive measures, including the basic measures recommended by the Ministry of Health, Labour and Welfare, to ensure that our students can lead their lives on campus safely and with peace of mind.
For this article, we spoke to College of Science and Engineering Professor Kiyotsugu Takashi, the Associate Dean of Academic Affairs, about infection prevention measures and the current situation in the classrooms.
Class formats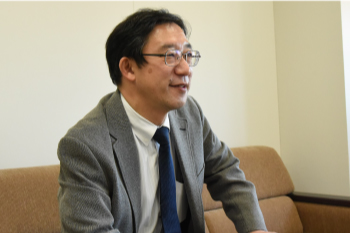 In the fall semester, we began offering three types of classes while taking measures to prevent infection: (1) in-person classes, (2) hybrid in-person and online classes, and (3) online classes. In addition, we use two methods to offer online classes: real-time live streaming classes and on-demand classes using pre-recorded videos and other materials.
Live streaming classes are taught primarily on Zoom, and faculty have worked to make the classes more interactive by taking questions and soliciting feedback from students using the chat and survey functions. For classes with a large number of students, the faculty use the breakout room function to create smaller groups for discussions. Meanwhile, students can view the on-demand classes as many times as they need without worrying about being in a certain place at a certain time. Moreover, to accommodate students with underlying conditions, all classrooms have been outfitted with cameras, speakers, and other equipment for live streaming and on-demand lecture delivery so no one is left behind, regardless of whether they are taking classes online or in person.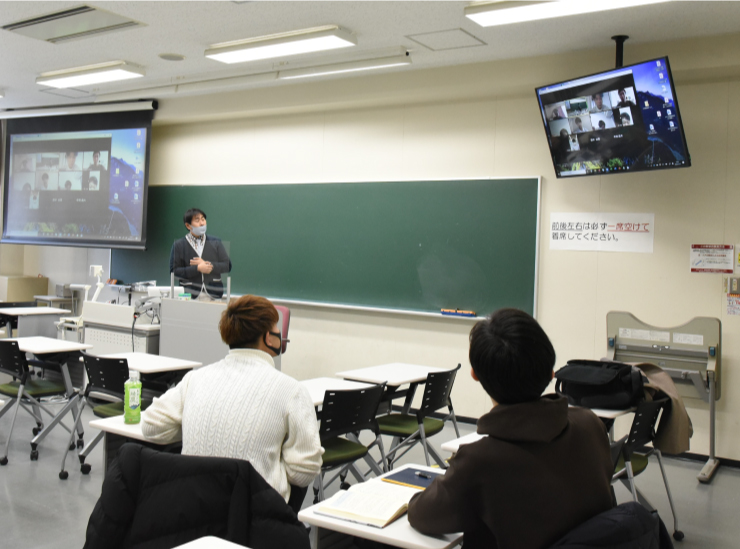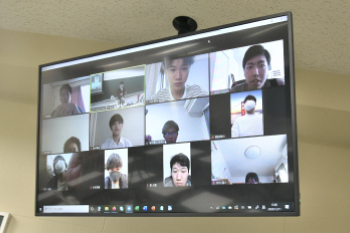 Infection prevention measures for in-person classes
All faculty and students must wear masks. For classes with labs where students come into close contact, students must wear goggles or face shields in addition to their masks to prevent droplet transmission. Students also need to wear rubber gloves since multiple people handle the lab equipment, agents, and the like. To prevent infections in the classrooms, transparent panels have been installed around the teacher's desk and disinfectant stands have been placed at the entrances. The classrooms are ventilated at all times, and to prevent crowding, attendance is limited to no more than 50% of classroom capacity, and seating has been arranged to ensure a distance of at least one meter on all sides of each student. We have also started replacing long tables with individual desks to make it easier for students to ensure social distancing in the classrooms.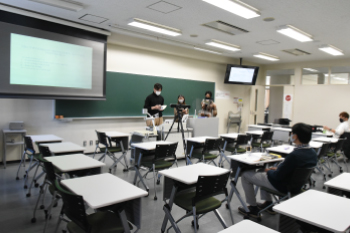 Planned improvements
We will continue replacing long tables with individual desks to make it easier for students to ensure social distancing in the classrooms. Some vacant classrooms are now open for use as study spaces, but in the future, we will take measures to make it easier for students to study on campus by adding more power outlets and wireless LAN access points. In addition, we are preparing to distribute several software packages that students need for their studies.


Class formats going forward
We have conducted multiple questionnaires recently, and our students have voiced a range of opinions about their classes. We are listening carefully to these opinions and working to deepen the discussion about the future shape of our classes. We will continue to enact maximum infection prevention measures, while also improving the classroom environment. In this way, we would like to create as many opportunities as possible for students to attend classes in person. On the other hand, some students see online classes as a new style of learning. Using Zoom and Manaba + R (our cloud-based learning management system), they can easily ask questions, rewatch videos of those parts of class they had trouble understanding, and take classes anytime, anywhere. It appears the students feel these are advantages that in-person classes do not have. What's more, we must keep in mind that there are students in various situations, including students who are worried about getting infected with COVID-19 due to underlying conditions and international students who are unable to enter the country.
Rather than choosing between in-person and online classes, we are taking advantage of the strong points of both formats to offer classes that maximize the potential of each and every student while making sure no one is left behind.

We ask all students to refer to Manual for Prevention of the spread of the Novel Coronavirus and other instructions from the university and to continue cooperating with infection prevention measures including taking your temperature, wearing masks, washing or disinfecting your hands, and avoiding dinner parties with loud talking.
Interview date: December 7, 2020
Related information