Creative Appreciation
Reading enriches our lives and helps us develop an understanding of the world. Learning about Japanese traditions contributes toward appreciation of history and why things are done in certain ways. We view education related to culture, art, music and literature as essential in building strong roots which nourish the growth of our students.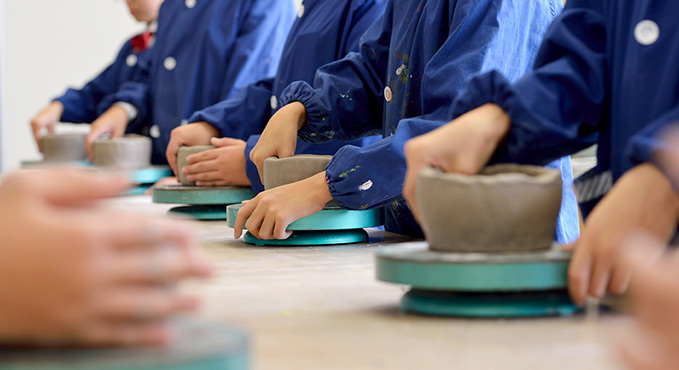 Pottery
Workshop
Part of our art curriculum focuses on pottery. Working with clay provides a unique medium through which many students' personalities shine. Grade 5 students make a tea bowl to be used in a Grade 6 tea ceremony for a guest from their family; It is a very personal experience. Ritsumeikan's commitment to the teaching of pottery is reflected in having an on-site kiln and manual potter's wheels for each student in class.
Media Center
Ritsumeikan Primary School students and staff love our library! It is perhaps one of the largest primary school libraries in Japan, with an amazing assortment of books for the wide age range of 6-12 years old. The design is bright and airy, with space for three lessons to occur simultaneously. Our Media Center and reading classes provide a comfortable environment which encourages a lifelong affinity for reading.