Hands-On Science Learning
We try to inspire children's sense of wonder through empirical explorations.
With hands-on programs we aim to cultivate scientific creativity as well as enhance awareness of the natural environment.
Our hope is to raise children who appreciate science.
We utilize our partnership with other schools in the Ritsumeikan Academy to further improve standards in science education.
We organize fun experiments with support from experts in scientific fields and challenge children with real-world experiences.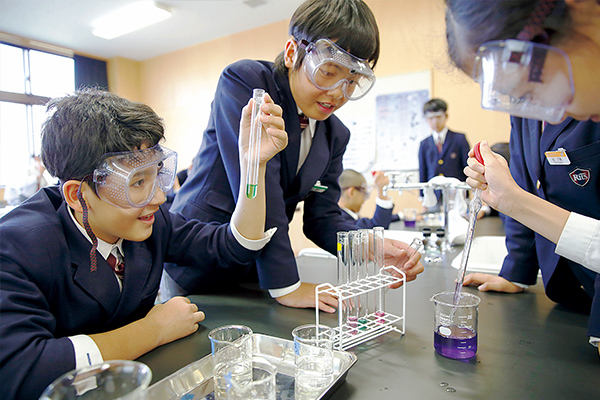 Academic Educational
Resources of Ritsumeikan
Ritsumeikan Senior High School was designated as a Super Science High School by the Ministry of Education, Culture, Sports, Science and Technology in 2002.

In order to nurture "logical thinking," which is necessary not only for math and science but throughout all subject areas, we want children to begin to work on experimental science studies from an early stage.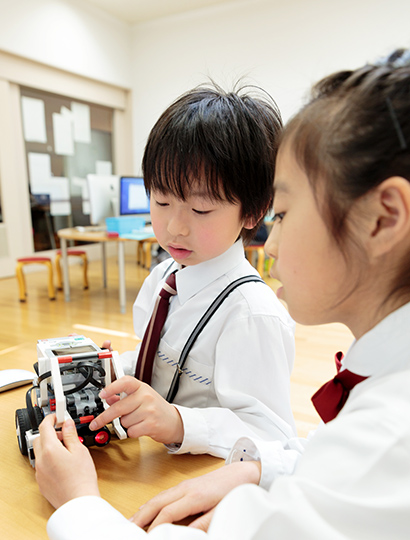 "Scholar's Room" and "Robotics Room"
In addition to our two science laboratories, we have two special classrooms.

In the Scholar's Room, children give presentations of what they have studied or discovered through their experimental activities.

In the Robotics Room children make robots in science and art classes throughout the first stage.
We also cultivate creative skills through collaborative research with various IT companies.