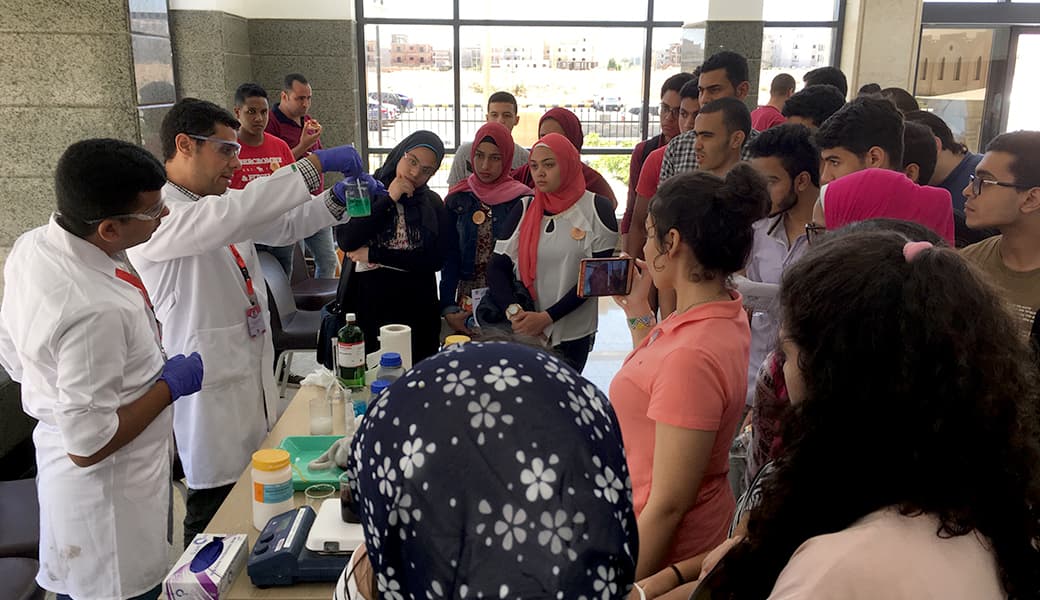 Open Campus event held at E-JUST
The Egypt-Japan University of Science and Technology (E-JUST) missions are as follows: to promote a Japanese style science and technology education in the Middle East and African countries, and to contribute to the development of human resources who will create new industries. Ritsumeikan has been providing suggestions and advice with a focus on strengthening the administrative functions of E-JUST.
Background
E-JUST opened in Alexandria in February 2010 under the support of JICA Technical Cooperation project. E-JUST now has 270 postgraduate students and 1,805 undergraduate students in Faculty of Engineering, Faculty of International Business and Humanities, and so on (as of Decemer 2021).
Ritsumeikan, as a member of the Japanese Cooperating University Committee, has participated in several working group meetings on a regular basis and provided suggestions and advice in order to strengthen the administrative structure of E-JUST. In July 2019, Prof. Yoshio Nakatani, the President of Ritsumeikan University, was selected to be one of the members of E-JUST Board of Trustees and has been deeply involved in the university management.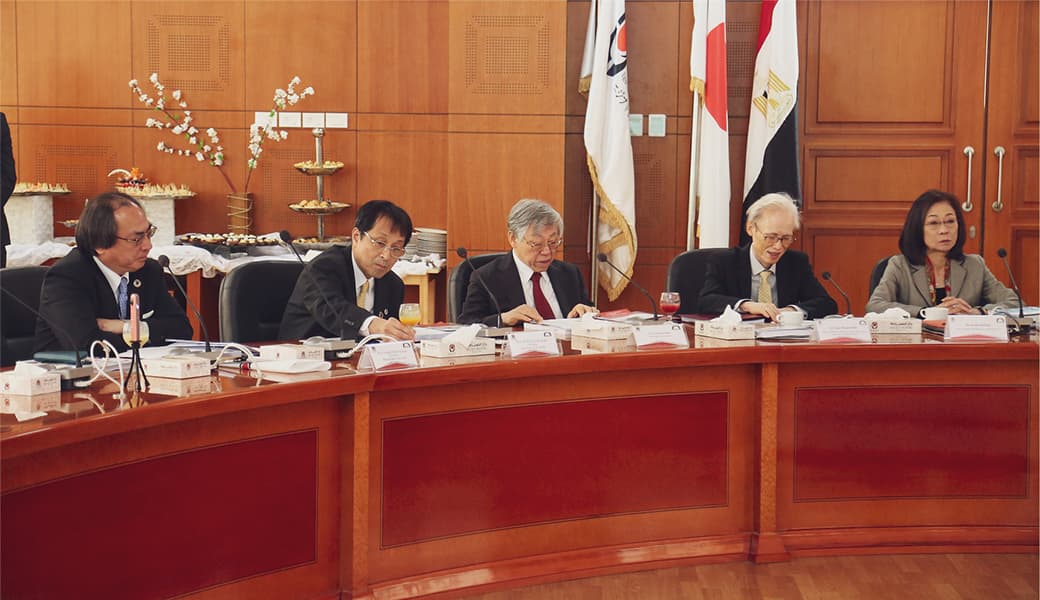 President Nakatani attended The 19th E-JUST Board of Trustees Meeting
Support on Enhancement of University Administrative Functions
The Ritsumeikan Trust had signed the contract with JICA in May 2017, as E-JUST opened its undergraduate courses in the fall 2017. In the cooperation with E-JUST staff in the Academic Affairs Office and the Student Affairs Office, Ritsumeikan has been providing support for the enhancement of administrative functions mainly focusing on admissions, academic affairs, student affairs and career support. In the achievements of that, E-JUST has conducted own entrance exam for undergraduate students for the first time as a government university, implemented internship program as a part of the career support, and made Student Academic Handbook for undergraduate students, etc.
Since February 2019, there has been no staff stationed on site. However, Ritsumeikan has been continuing its support so that E-JUST staff can be more independent, and their operations can be more improved.
Support to E-JUST staff by Ritsumeikan staff
E-JUST University Management and Administration (Staff training program)
Ritsumeikan has provided several training programs for E-JUST employees. The aim of the trainings is to build a base of university management to ensure E-JUST becomes a top-level science and technology university not only in the Middle East and African countries, but also in the world. The training is conducted using the knowledge and experience of Ritsumeikan in the fields of admission, scholarship policy, financial policy, collaboration between industry and academia, information system, career support, human resources policy, students support and library service.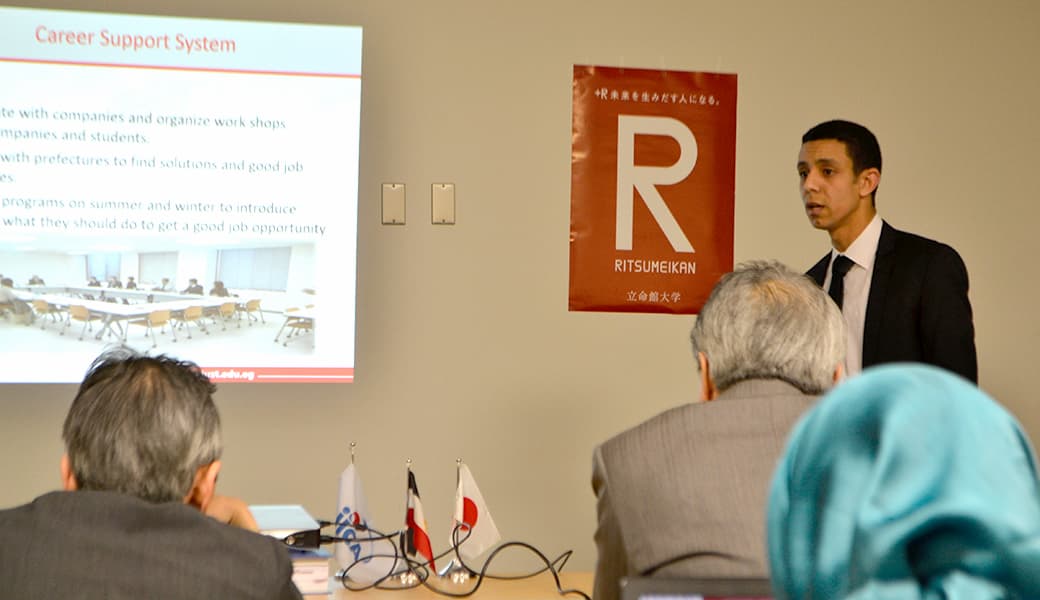 Final Presentation by E-JUST staff in the training program at Ritsumeikan
Ritsumeikan implemented the first training program for 5 executive level administrative staff members in July 2012. Then training program for middle and junior level administrative staff members was completed in February 2013 with 5 participants and in May 2016 with 3 participants. The duration of the training was 2 weeks respectively.
Another ten-day program was held through on-the-job-training for 5 early-career administrative staff in January 2018 which was extensive and covered academic support, student support, grant administration and facility management (details here).
In addition, with the aim of stabilizing E-JUST's study abroad-related operations, 1) online training with case studies was conducted in May and November 2021, and 2) on-the-job training at Ritsumeikan was conducted in November 2022.
The President of E-JUST Visit Ritsumeikan
Dr. Amr Adly, President of the Egypt-Japan University of Science and Technology (E-JUST), visited Ritsumeikan's Suzaku Campus and held a discussion with President Yoshio Nakatani. President Nakatani congratulated E-JUST on the significant progress it has made, including the opening of a new campus and a new college, and he expressed his desire to "further strengthen cooperation in education, student exchange, and research, in addition to providing support for staff development." Ritsumeikan will continue its efforts to further globalize education and research by realizing a student exchange program with E-JUST, accepting E-JUST staff as trainees, and other initiatives. (details here).