Using Japan's Experience in Indonesia's Policy Making
Ritsumeikan has been conducting ODA-supported Short Training of Trainers Programs to develop professional human resources based on a request from the National Development Planning Agency of Indonesia (BAPPENAS). In 2016, Ritsumeikan implemented the Public Policy Planning Training from December 4 until 17.

The program welcomed 25 participants including professors and lecturers from many parts of Indonesia and officers from BAPPENAS. The program consisted of lectures at Ritsumeikan University Osaka Ibaraki Campus and Ritsumeikan Asia Pacific University (APU) by Ritsumeikan faculties and external experts in addition to fieldwork at Kobe, Kitakyushu and Oita. It covered topics such as marine resource management, environmental policy, tourism, infrastructure and small & medium-sized enterprises. The participants gained new knowledge and a deeper understanding on Japan's effort on a wide range of issues through the program. They have also obtained case studies and exercise methods that could be introduced to their teaching in Indonesia.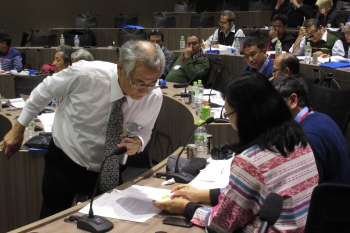 On the last day, the participants made group presentations on five cases in Indonesia; the social security system, Muslim friendly tourism, marine resource management, taxation system on small & medium-sized business and infrastructure. Each presentation showed comparison between Indonesia and Japan, and what could be utilized in their teachings among Japan's many lessons and efforts they learned. Professor Hidehiko Kanegae, Professor Ken'ichi Nakagami, Assistant Professor Satoru Ono from the College of Policy Science and Senior Researcher Fitrio Ashardiono from Ritsumeikan Asia-Japan Research Institute participated in the presentation session and gave comments.

The Commencement Ceremony took place in the evening after the presentation session and Dr. Alinda F.M.Zain, Education Attaché of the Embassy of the Republic of Indonesia in Japan, and Dr. Katsuya Matushima from Kyoto University Graduate School of Urban Management, the team leader of Professional Human Resource Development (PHRD)-Ⅳ in Japan, attended the ceremony. The participants received the completion certificates from Professor Kiyofumi Kawaguchi, the former Chancellor of the Ritsumeikan Trust.

The program received comments such as "I gained information and materials that are useful for my teaching in Indonesia", "I learned a lot from exercise and fieldwork" and "It was good to broaden my knowledge beyond my specialization.


The Ritsumeikan Trust recognizes international cooperation that contributes to the progress of international society as the role educational institutes should play in the 21st century. It considers international cooperation projects as one of the most important pillars of the Ritsumeikan Academy.
Related information