Considering Ways for Japan to Support Athletes for the Next Olympic Games
With a view to the upcoming 2020 Tokyo Olympic Games, Graduate School of Sport and Health Science, Ritsumeikan University concluded a research exchange agreement with the Japan Institute of Sports and Sciences (JISS) last October. The purposes of the agreement are to dispatch Ritsumeikan graduate students to JISS to foster young researchers and to enhance collaborative research. A symposium commemorating the conclusion of the agreement was held on February 1 at Ritsumeikan University Biwako-Kusatsu Campus.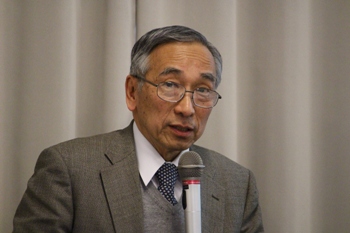 Following the opening address and presentation by Professor Isaka, Dean of Graduate School of Sport and Health Science, Dr. Takashi Kawahara, a former Director of JISS, gave a brief history of support for top Japanese athletes by Japanese sports organizations after the 1964 Tokyo Olympic Games, as well as the approaches taken by JISS since its establishment. Japan finally established a National Training Center (NTC) in 2008, lagging decades behind equivalent facilities in the USA and Australia. NTC currently serves as the training hub for more than 10 sports, most of which earned medals at the 2016 Rio Olympic Games.

More than 60 people, including undergraduate and graduate students as well as researchers from other institutions, listened attentively to presentations on cutting-edge researches made by JISS researchers and Ritsumeikan professors.