Business Prospect and Support Measures in Africa - Kenya Case Study
Africa Business Symposium in Osaka
Ritsumeikan University Research Center for Innovation Management and the Embassy of the Republic of Kenya in Japan held an African business symposium on the university's Osaka Ibaraki Campus on March 31, 2017.
The symposium on "Business Prospect and Support Measures in Africa," especially in Kenya, was organized by Assistant Professor Francis Otieno of the College of Policy Science and Professor Masaki Kuroki of the College of Business Administration, both of Ritsumeikan University. One hundred and forty-four people took part in the symposium. They included students from Africa who are currently studying in Japan as well as embassy-related officials, in addition to representatives from companies and organizations that have already advanced or are thinking of advancing to Africa or considering support for the continent.

Following an address at the outset of the symposium by H.E. Ambassador S.K. Maina, M.B.S. from the Embassy of the Republic of Kenya in Japan to welcome the participants, keynote lectures were delivered in Part One by Keiichi Shirato, chief analyst at the Middle East & Africa Department of Mitsui Global Strategic Studies Institute (an alumnus of the Graduate School of International Relations in the College of International Relations), and Sachiko Yamano, President of Japan International Cooperation Center.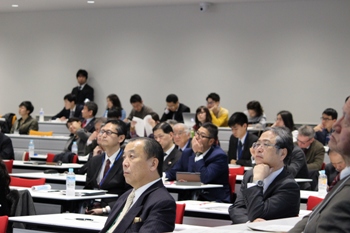 Mr. Shirato discussed the overall history of politics and the economy of Africa as well as the region's issues and challenges for the future. He pointed out that African countries depend on imported food because they don't produce enough grain, their staple food, as a result of the lack of innovation in agricultural technology despite an explosive population growth rate of 2.7% in Sub-Saharan Africa compared with an average 1.2% global increase estimated over the next 30 years. He also explained that the wages of workers in Africa's manufacturing industry are higher than those in Asia and that, as a consequence, its manufacturing industry's competitiveness has been low. Mr. Shirato then proposed that Japanese companies should explore the possibility of cooperation with firms from other countries that already run successful businesses in Africa, that they should focus on Africa as a market and that they should concentrate on the kinds of business that can take advantage of the strength of Japanese products.

Meanwhile, Ms. Yamano spoke about the African Business Education Initiative for Youth (ABE Initiative), a program that has been underway since fiscal 2014. The ABE Initiative provides opportunities for undergraduate- and graduate-level studies in Japan for 1,000 young Africans over five years as well as internships at Japanese companies. The program had already accepted more than 800 students from Africa by the last fiscal year.

In Part Two, presentations were made by officials from such Japanese firms as Nissin Foods Holdings Co., Ltd., Hankyu Hanshin Express Co., Ltd., and Toray Industries, Inc. on how their business has been progressing in Kenya. In Part Three, a panel discussion was held on "Support for Japanese Businesses and Strategy." Representatives from public-sector organizations such as the Japan International Cooperation Agency and the Japan Bank for International Cooperation took part in the discussion. Symposium participants asked questions about the future direction of business in Africa and an active exchange of opinions ensued. At one point, Ambassador Maina expressed hope that Japanese companies would change their views on investment in Africa.
Message from H.E. Ambassador S.K. Maina, M.B.S.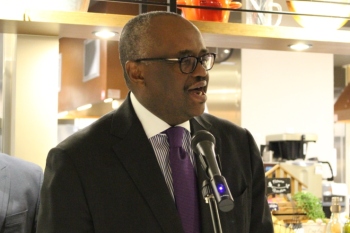 We asked the Kenyan ambassador what he thought about Ritsumeikan University and its Osaka Ibaraki Campus and what he would expect of the university in the future looking back on the relations between his country and the university.

He said, "This is my first visit to Osaka. I was very impressed by Ritsumeikan University, especially by its Osaka Ibaraki Campus here. It is equipped with the latest facilities and equipment and there are no walls or boundaries separating the students. It is a university that is open to the community and that takes its relationship with the community seriously."

"The number of African students who study at your university's graduate schools and colleges as trainees on the ABE Initiative Program has been rising each year. I hope the program will continue and that the networking bond between Japan and Africa will strengthen in the future. Before the symposium, I had lunch with Professor Jumpei Nishitani of the College of Business Administration and we promised each other that we would cooperate in a variety of ways going forward. For instance, our embassy can promote a partnership agreement between Ritsumeikan University and a university in Kenya. I strongly hope that Professor Nishitani will take advantage of his sabbatical to come to Africa to do his research."



Related information