Ceremony and Exchange Reception Held to Welcome International Students from Ukraine
In April 2022, Ritsumeikan announced plans and began preparing to temporarily accept students who are unable to continue their education or research due to Russia's military invasion of Ukraine. Saftin Roman, a second-year student in the Graduate School of Information Science and Engineering, came to Japan this spring after studying online for a year. Then, in July, Dana Mosinska and Valeria Kin, came to Japan to study at Ritsumeikan University as non-degree students.

On Wednesday, August 3 a ceremony and exchange reception were held at Kinugasa Campus to welcome the arrival of these students from Ukraine. Chancellor Tomomi Morishima, President Yoshio Nakatani, and 17 Ritsumeikan students joined Mr. Yasuhiro Wakebayashi (Chairman and Founder of Nihon M&A Center Inc.), who has provided invaluable support to students coming from Ukraine as non-degree students, including assistance for travel to Japan and living expenses during their stay here, to welcome the international students.
At the beginning of the ceremony, President Yoshio Nakatani encouraged the students to "interact with as many people as possible and make new friends," and Chancellor Tomomi Morishima presented them with Ritsumeikan merchandise, including a set of chopsticks, towels, and other daily necessities. Next, Mr. Yasuhiro Wakebayashi expressed his hope that the war will end soon and that the people of Ukraine will be able to live in safety and peace, and he presented the two non-regular students with a document listing the various kinds of assistance they will receive during their stay in Japan. Valeria Kin remarked, "It is a dream come true for me to be in this safe and beautiful place right now. I really want to thank you for giving me this opportunity."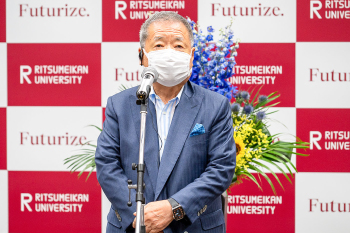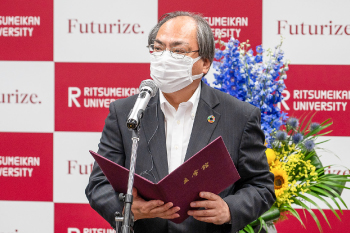 The atmosphere at the exchange reception, where the three Ukrainian students mingled with Ritsumeikan students, was friendly from start to finish, and they talked about Japanese food, what they would like to work on in Japan, and their dreams for the future.