Japan Super Science Fair Held in Person for the First Time in Three Years
 From November 1 to November 5, Ritsumeikan Senior High School held the 20th Japan Super Science Fair (JSSF), which attracted around 250 students and officials from 35 schools in 18 countries and regions. Due to the impact of COVID-19, this was the first time in three years that the fair could be held in person.

 The JSSF is held as part of the Super Science High School (SSH) program that began in 2002, and Ritsumeikan Senior High School is one of the schools designated as an SSH by the Japanese government. SSH is a system under which the Ministry of Education, Culture, Sports, Science and Technology (MEXT) designates high schools that focus on science and mathematics education. High schools that earn the designation implement advanced science and mathematics education, conduct joint research with universities on the shape that high school-university partnerships should take, and promote initiatives aimed at fostering international-mindedness. Projects like the JSSF are unique to SSH-designated schools. To date, the JSSF has attracted a total of around 3,800 participants, over half of whom have joined from overseas, thereby contributing significantly to the cultivation of global talent for science and technology as part of high school education.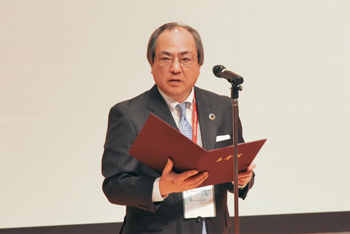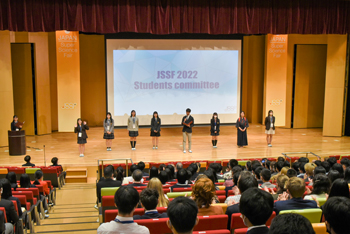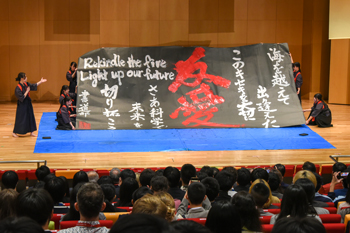 This year, the JSSF included lectures by scientists and tours of university and company laboratories. Student participants also gave presentations, poster sessions, and PBL-style workshops in each discipline, including earth science, environmental studies, chemistry, physics, and mathematics. All of the presentations were extremely specialized, and the students and teachers in attendance asked many questions, making for a lively discussion and spurring academic exchange.

 On the first day, Chancellor Yoshio Nakatani gave a keynote speech, in which he talked about the business of science as it pertains to collecting data on potential customer needs in order to create new products. In his speech, he explained the importance of eliminating unconscious bias, which he called the "enemy of new ideas," while sharing his own business experience. He also reminded the students that while research is born out of curiosity, it is also a social activity, which means it always comes with social responsibility.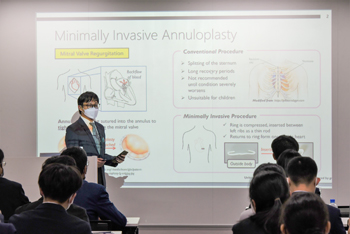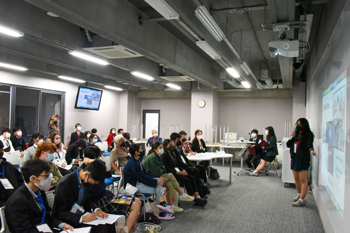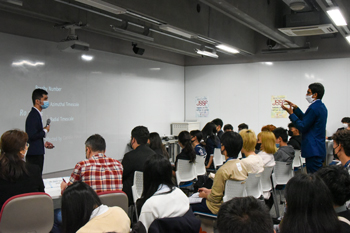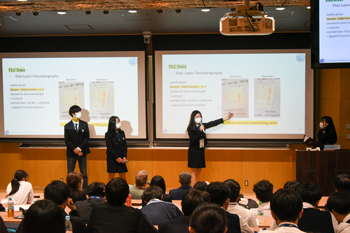 On the second day, four scientists active in their respective fields of research gave talks: Professor Toshie Kai and Associate Professor Kazuto Saiki from Osaka University and Professor Kentaro Ifuku and Associate Professor Roger Wendell from Kyoto University. Professor Kai talked about the maturation of germ cells into eggs and the protection of germ cell genomes, while Associate Professor Saiki talked about the current status of lunar exploration and the development of near-infrared cameras for lunar exploration. Next, Professor Ifuku talked about the basic principles of photosynthesis and their application to the production of food and materials, and finally, Professor Wendell discussed neutrinos, which are the building blocks of the universe. In their talks, the speakers noted that much of the complex science being done in labs originated from simple ideas that you learn in high school, and they provided the scientists of the future with messages of encouragement.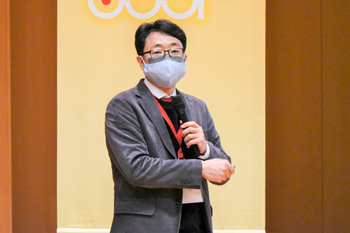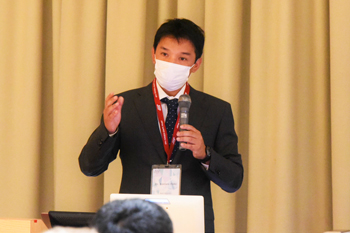 Furthermore, the JSSF provided an opportunity for students to engage not only in academic exchange on science and technology, but in cultural exchange as well. During the ice breaking session on the first day, the students from different schools and regions introduced themselves using Japanese origami and other materials. They also interacted with each other through various projects such as science discussions and science workshops, where they joined group discussions and competed with each other in creating works of art. The JSSF was a catalyst for the students to deepen friendly ties through social media and other means and create a global network of next-generation science and technology leaders.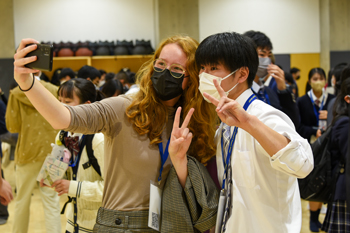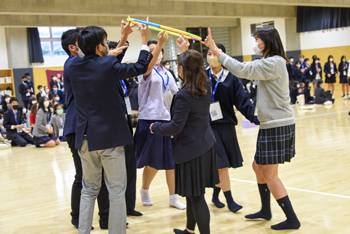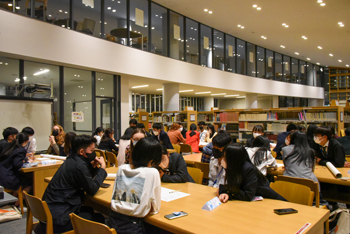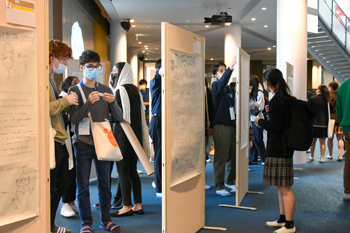 After being held online for two years in a row, this year marked the first time the event was held in person in three years as well as the 20th anniversary of the JSSF. This was a great challenge for Ritsumeikan Senior High School, which has hosted the JSSF for many years. None of the members of the student organizing committee had any experience in holding an in-person event, so they had to feel their way through the preparation phase. Led by committee chair Yota Suzuki, the students were divided into seven teams, including the Research Presentation Team and the Science Team, and every member took creative measures to make the student participants feel welcome.

 In his greeting on the first day, Ritsumeikan Junior and Senior High School Principal Yasuhiro Higashitani said, "JSSF aims to create teams to solve scientific problems, share research findings, engage in meaningful discussions, and build strong bonds among participating schools." The Ritsumeikan Senior High School students did exactly this, and they were able to grow significantly over the five days by leveraging their diversity, sharing knowledge, and working as a team to come up with solutions as they engaged in various discussions and presentation sessions. As students of the host school, they were also able to build strong bonds of cooperation that transcended school boundaries as they interacted with students and teachers from around the world.

 Ritsumeikan Senior High School will continue to contribute to the development of talent for science and technology in Japan and around the world through the JSSF, while encouraging students to acquire knowledge of science and technology and form international personal networks.