GLA Collaborates with Ritsumeikan Keisho High School and St. Xavier's College on New Overseas Training Program
 The College of Global Liberal Arts (GLA) implemented a new overseas training program in collaboration with Ritsumeikan Keisho High School and St. Xavier's College (Nepal).

 GLA aims to "produce the global leaders of the 21st century" through liberal arts. The academic programs in the College emphasize the importance of skills such as the ability to independently pose questions, conduct research, and conceive and execute plans, all of which are necessary to the development of global leaders. Ritsumeikan Keisho High School has also long focused on overseas training to foster this kind of research. As part of a comprehensive Academy that supports continuing education from affiliated schools to the University, GLA has developed a new program by pairing its "Special Lecture on Cosmopolitan Studies I" with Ritsumeikan Keisho High School's overseas training program. The paring advances the global context of Ritsumeikan's university-high school continuing education program, and cultivate global leaders with research ability from an early stage. On this program, GLA students, students from Ritsumeikan Keisho High School, and students from St. Xavier's College in Nepal engaged in collaborative learning in English for approximately five months, including on-site training in Kathmandu and other locations.

 Nepal is one of the 46 least developed countries (LDCs) in the world. Given that many donor states provide the country with assistance, the program began with the question of whether it is appropriate to think of international relations in terms of donors and aid recipients. St. Xavier's College, the in-country partner in this program, attracts intellectually elite students with a wide variety of social backgrounds from all 77 districts of Nepal. Ritsumeikan students worked with them to conduct a literature survey and hold group discussions on the topic of how to achieve cooperation, centered on the four issues of aid, human rights, the environment, and tourism.


 After studying in Japan, the students headed to Nepal for the overseas training. The students worked together as classmates involved in academic exchange, rather than as aid donors or aid recipients. They also visited a site where trash had been dumped by tourists, a factory that recycles plastic bottles, a refugee camp, and an orphanage to find answers to the questions they had posed before departure. Furthermore, the students worked with Himalayan Life Nepal, a Nepalese NGO, on an environmental conservation campaign. They picked up trash discarded in and around the lake and created and distributed flyers to the surrounding townspeople to raise awareness of the importance of recycling. While they were there, Ritsumeikan students exchanged opinions on various issues such as education, poverty, and child marriage with Prakash Dahal (Joint Secretary, Sustainable Development and International Relations Division, National Planning Commission) and teachers from a JICA-supported elementary school. After returning to Japan, the students formulated policies based on what they had researched to date as well as their training in Nepal. Mukti Ram Rijal (Chief Administrator, Gaindakot Municipality; graduate of Ritsumeikan University's Graduate School of International Relations Master's Program) and Takashi Hibino, Manabu Saito, and Risa Kawahara of JICA's South Asia Division were all invited to listen to and comment on the students' policy proposals.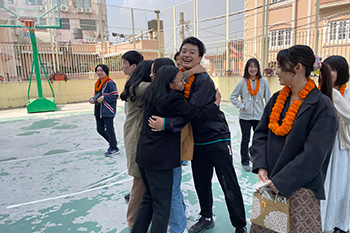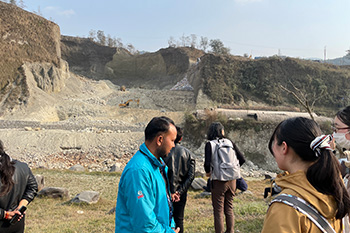 One high school student who participated in the program said, "I did a literature review and thought that Nepal, a so-called developing country, was poor, but after interacting with everyone at St. Xavier's College, I realized just how much I have had an arrogant view about Nepal."

 The aims of this program are for students to learn from each other and collaboratively seek answers to questions. By taking a global perspective, students are expected to help liberate people from the problems embedded in the social structure and to acquire the skills and knowledge to create a better society and future (i.e., the "arts" of liberal arts). Based on this, the program brought out the strengths of each student and also provided them with an opportunity to think about their own vision of global leadership and future career aspirations.

 In addition to the Nepal program, GLA also ran a program in Australia where students learn about on multiculturalism. The College will continue to develop various educational programs so that both university students and affiliated school students can learn and grow to become the global leaders of the future.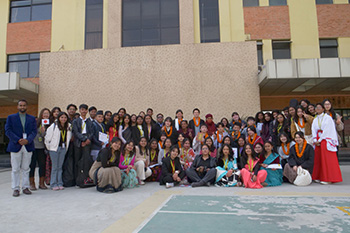 Comment from Professor Miwa Hirono (College of Global Liberal Arts)
 Students from GLA, Keisho, and St. Xavier's College conducted research together the entire time, from the identification of problems to the policy recommendations and through the in-country experience. They learned ideas that are sure to be useful to them as they advance to university and/or graduate school and head out into the real world. It was truly remarkable to see how the students were able to grow and deepen their learning during the program. As an educator, it was a special experience for me to realize that international high school-university partnerships and overseas training programs like this one can be catalysts for developing students into the next generation of leaders.
Comment from Ryosuke Takahashi (Teacher, Ritsumeikan Keisho Senior High School)
 I could see just how tough this program was from the expressions on the students' faces during their stay in Nepal. The students interacted with many people, and never missed the opportunity to embrace chance encounters. They were able to make heartfelt connections with others that they wouldn't otherwise have been able to achieve online. This program afforded me the rare opportunity to see the expressions on my students' faces that revealed how their hearts were filled with a warm sense of accomplishment, even though they were physically exhausted after moving around all day. I think this is one of appealing features of intensive in-country training. They still have many years of study ahead of them at Ritsumeikan.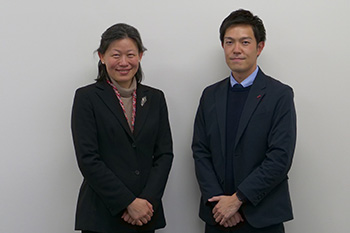 Comment from Lillie Goodin (4th-year, GLA; entered ANU and has been studying at OIC since 2022)
 This course was an amazing experience. We had the incredible opportunity to interact with so many different types of people and discuss issues of society and aid with them. Before we traveled to Nepal, we discussed the theoretical aspects of these issues in class, looking at them through an academic lens. However, while we were in Nepal we spoke with the local people affected by these issues and were able to understand their struggles person to person. I highly recommend this course to everyone.
Comment from Rin Kudo (2nd-year, Ritsumeikan Keisho Senior High School)
 On this program, we took a serious look at the unanswerable question of how a single country can develop, and we were able to consider Nepal's development from the local perspective. To be honest, the program content was quite challenging, but I can confidently say that I learned a lot through this authentic experience in Nepal. I think one of the big attractions of this program is getting to interact with GLA students and faculty member.