Ritsumeikan, after the mid 1980's, has rapidly promoted internationalization with the aim of becoming "Ritsumeikan that is open to the world". Ritsumeikan established an international center in 1985 along with the first College of International Relations in Western Japan in 1988. This was then followed by the establishment of the first true international university in Japan, Ritsumeikan Asia Pacific University (APU), in 2000. We continually strive for and promote the globalization of education and research by utilizing our strengths as a comprehensive university.
Overseas Network
Ritsumeikan University works with more than 460 universities and institutions in 68 countries and regions to pursue international exchange and research activities for both students and faculty.
Partner Universities and Institutions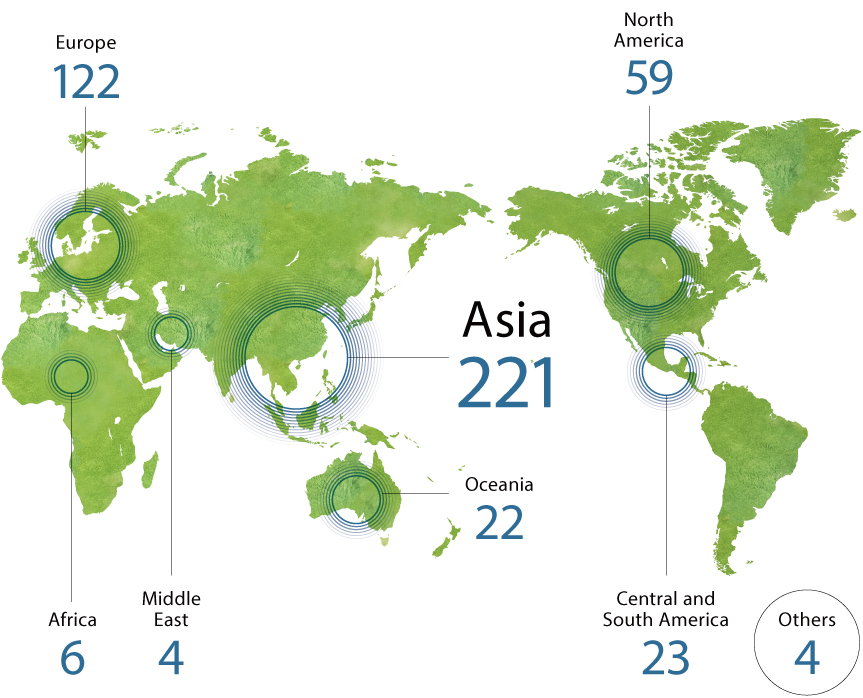 (as of May, 2021)
Graduates & Alumni Association
Graduates of Ritsumeikan University organizes various alumni groups by region, job field, college/graduate school and extra-curricular club, deploying various activities both domestically and internationally.
See all branches and groups by category

* "Jusotsu" : When students graduate/finish multiple colleges or graduate schools.
(as of May, 2021)
International Cooperation and Contribution
Ritsumeikan University aims to contribute to international society by conducting commissioned programs, bilateral projects and disaster relief projects.
JICA Knowledge Co-Creation Program (Tourism Development through Appropriate Management of World Heritage Site)
COSMO-ADOC-RITSUMEIKAN Japanese Language Program
Egypt-Japan University of Science and Technology
Vietnam-Japan University
Malaysia Japan International Institute of Technology