Academics
Curriculum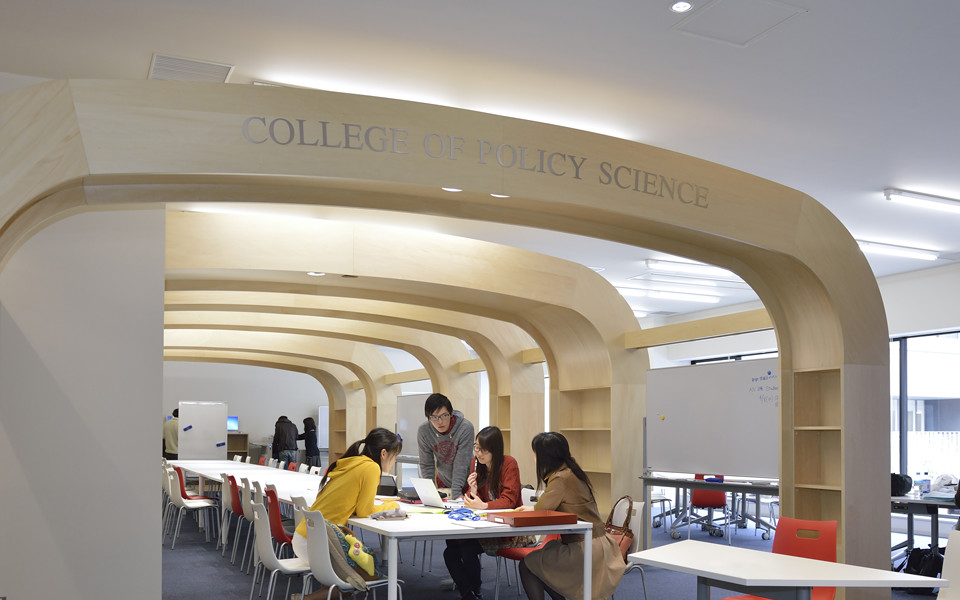 All classes in the Community and Regional Policy Studies major will be held in English. 1st and 2nd year students will take academic skills courses, liberal arts courses, and introductory courses to research methods and policy science. 3rd and 4th year students choose one of the three programs (Sustainable Urban Policy Program, Regional Economy and Development Program, and Multi-level Governance Program) and engage in in-depth learning with a focus on specialized courses and seminars. 4th year students write a graduation thesis. During the last semester, students undertake a project-based practical survey as a capstone for learning about policy science based on scientific social surveys.
Additionally, students take intensive Japanese language courses from the first year, and work towards the goal of achieving an intermediate level Japanese by the time they graduate.
Example of Study Path
1st year

Academic skills courses necessary to university learning, liberal arts courses, and policy science introductory lecture courses, as well as reading course and Japanese language courses.

In debate courses, participate in exchanges with Japanese students from the Policy Science major of the College of Policy Science.
2nd year

Policy science introductory courses, policy research courses including social survey methodology, and specialized reading seminars to prepare for the three programs. Students are expected to continue Japanese language studies. Students may request to participate in fieldwork programs abroad.
3rd year

Specialized learning in courses in one of the three programs and specialized seminars.
4th year

Students write graduation thesis and complete project-based practical social seminar based on the social research methodologies learned in the major.
To obtain a BA in Policy Science you will be required to take the following courses (124 credits in total) in four years.
*Please note that course details are subject to change.

Graduation Requirements (124 credits)
Vision Building Subjects
Foundation Course to Policy Science I - VII
General Education Course I - III
Vision Building Special Lecture I - IV, etc.

English for Academic Purposes
Introduction to Academic Research
Academic Communication Skills
Academic Reading and Critical Reasoning I, II

Academic Writing Skills
The Language of Policy Science
Academic Reading and Writing for Policy Science I, II

Foreign Languages
A. Japanese *1
B. Other Languages (German/French/Chinese etc. *2)

*1 Students with high Japanese proficiency will take other language courses.

*2 In total, there are courses for 10 languages offered.
Computing and Research Methods
Introduction to Social Research
Policy Information Processing 1, 2
Statistics
Survey Analysis
Qualitative Research Methods
Spatial Analysis
Gaming Simulation Method
Policy Science Subjects
A. Introductory Lectures

Studies of Political Process
Microeconomics for Policy Studies
Macroeconomics for Policy Studies
Theories of Justice
Civil Law
Introduction to Mathematics for Policy Studies
Constitutional Law




B. Advanced Lectures

Sustainable Urban Policy Program

The followings are samples of study themes.

Urban Planning for Sustainable Cities
Community Safety
Housing and Policy
Community Development and Planning
Environmental Policy




Regional Economy and Development Program

The followings are samples of study themes.

Introduction to Regional Development
International Trade and Finance
Development Economics
Public Economics
Economic Institutions




Multi-level Governance Program

The followings are samples of study themes.

Global Public Policies
Inter-Government Relation and Cooperation
Constitutional Law
Public Management
Social Welfare Policies




C. Seminars

Introduction to Policy Science
Policy Seminar 1 - 3

Case Study Seminar




D. Exchange Study Courses

Cross Border Policy Issues
Introduction to On-site Research 1, 2
Introduction to On-site Research Summer Session

Study abroad
The University and the College provide various kinds of study abroad programs.
Other College Courses
You can check syllabus of the College of Policy Science from HERE.