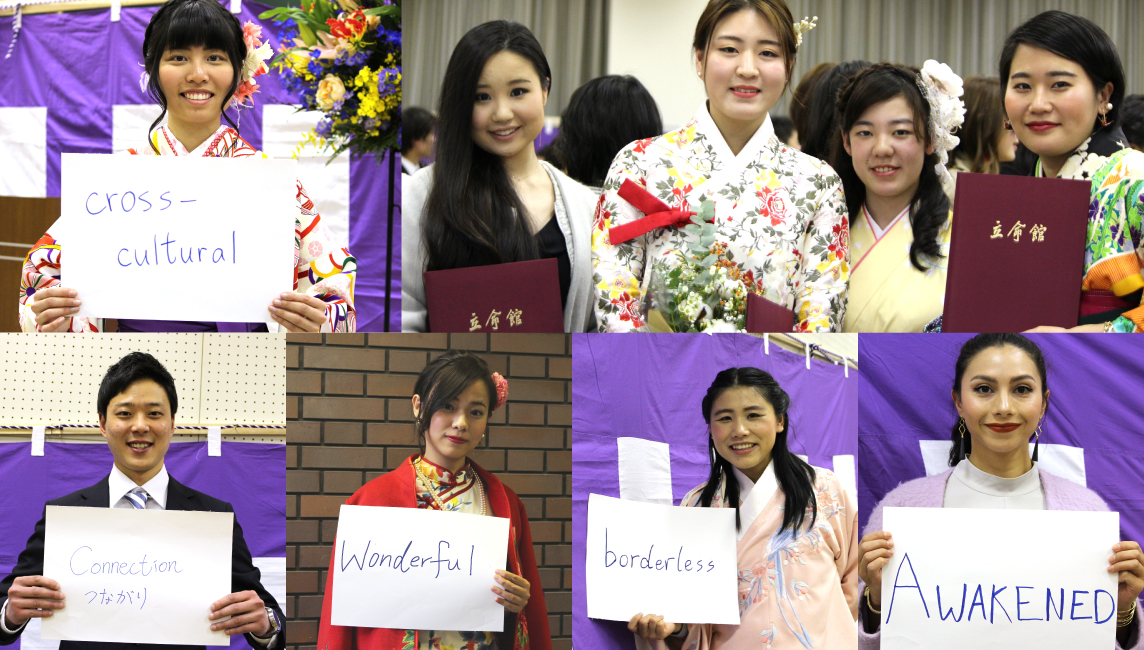 Congratulations to Our Spring Graduates!
Commencement ceremonies for AY2016 were held from March 20 to 22 at each campus; 6,492 undergraduate students and 976 graduate students successfully completed their programs. Here are the stories of three graduates.
Story of Ms. Shiwen Zhang from Jiangsu, China
Shiwen enrolled at Ritsumeikan University in the spring of 2013 after studying Japanese at a language school in Kobe for two years. She had a strong interest in learning about politics and diplomacy, so she chose the College of International Relations, which boasts a history spanning more than 25 years and distinguished faculty members from more than 10 countries and regions.

She became actively involved in programs offered by the University, such as the Peace Studies Seminar to Hiroshima and Nagasaki, the six-month Project-Based Learning Program in Thailand, and the Global Career Path Program. In the fourth year, she worked as a teaching assistant.

One program at Ritsumeikan that particularly impressed her was Global Simulation Gaming, or GSG for short. GSG is a virtual reality gaming course for second-year students at the College of International Relations. Students play the roles of heads of state, representatives of international organizations, and the mass media to discuss global issues with the aim of concluding a treaty at the end.

"There are plenty of opportunities for Ritsumeikan students to challenge themselves and discover new horizons," Shiwen says. During her six-year stay in Japan she learned about Japanese hospitality and compassion, which she thinks will help her in the future. She will soon be returning to China to work in an advertising venture firm in Shanghai. "I will continue improving my skills so I can make a living by using them whatever my age," she added.
Story of Mr. Sion Kim from Paju, the Republic of Korea
Sion had been interested in overseas countries since childhood; he loved looking at world maps and national statistical data. Such interests paved the way to international relations and he decided to study abroad. Japan is geographically close to South Korea, but its writing system employing a mixture of Chinese characters and two kana syllabaries made an indelible impression on him the very first day he arrived in Japan.

He learned the basics of social sciences in the first grade, and in the second grade he experienced GSG, which he found really exciting and interesting. From the third grade, he belonged to an advanced seminar on East Asia with Professor Nakagawa. The members of the seminar group visited Taipei to conduct extensive field research on the Taiwanese economy. Based on such field research and his studies in the seminar, he subsequently wrote his thesis on foreign direct investment in Vietnam and his thesis was awarded honors by the university.

According to Sion, the benefit of studying in Kyoto was that he could gain exposure to the essence of Japanese traditional culture in the heart of Japan. "The beautiful scenery in Kyoto during different seasons of the year refreshed me," said Sion. He really loved living in Kyoto, but it took some time for him to get used to its hot and humid climate in summer and chilly weather in winter.

From this April he starts work at a Japanese glass manufacturing company that has many affiliated companies abroad and he hopes to serve as a bridge between Japan and his home country.
Story of Ms. Lo Ho Yan (Joyce) from Hong Kong, China
Joyce was educated in Hong Kong, where she went to an English-medium secondary school. Her first encounter with Ritsumeikan University was through the IELTS (International English Language Testing System) website provided by the British Council, which included details of several universities with English-medium programs. Joyce browsed the websites of these universities and thought that Ritsumeikan College of International Relations looked stimulating and best suited to her own interests. She was particularly attracted by the diversity of students and faculty members in the Global Studies major at the College of International Relations.

Joyce also cited GSG as one of the most impressive programs she experienced at the College of International Relations. Her class discussed the water crisis and she played the role of a UNDP officer. "Usually you don't really have a chance to act as or represent a country; it was just like a small version of global politics. Each country has its self-interests, so you need to negotiate with others, then reach goals to conclude a treaty at the end of the semester. It was a really challenging and impressive program for me," said Joyce.

Besides her study at the College, Joyce belonged to the guitar club and interacted with many students from different colleges, which greatly improved her Japanese speaking ability. Having experienced living in Japan firsthand, she says she would like to work here for the rest of her professional life because she likes the Japanese commitment to quality represented by the uncompromising standards for even small things, as well as Japanese craftsmanship.

Joyce is due to start work at a Japanese advertising agency, where she looks forward to working with clients from a variety of industries.

Good luck to all our graduates; we hope to see you again at your alma mater!