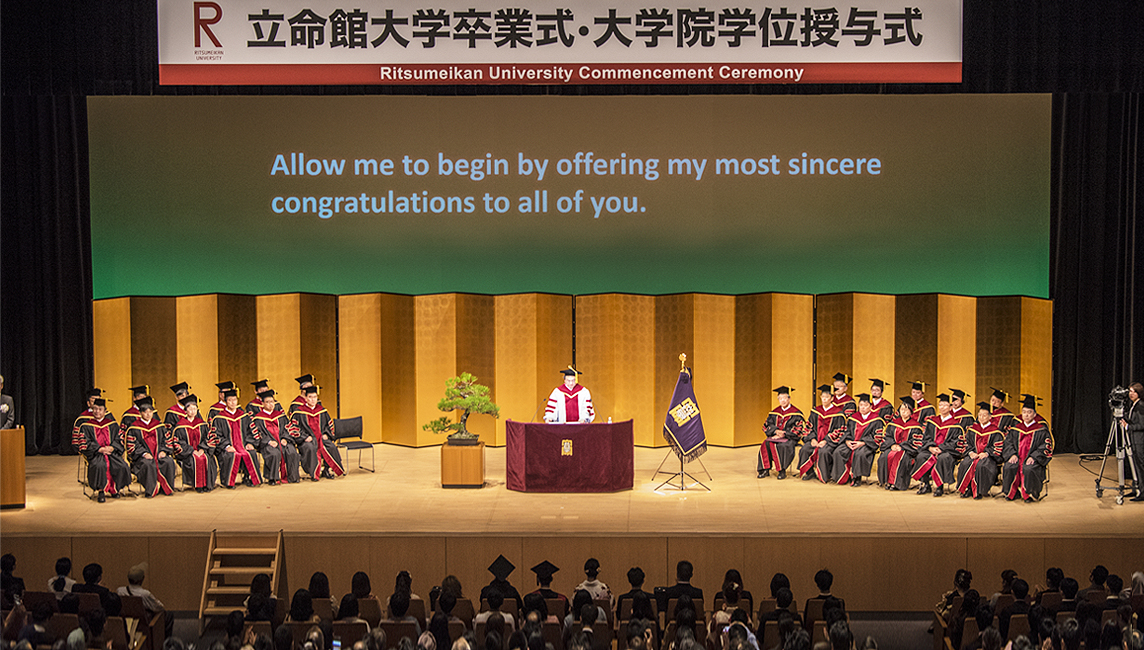 Ritsumeikan University Commencement Ceremony, September 2019 Academic Year
The September 2019 Academic Year Commencement Ceremony for the colleges and graduate schools of Ritsumeikan University took place this week on Osaka Ibaraki Campus, September 23.

A grand total of 711 students graduated this year of whom 511 were undergraduates and 200 post-graduates.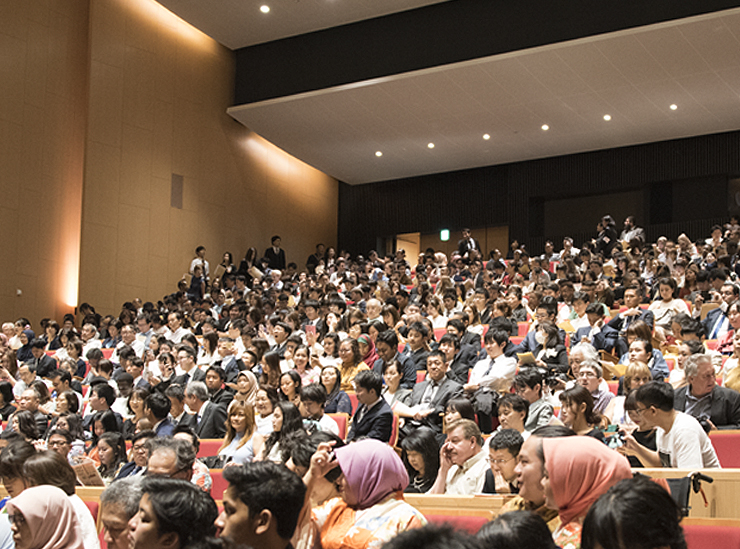 Yoshio Nakatani, president of Ritsumeikan University delivered a commencement address in which he spoke of technological developments and a changing world:

I would say the world that awaits us will be completely different from what you may be anticipating or have become accustomed to. Under such circumstances, fundamental questions, such as what it is to be human and what it means to live a human life, as well as what kinds of relationships technology, humans and society should have with each other, are thrust upon us. Going forward, we are expected to face these issues head on to seek solutions.

Before concluding with positive encouragement for students to take on this, as well as other, challenges:

It is because we are living in times that are filled with uncertainty and anxiety that I hope you will have the courage to take on challenges without fearing failure. I repeat, please keep challenging yourselves. I firmly believe that it is precisely by freely taking on challenges that a path to a bright future for your life will open up to you.
With students at the heart of Ritsumeikan University, no ceremony would be complete without hearing from members of the student body – undergraduate and graduate alike. The ceremony saw graduating students Wakaba Ikeda, from Japan (College of International Relations), and Jinyi Chen, from China (Graduate School of Policy Science), address the audience - taking to the podium with confidence and conviction.


Proud and much honored to speak on behalf of the graduate students of Fall 2019 and on behalf of Chinese students as well, Jinyi Chen gave a touching speech:

Three years of Learning in Japan has been a tremendous experience for me. Not only because I gained knowledge, but also because I felt the beauty of Japan. I was smitten by Mount Fuji surrounded by flowing clouds, I listened to the sound of Kanagawa's wave in Katsushika Hokusai's painting, and I visited Toshodai Temple to feel how close the cultural connection is between China and Japan. These wonderful scenes will be amongst the best memories of my life. They have also, however, helped me to understand that the joy of life lies in going to see a bigger world and gaining an insight into, and sense of, different cultures.

Today is a time for celebration, but it is also time to aspire for a positive future. We have accomplished a significant milestone in our lives and will head in different directions, but believe in yourself and don't hesitate to work hard and struggle for the realization of your dream, the people you love, and the bright future you deserve.