MEXT Scholarship: Embassy Recommendation

Pre-enrollment Scholarships
Japanese Government (Monbukagakusho: MEXT) Embassy Recommendation Scholarship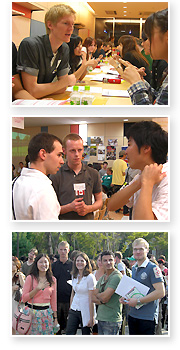 The instructions below are for applicants who have already passed the Primary Screening conducted by the Embassy or Consulate of Japan in their home country and have received their Passing Certificate of the Primary Screening who wish to apply for a Letter of Provisional Acceptance from Ritsumeikan University.
All application procedures are conducted by the Embassy or Consulate General of Japan that is responsible for your home country/ territory. Please contact that organization for specific details regarding the application process in your country. The information below assumes that you have already followed the Embassy's or Consulate's application instructions and that you have passed the Primary Screening. Additional information may be found on the Monbukagakusho's website.
Applying for a Letter of Provisional Acceptance
Once applicants have received their application documents and their Passing Certificate of the Primary Screening back from the embassy, with the embassy's seals affixed, they should apply to Ritsumeikan University for a Letter of Provisional Acceptance.
1. Application Documents
Applicants must submit all of the documents listed below to Ritsumeikan University by email attachment. Please note that all documents should be stamped with the official seal of the Embassy or Consulate that conducted the Primary Screening:
(Required) Passing Certificate of the Primary Screening
(Required) Application form for Japanese Government (Monbukagakusho: MEXT) Scholarship
*Application forms must have the applicant's photo attached in the designated location.
(Required) Field of Study and Research Program Plan
(Required) Academic Transcript covering each academic year of the last university attended
(Required) Graduation certificate or degree certificate from the last university attended (or an attested document certifying the date on which the applicant will graduate from the school, if still enrolled)
(Required) Recommendation from the President/Dean or your adviser at the last university attended
Recommendation from the present employer (if currently employed)
Abstracts of theses, if any
Photograph(s) showing applicant's own works of art or a recorded CD of musical performance (only for those majoring in fine arts or music)
Pre-Application Survey (Ritsumeikan form/ No stamp is required.)
Additional Requirements:
IMPORTANT: Applicants to graduate schools that conduct courses only in Japanese must additionally submit proof of Japanese language ability at the time of their application (e.g. Passing Certificate of the Japanese Language Proficiency Test (JLPT)). Please refer to the lists of graduate schools that offer courses in each language, below. While often misunderstood, the Japanese language training provided to embassy recommended scholars before the start of their official study only teaches basic greetings and conversation, and will not be taken into consideration when screening your application for admissions.
All documents must be in English or Japanese or be accompanied by an English or Japanese translation.
Applicants who have not already done so should select their desired graduate school and field of study from the websites listed below
Applicants to the Graduate Schools of Science and Engineering, Information Science and Engineering, or Life Sciences should make every effort to select a desired supervising professor from the Researcher's Database or from the individual homepage of the graduate school.


*Please note that there is no requirement to contact professors directly at any stage of the application.
2. Application Instructions
Once you have assembled all of the documents above please take clear scans of the documents and send them as PDF email attachments to the International Center at BKC.
Email Address:
cger-bkc@st.ritsumei.ac.jp

Please note that the university's screening takes time, at least one month, so applicants who have a deadline to turn in their Letter of Acceptance should be sure to send their application documents as quickly as possible.
Do not send any application documents or attachments directly to your desired graduate school or supervising professor.
3. Application Deadline
September 13, 2019
Applicants who do not contact Ritsumeikan University by the date above will not be able to receive a Letter of Provisional Acceptance for 2020.
Applicants should not wait for the deadline above, but should send their application documents to Ritsumeikan University as soon as they receive them back from the embassy.
4. Notification of Results
It may take a month or more to determine the results of your application. There will be no interim notifications of your application status. As soon as your application results are available, the International Center at BKC will inform you by email.
Ritsumeikan University will send a scan of the Letter of Acceptance to successful applicants along with the email notification and will then send the original letter by airmail to the address listed on the application form.
Applicants who decide to withdraw their application to Ritsumeikan University before receiving their notification of results should contact the International Center at BKC immediately at: cger-bkc@st.ritsumei.ac.jp.
5. Inquiries
All inquiries about admission to Ritsumeikan University under the Embassy Recommendation Japanese Government (Monbukagakusho: MEXT) Scholarship should be sent to the International Center at BKC.
Scholarship Eligibility Requirements and Scholarship Details