About Career Center
Ritsumeikan University Career Center offers a variety of career planning events and placement support services for students. Career Center aims to help students achieve their individual career goals.

International students are also welcome to attend the events and services. We strongly encourage you to take advantage of the opportunities to plan your future and find employment.

Kinugasa Career Center: 1st floor of Kenshinkan
BKC Career Center: 2nd floor of Prism House
OIC Career Center: 1st floor of Building A (AS office)
Support Services Available at Career Center
Some of the career support services for international students are provided in English. The current situation, however, is that most of Japanese companies expect international students to have working proficiency in Japanese during job-hunting as well as upon entering a company, Career Center recommends practicing their Japanese language skills.
Individual Career Counseling (Language: Japanese and English)
Each campus (Kinugasa, BKC and OIC) has staff members who provide career support services in English.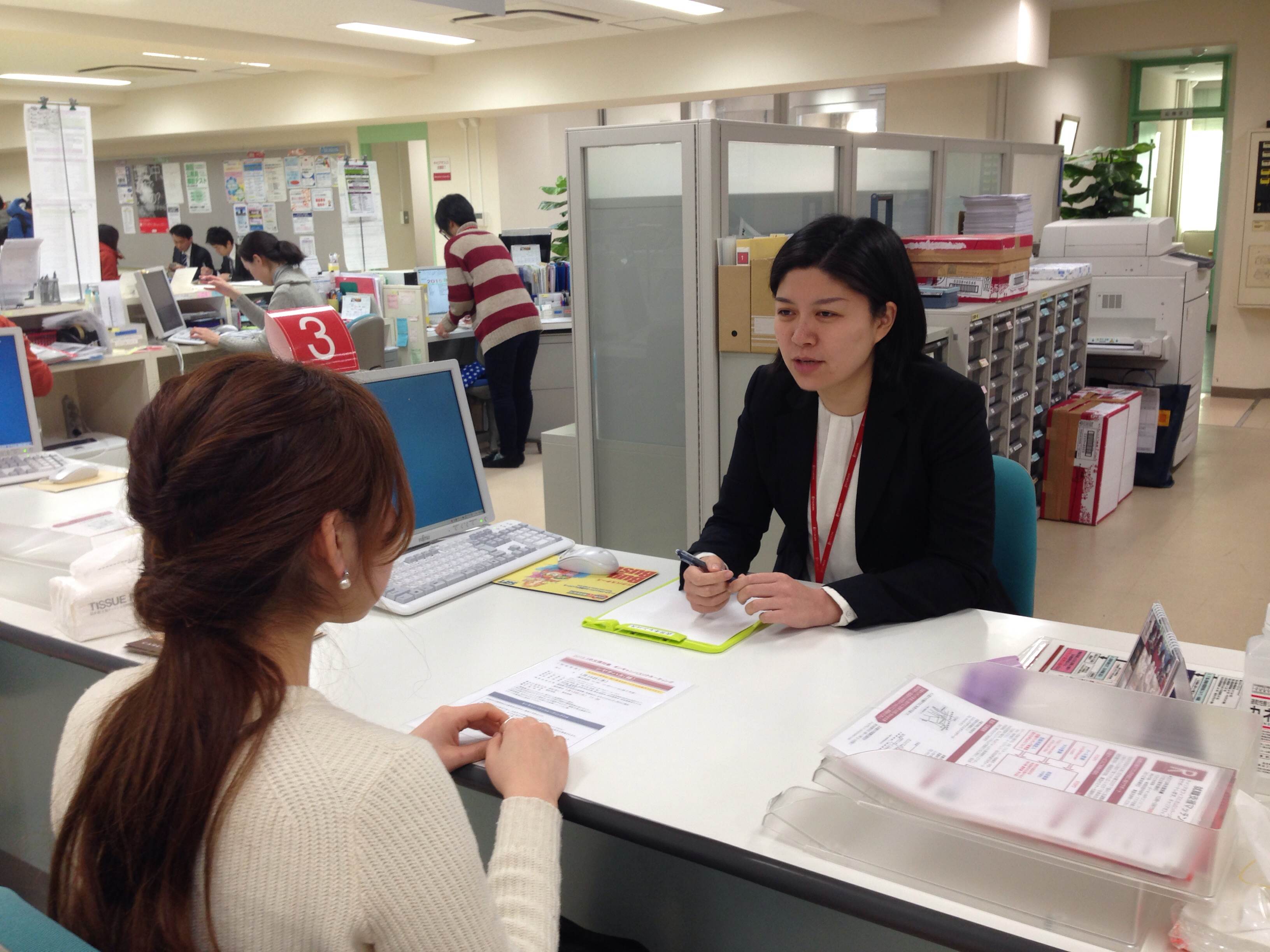 Orientation for New Students (Language: Japanese and English)
Career Center gives information, tips and hints on job-hunting in Japan to new students.
General Career Guidance (Language: Japanese and English)
This program caters to students actively seeking employment. Career Center gives the latest information on job-hunting in Japan, companies proactively hiring international students and what corporate recruiters expect from international students.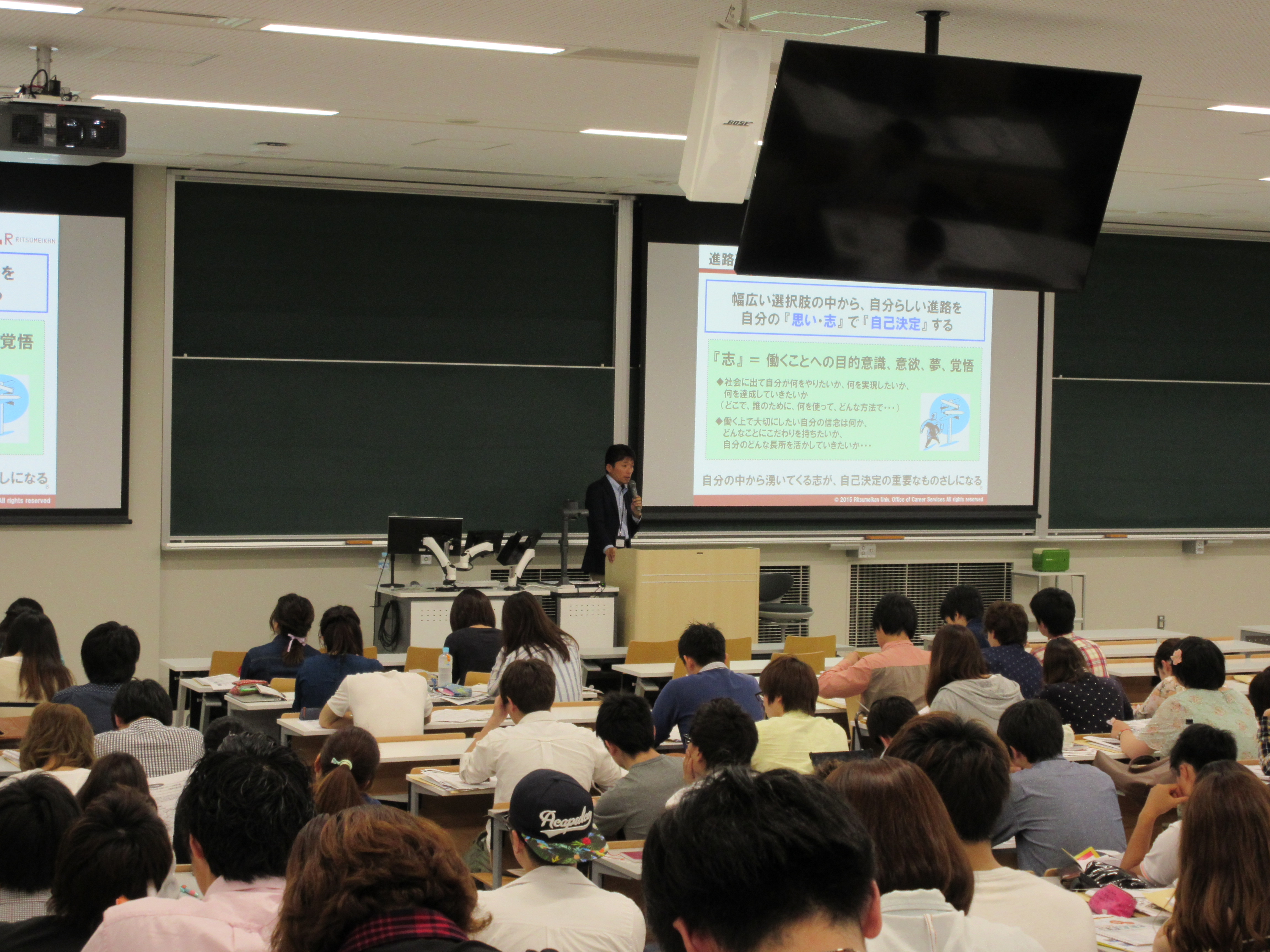 Workshops on Job-Hunting (Language: Japanese)
Career Center staff members and senior students with a job offer hold workshops including the following contents:
How to sell yourself and your advantage as an international student during job-hunting in Japan
How to write Entry Sheet (job application form)
Note: As the workshops are held only in Japanese, similar services are available as individual career counselling in English.
On-Campus Career Fair for International Students (Language: Japanese)
Around 30 companies proactively hiring international students gather on campus in March, and run booths to provide information about their business and employment opportunities.
On-Campus Recruiting for International Students (Language: Japanese)
Career Center invites various companies to Ritsumeikan and conduct recruitment activities directly. Students are able to participate in screening programs including company seminars, group discussions, aptitude tests and interviews on campus.
Career Center E-mailing Service to Provide Career Information (Language: Japanese)
Information about job-hunting or career support events will be delivered via email to international students by signing up for Career Center e-mailing service.
Note: Information will be provided only in Japanese. If you need information in English, please visit Career Center.
Career Planning Seminar for Self-analysis and Industry/Company Research (Language: Japanese and English)
Career Center staff, corporate recruiters and visiting lecturers hold on-campus seminars on the subject of self-analysis, writing self-promotion, research on specific industries, information on working in Asian countries.
Networking Events with Ritsumeikan Alumni (Language: Japanese)
Ritsumeikan graduates, who are currently working in Japanese companies, are invited back to Ritsumeikan to share their experiences and advices on job-hunting for current students. It is a great opportunity to know about various companies or industries, and network with Ritsumeikan alumni.
Internship Program (Language: Japanese)
Ritsumeikan Internship Office provides information on internship programs. Refer to the following website for more information.

Ritsumeikan University Internship Program
Career Center Website (Language: Japanese/partly available in English)
Refer to the following website for more information on job-hunting support services or events.

Career Center Website

For international students and Japanese students interested in working overseas, check the link here:

For job offers, check the link below:
Career and Employment on Campus Web
Career Development Program (Language: Japanese)
Career Center has provided the career development program for third-year students (undergraduates) and first-year students (master) since 2010. Every year approximately 50 students (half of them are international students) of many colleges and graduate schools are participating in the program.

PBL (Project-Based Learning) in multicultural environment in order to improve the basic skills to work in global environment
Visiting foreign and Japanese companies and consulting with management/staffs in order to explicit future prospects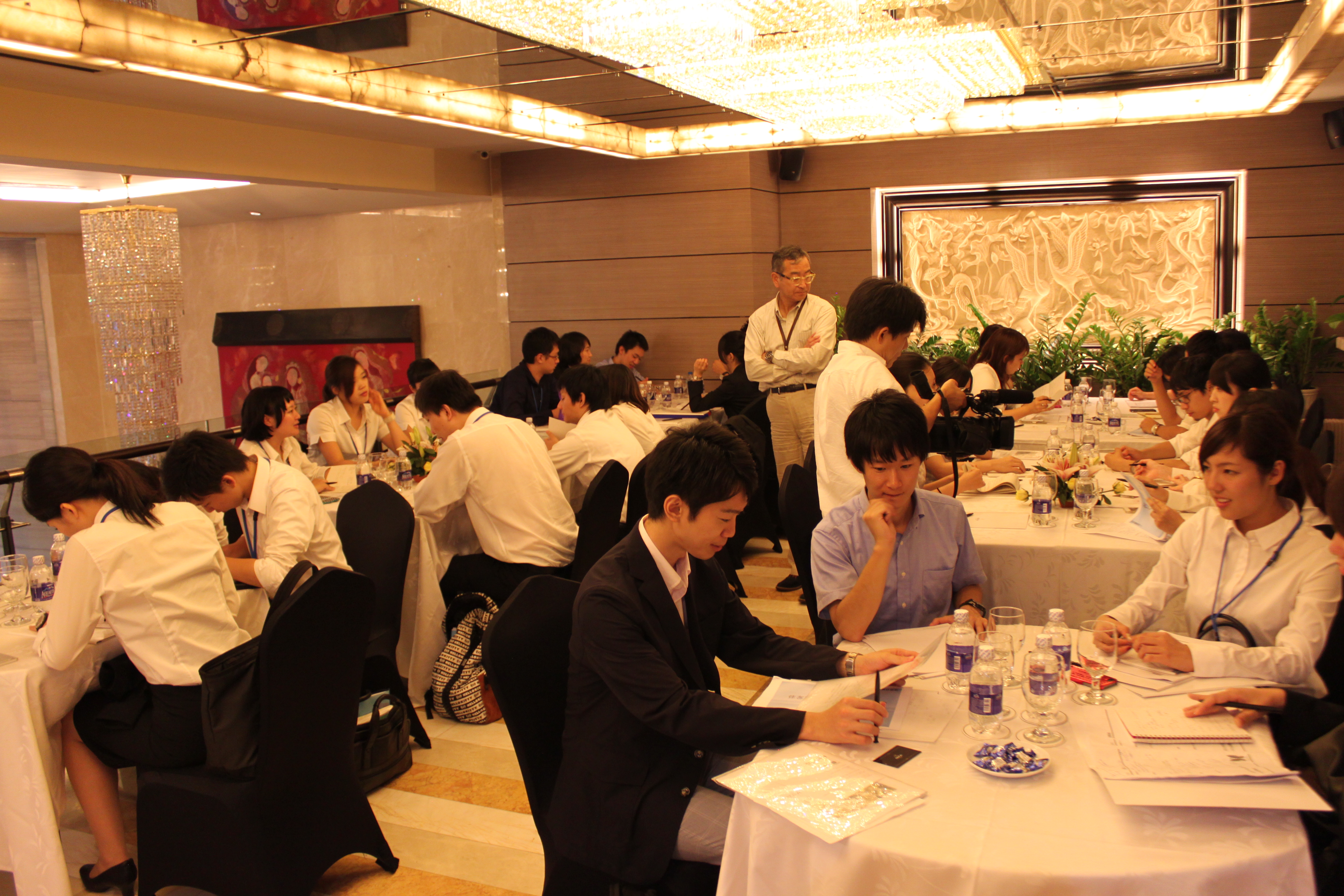 Career Path of International Students After Graduation
100 to 120 international students at Ritsumeikan get employed in Japan each year.
Employment Results in Japan for International Students Graduated in September 2014 or March 2015.

Humanities:
Panasonic Corporation, NEC Corporation, KDDI Corporation, Rakuten, Inc., Toshiba Corporation, SoftBank Group Corp., Nintendo Co., Ltd., Hankyu Hanshin Department Stores, Inc., LIXIL Group Corporation, Daikin Industries, Ltd., Capcom Co., Ltd., Nissha Printing Co., Ltd.

Science:
Honda Motor Company, JGC Corporation, Rohm Semiconductor, Nissan Motor Company Ltd, Fujitsu Ltd., CyberAgent, Inc., Microsoft Japan Company, Limited, Mazda Motor Corporation

For more information, refer to the list of employment results for international students distributed at Career Center.
Job-Hunting in Japan
Students are required to pass applicant screenings, written examinations and job interviews to land a job in Japan. Therefore, students need to be well prepared for each step. At Ritsumeikan, we provide students with support for career planning at Career Center, so make sure you stop by Career Center. Office hours are Monday through Friday from 9:00 a.m. to 5:30 p.m. (Closed: Wednesday mornings and lunch hours from 11:30 a.m. to 12:30 p.m.)
Off campus services are also available in the following page:
Osaka Employment Service Center for Foreigners

Job hunting in Japan usually begins when students are in the third year of their undergraduate studies or first year of their master's program (M1).
Students begin their search by visiting companies (at their own expense) during the aforementioned periods, so it is important for students to have gained as many credits as possible by this time, and to have saved sufficient funds to support their job-hunting activities, so that they can spend as much time as possible searching for jobs.

For the general employment schedule in Japan, refer to the following link:
General Employment Schedule in Japan
Graduate Student Career Path Support Center
Graduate Student Career Path Support Center was established to help graduate students design their successful career path. Since then, the center has been implementing various seminars and supports which contribute to the students' career development. For further information, please visit the website: Graduate Student Career Path Support Center