Longstanding Friendship between Illinois College and Ritsumeikan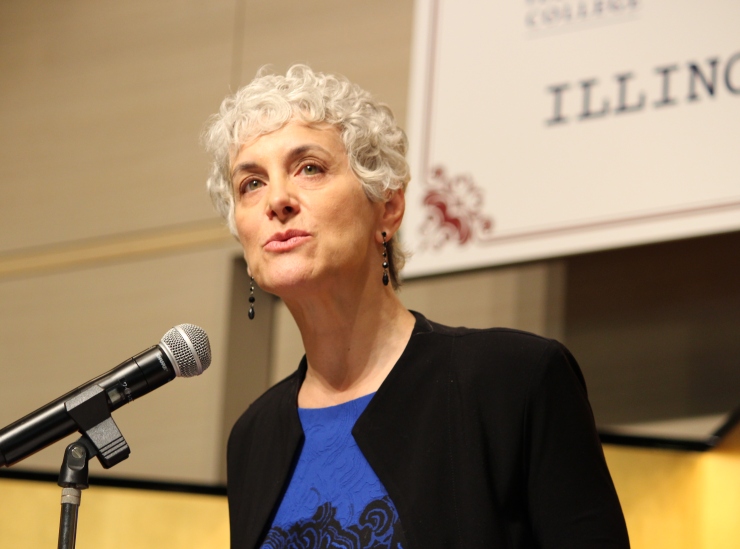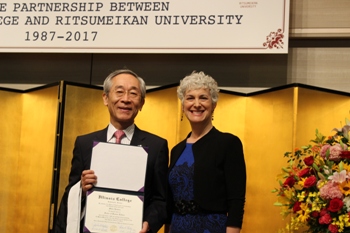 The 30th Anniversary Ceremony celebrating the partnership between Illinois College (IC), located in Jacksonville, Illinois, and Ritsumeikan University (RU) was held in splendid early summer weather on June 6 at Kinugasa Campus, attended by about 70 people including professors, instructors, trustees of IC and visitors c who have hosted RU students over the past 30 years.
Partnership between IC and RU
The amicable relationship between RU and IC started in 1987, with the commencement of the Language and Culture Program at IC, and more than 750 students and staff have enjoyed a warm welcome at IC so far.

Prior to the anniversary ceremony at Ritsumeikan University, IC hosted a 30th-anniversary banquet in mid-May, where an Honorary Doctorate was conferred upon Professor Yoshida, president of RU, and accepted on his behalf by Vice-president Matsubara. This ceremony was a chance for RU to welcome IC staff and trustees as well as host families who have contributed to the program.

In his welcome address, the president touched upon the longstanding friendships between RU students and their host families maintained many years after the stay, and stated, "I believe that for our students who were supported by IC and the community, they are now like true family and that this has been possible because of the love and warmth from the staff at IC and the host families."

In delivering her address, Professor Farley, president of IC, remarked that, "The Ritsumeikan students who come to IC tell us that staying with host families in the community is the main reason they select our program, and you can see by their presence how important these relationships are to us as well. As friends, RU and IC will transform the lives of our students by going 'Beyond Borders' and making them 'Graduate Ready' as global citizens in the 21st century."
Taken Like a True Family Member
Following the ceremony, RU students and graduates who participated in the program enjoyed a heartwarming reunion with IC faculty members and host families at the reception.

Mr. Hiroyuki Yoshida, an alumnus of RU and 1994 participant in the IC Language and Culture Program, made a speech on behalf of the participants. He said that he had been looking forward to this day since hearing that visitors from IC would be coming to Japan.

He recalled the day when he and 24 other students led by Ritsumeikan staff left Japan 23 years ago; they were delayed a whole day at Itami Airport due to heavy snow, and finally arrived in Jacksonville after much difficulty. He said that even after many years, the strongest memory for him was how the people at IC had welcomed and cared for them. He stayed with Mr. and Mrs. Welch, who were at the reception, and commented that, "They took me in like a true family member, and later I invited Mr. and Mrs. Welch to my own wedding and visited Jacksonville three times, most recently taking my daughter there in 2012. I sincerely hope that the cooperation between IC and RU continues and grows."

Mrs. Welch listened to this speech with tears in her eyes. Mr. and Mrs. Welch noted that, "We have hosted 25 RU students so far, but Hiro (Mr. Yoshida) is special. For us, he is our son, and his children are our grandchildren. We are so happy we could have such a wonderful connection and meet him again here."

Mrs. Collings, an instructor in the Language and Culture Program, accompanied by Mr. Collings, came to Ritsumeikan and was reunited with Ms. Kurumi Tada, who participated in the program two years ago. After accepting a handcrafted thank-you card from Kurumi's mother, they had a nice long talk about Kurumi's stay in IC.
Mrs. Chipman, who serves as a host family coordinator, and Mr. Chipman, an IC charter trustee, delivered an address on behalf of the host families. Mrs. Chipman invited all the students and graduates who have been a part of the program to the stage and expressed her appreciation to them, noting that she couldn't be a host family coordinator without their desire to come to IC. "On this trip, we could meet four former students and we know how important this program has been to our own life experiences, not just for RU students, but also for the host families," she added.

IC and RU hope that this amicable partnership will continue for many more years to come.
Related information